Main Office (Anderson Hall): Mon-Fri: 9 AM-5 PM; Sat-Sun: Closed;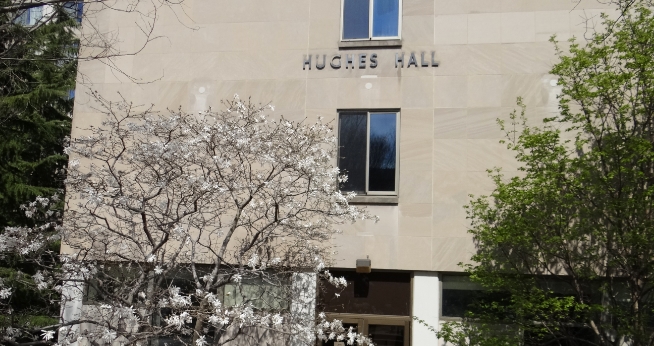 Hughes Hall was named for Edwin Hughes. Hughes was an American Bishop of the Methodist Episcopal Church, Acting Chancellor (1923), and Trustee of American University (1932-1950). He was also a fraternal delegate to Irish and English Methodism in 1930, representing American Methodism. In 1962, the first of many new residence halls opened with Hughes Hall. Hughes Hall formally opened as a female residence hall and at the time it was constructed, it was the largest residence hall completed on campus.
Living in Hughes Hall presents students with a unique opportunity for connecting with others who are serious about their academic pursuits. Hughes is home to the Returning Student Honors & Scholars Programs, which includes the Honors Program, FDDS, the Community Based Research Scholars and AU Scholars. About two-thirds of the residents are second year students and the remaining one-third are third and fourth year students; giving Hughes residents a unique opportunity to connect with students at different levels in their studies.
Hughes has a traditional residence hall design in which rooms branch off of a hallway in the shape of a "T" and there is one bathroom per gender on each floor that is shared.
While Hughes tends to have students that are highly engaged in their academics, do not think that the community is dull or boring; it is quite the opposite. Residents of Hughes know how to work hard, but they put an equal amount of effort into planning exciting and fun activities for their floor and the entire building. Hughes residents know how to manage the various priorities of college and make sure they include plenty of time for social activities along with their academics.
Get involved: Interested in making a difference for the community you belong to? Like programming and event planning? Are you an activist at heart and want to get involved in being an advocate for people you serve? Then consider joining the Hughes Hall Council.
This is a group of students that meet either once or thrice per week (depending upon your role within the organization) that helps plan events for students within the hall in order to make it a more exciting and welcoming place to live.
Email aurha.info@gmail.com for more information!