Monday - Friday 9:00 a.m. - 5:00 p.m.
Center for Community Engagement and Service
4400 Massachusetts Avenue NW
Washington
,
DC
20016
United States
Eagle Endowment: Turning Passions into Projects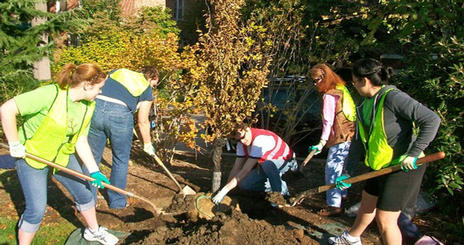 While many student groups formulate thoughtfully developed ideas for public and community service, few actually have the funds to put them into action. The Eagle Endowment addresses this challenge and empowers AU students by providing annual grants of $100 - $1,000 and a year of mentorship to students and groups that propose such initiatives. Proud recepient of the 2017 "Top College Philanthropic Organization in the USA", our goal is to extend your passion beyond the classroom in a thoughtful way that helps the DMV community and advances your skills. If you want to get involved and don't know how to start, email us!
These awards are intended to support groups in their earliest planning and implementation phases, providing them with seed funds to launch visions for service. Read more about our past grant recipients, some of whom received jobs/internships from their community partners. There are three different opportunities for funding throughout the school year: the "Back to School, Back to Service" Grant, the Dr. Martin Luther King, Jr. Grant to promote social justice, and the Spring Grant that supports all types of public and community service initiatives. 
Closed: SPRING 2019 Grant
The 2019 "Spring Into Service" grant is awarded annually to students with innovative service project ideas that have an impact beyond the AU community. Undergraduate, graduate, and Washington College of Law students & student groups are encouraged to apply! Grants range from $100 - $1,000. If you have any questions about the process or need assistance developing a project idea, email our Coordinator at eagleendowment@american.edu or schedule a meeting here.
Grant proposals for this cycle are closed so check back in September for our Fall Grant Cycle or email us to discuss your project idea at any time! Our goal is to turn your passions into projects