Communications
Capstone Projects Showcase Game Design Students' Skills and Creativity
In Hollow, the character "Kid" barely survives the boredom of day. They move through a world of muted colors, and the challenges they face are mostly uninspiring. But at night, in their dreams, the world comes alive. Through dramatic encounters in a technicolor world, they face their fears and learn to overcome them.  
Hollow is a "2-D Roguelike" video game designed and built by four graduate students — Lara Alley, Hazel Arroyo, Mitchell Loewen, and Felipe Simas-Magalhaes — as the final, capstone project for their MA in Game Design, a joint degree offered by AU's School of Communication and the College of Arts and Sciences. 
Capstone projects, which are required to finish the master's degree, give students the chance to demonstrate what they've achieved in two years of intense classroom learning and practice in the AU Game Lab.  
Other impressive projects completed by this year's cohort include a game show inspired trivia game, an online detective adventure players can use to prepare for the GREs, a traditional board game with a K-pop theme, a combination card and online game that simulates the Taiwanese presidential elections, and even a video game called Hell Manager that explores the meaning of life. 
The variety among the capstone projects reflects both the mission of the Game Lab, which prioritizes purposeful content and real-world impact, and the wide-ranging interests and experiences of the students.  
In many ways, AU's game design students are a diverse group. The program requires no previous experience with game design, coding, or other technical skills (core classes cover the fundamentals), so students bring a wide variety backgrounds, skillsets and interests.  
The team that created Hollow was no exception. None came from a programming or technical background, and only one, Loewen, had experience designing games before starting the program. That was no disadvantage for the Hollow team. They note that, after only a couple of months in the program, they had the skills to "start creating cool things."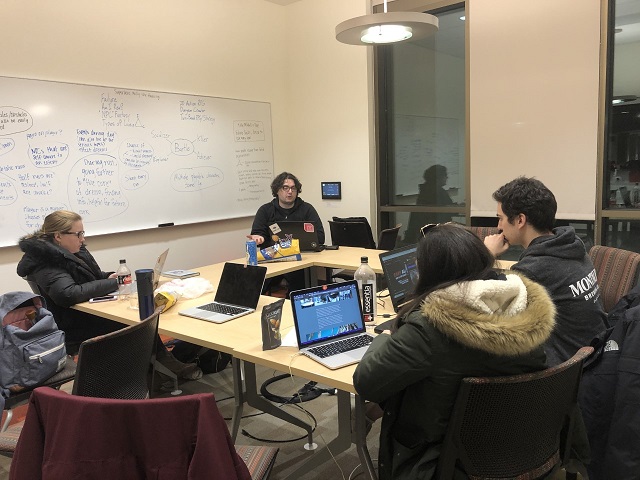 Diversity among game creators is one factor, the students argue, that will lead to better games in the future.  
"Games often come from a really personal place," said Arroyo. "So, if the same kind of people are making games, they're having similar experiences. And that's why a lot of games kind of feel the same. But, in the last five to 10 years, we've seen a lot of different creators come out, that are not your typical game developer, and I think that makes games better." 
One of the best parts of making Hollow, say its creators, was working in a team. In the past, capstone projects were usually single endeavors. More recently, however, professors have encouraged students to collaborate, which simulates the real-world experience of a design team, and allows students to focus intensely on one aspect of game design. 
The ability to specialize was an important factor for the Hollow team. Arroyo, who wrote most of the story for the game, says she wanted to focus on writing a deep, rich narrative. Likewise, the original, two-dimensional pixelated art was created by Alley, who wanted to explore using color and graphics to reflect mood and complement the story. Simas-Magalhaes was able to concentrate on his favorite task — level design — while also creating original sound. Loewen had more time to devote to the tricky work of procedural generation. 
The result is original and very polished for a semester's work, especially considering that much of it was completed remotely due to Covid-19 and social distancing. 
For the Hollow team, the Game Lab and its "incubator atmosphere" was one important key to their success. They praised the collaborative environment, where students can test ideas, call on the technical expertise of their classmates, or schedule testing parties. "If you ever have a problem, you'll have two or three people in the lab try to help you," said Loewen.  
While the program encourages self-directed exploration, support from Game Lab professors was also invaluable. The diversity of experience among the faculty was especially helpful. For example, they might seek out Krzysztof Pietroszek for help with virtual reality, Benjamin Stokes for advice on designing for civic institutions or cities, or, for programming help, Michael Treanor.  
The technology available in the lab also encouraged creative thinking. While the program is not centered on creating cutting-edge technology, many new tools are available for students to experiment with, inspiring innovation. "We play around with things that aren't even available to consumers yet, like augmented reality glasses" said Simas-Magalhaes.  
Among game design programs, AU's MA in Game Design is uniquely focused on serious games, policy and real-world applications. The Hollow team says that, after studying in the program, they have new perspective on games and the actions that happen within them. 
While they were making Hollow, said Loewen, they were continually asking themselves, "What is the message behind this game? What are we saying about the world, and the player, and their actions? And how can we use this message to change the discourse?" 
Arroyo agreed, "As game designers, we have a certain responsibility about what we put out in the world, and we do need to think about the implications of what we make." 
"I think games are just like any art," said Simas-Magalhaes. "In the end, it's about how you tell the story. And stories can be told for good or evil." But, he adds, games, which give users power to choose their actions, can be even more impactful.  
Living in D.C. and being part of a policy-focused program has also changed their views of careers in game design. From creating games for pure entertainment, to designing games that change lives, the possibilities are nearly endless. Alley said she now knows that "you can actually make cool things and also help people." 
Arroyo and Loewen graduated from the program in May, and Alley and Simas-Magalhaes will graduate in December. Wherever their career paths take them, the team will continue working on Hollow. Eventually they plan to market the finished game.  
For the Hollow team, the MA in Game Design was all they hoped for and more. All agreed that, given the chance to do it over, they would.  
"There are really smart, talented, passionate people here," said Loewen. "At the end of the day, everyone is interested in making really cool games and figuring out how to do them better. And I love that."