Leaders Drive Equity in Education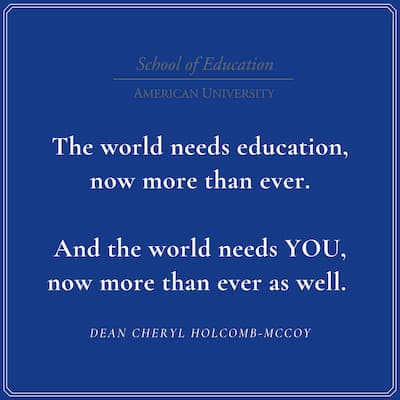 Among today's greatest challenges in the United States is the need to create more equitable, antiracist schools. The failure to meet this need for all of our children - regardless of racial, cultural, economic, or linguistic background - widens the gap between those who thrive and those who struggle.
American University's new, 18-credit post-masters graduate certificate in Administration Supervision and Leadership (ASL) prepares anti-racist education leaders with the required content and knowledge, as well as the necessary mindset shift, to dismantle racist practices and policies in classrooms, schools, and districts.
The executive-style program will be offered in different formats (including summer courses, weekends, weeklong) to meet the needs of working professionals. Upon completion of the certificate, graduates will be eligible for state leadership certification in Washington D.C.
The ARASL program brings students and faculty together to analyze current education programs and policies across PreK-12 education. Course instructors will be working with AU's Antiracist Research and Policy Center and are guided by the work of Dr. Ibram Kendi framework for anti-racism.
Eligibility
Open to individuals with a master's degree or currently working on a master's degree from an accredited institution; certification as a teacher or education professional (e.g., counselor, psychologist), and at least two years of school-based teaching, instructional leadership or pupil services experience. Substitute teaching experience does not apply.
18 credit principal certificate that can be completed in 3 semesters
Emphasis on anti-racism
Cohort model with classes designed for full-time teachers
Mix of faculty and expert practitioners who bring policy, research, and school experience
Internship that brings learning and experience together
See full Admissions & Degree Requirements.
All students applying to the program are required to have at least 2 years of experience in PK-12 education.
Online application
1 letter of recommendation
Statement of purpose- 500 words
Un- official transcripts
Resume gpa supplemental statement (If GPA is under 3.0)
Current MEd students must apply and be accepted to the certificate program in order to be eligible for Principal certification.
The certificates program's faculty are leaders in the field of administration and school leadership.
Dr. Robert Simmons, executive director, Black Educators Initiative
Dr. Jenice View, author, "Anti- Racist Professional Development for Practicing Teachers"
Mireille Lopez-Humes, former principal, current deputy chief program officer for Martha's Table
Simon Rodberg, founding principal DCI
Dr. Tiphanie Scroggins, director school performance and continuous improvement DCPS
New Student to AU School of Ed.
Option 1: Take individual courses. Students can select individual courses to take at their own pace.
Option 2: Take full cohort model starting summer or fall. This track leads to certification.
Alumni - MEd Program
Option 1: Take individual courses. Students can select individual courses to take at their own pace.
Option 2: Take full cohort model starting summer or fall (able to waive 2 courses. This track leads to certification.
Current MEd Students
Option 1: Take individual courses. Students can select individual courses to take at their own pace.
Option 2: Take ASL courses during your MEd course of study. Please reach out to Emily Funk at efunk@american.edu as soon as possible to plan your course of study. 
FREQUENTLY ASKED QUESTIONS
For our next cohort that begins in summer 2020, application deadlines are as follows:
February 26: Priority deadline
March 26: Second priority deadline
The fall 2020 cohort application deadlines are as follows:
June 11: Priority deadline
July 9: Second priority deadline
No. Only students interested in earning a principal certification will need to apply to the program.
If you wish to take one-two courses follow the steps below:
E-mail Ashleigh at ahuseth@american.edu with your: name, preferred e-mail and courses you are interested in taking
We will help you to sign up for the course and guide you on where to pay tuition
If/ when you are ready to join the full certificate program you can apply and begin the remaining set of coursework/internship
No. We require a statement of purpose, resume, transcript(s), and one letter of recommendation.
*For students with one of our partnership programs, one or more letters may be waived, as well as the application fee.
Summer 2021
EDU 683 - Curriculum Design for the Classroom
EDU 687 - Instructional Leadership & Teachers Support
EDU 694 - School Improvement, Organization & Administration
EDU 631- Educational Leadership & Organizational Change
EDU 636 - Education Law and Policy
Fall 2021
EDU 683 - Curriculum Design for the Classroom

EDU 687 - Instructional Leadership & Teachers Support
EDU 694 - School Improvement, Organization & Administration
EDU 691- Internship
Spring 2022
EDU 631- Educational Leadership & Organizational Change
EDU 636 - Education Law and Policy
EDU 691- Internship