Public Affairs, School of
4400 Massachusetts Avenue NW
Washington
,
DC
20016
United States
Welcome to the School of Public Affairs

Pursue your Higher Purpose with SPA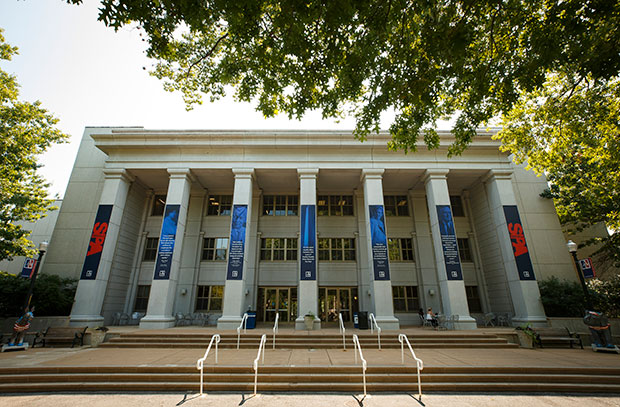 Congratulations on your commitment to pursue an advanced skill set that will position you as a leader with purpose for our next generation and, moreover, prepare you to confront the most pressing public challenges of our time.
Admitted Student Checklists
Required
✓ Celebrate your academic and professional achievements that led to your admission to one of the country's premier Public Affairs schools!
✓ Create an AU Student Account
✓ Submit your FAFSA (This information enables the American University Office of Financial Aid to consider you for Federal loan options.)
✓ Confirm your intention to join the SPA community by remitting your enrollment deposit.
✓ After rendering your deposit, schedule an in-person or telephone meeting with your Graduate Advisor! It is time to begin developing your academic plan that translates into your advanced skill set.
✓ Access the new Graduate Student Checklist by following the navigation below:
MyAU Portal Login
Click on Life @ AU Tab
Scroll down to "New Students" Tab
Click "New Graduate Students" link
Click "Start your Checklist"
✓ RSVP to SPA's New Master's Student Orientation (January 10, 2019) by emailing SPA_GradEvents@American.edu
✓ Submit official transcript(s) showing successful completion of bachelor's degree before the first day of the term. If your transcripts are in a language other than English, certified English language translations must be provided. Mail to SPA Graduate Admissions, Office of Enrollment, 4400 Massachusetts Avenue NW, Washington, DC 20016-8081, USA or email official e-transcripts to GraduateAdmissionsDocuments@american.edu.
Recommended
✓ Connect and follow us on social media
✓ After submitting your deposit, you will be invited to join the 2018-2019 AU SPA Admitted Grad Students Facebook group. (This offers a forum for you to get to know your new peers while engaging with our current Graduate Student Council (GSC) on issues like housing, internships, student life. The group is only open to students who have an American.edu email address.)
✓ Join us for a CareerStart Virtual Session. Please note the date and login information for our upcoming session in the "Important Dates".
American University announces the availability of a number of on-campus housing spaces available for graduate students during Spring 2019 semester. While this housing is only available for Spring 2019 semester, AU Housing may support graduate student's arrival and/or transition to a permanent location in DC after that first semester with AU. The housing application is available from now until January 7, 2019 on your AU Housing Portal and more information about on-campus housing costs are available on our Academic Year Rates page. Additional details about the housing application process can be found here.
✓ Visit American University's Off-Campus Housing site that offers access to living options in the area. The site also offers the opportunity to develop a student profile in an effort to identify potential roommates. Questions may be directed to offcampushousing@american.edu or via telephone 202.885.2645.
Important Information
Stay in touch...we are here to support you!
spagrad@american.edu
(202)885-6230
Follow us on Twitter, Instagram, and Facebook.
Use your AU email account only and always! All correspondence will now only be sent to your "name@american.edu" account. Please regularly monitor your inbox.
Explore the myAU.american.edu portal. It contains a wealth of information that will inform and support your student life on campus.
New graduate students at AU may begin registering for classes on November 19, 2018. The AU Registrar's website offers a complete listing of important dates with corresponding information here. New graduate students must consult with their respective Graduate Advisor (see link in Required Checklist) in advance of enrollment. Graduate course offering fill quickly; as such, please schedule your advising appointment and secure your enrollment for Spring 2019!
Meet SPA's Career Advisor, Rob Sangeorge, and learn more about the robust career resources, services, initiatives, and events offered at AU/SPA.
School of Public Affairs: CareerStart Virtual Session
Start: Tuesday, December 4, 2018
6:00 PM (EST)
End: Tuesday, December 4, 2018
7:00 PM (EST)
Please join my meeting from your computer, tablet or smartphone.
https://global.gotomeeting.com/join/851603621
You can also dial in using your phone.
United States (Toll Free): 1 866 899 4679
United States: +1 (312) 757-3117
Access Code: 851-603-621
First GoToMeeting? Let's do a quick system check:
https://link.gotomeeting.com/system-check
Orientation is your opportunity to prepare for your new academic career, and have the opportunity to be introduced to the SPA faculty, student, and staff community. This event should be considered mandatory for all new SPA students. An invitation and additional details regarding New Graduate Student Orientation are forthcoming.