Public Affairs, School of
4400 Massachusetts Avenue NW
Washington
,
DC
20016
United States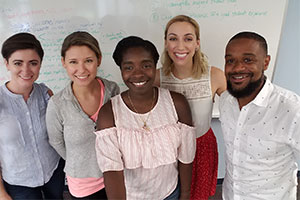 Mission Statement
The School of Public Affairs' Graduate Student Council ensures that SPA graduate students receive a well-rounded experience at American University by providing opportunities to serve, network, and develop both academically and professionally amongst our peers, faculty and in the greater Washington public affairs arena. Additionally, we aim to advocate for the expressed concerns and needs of the student body to ensure all desires are met and or at least addressed by the AU administration.
About Us
The GSC is comprised of three committees: the Community Service Committee, the Social Committee, and the Academic Affairs Committee. Additionally three department student representatives set on the council to ensure that the individual departmental needs are addressed.
The Council is currently looking to fill the positions of student representatives for each department (GOV, JLC, DPAP) and Chair for each committee. If you are interested in getting involved please email auspagradcouncil@gmail.com.
The SPA GSC Executive Board
President, Candra Reeves
Vice President, Lauren Ricci
Chief of Staff, Katherine Sledge
Director of Finance, Francesca D'Andrea
Deputy Director of Finance, Tanar Wright-Sackey
Director of Communications, Annaliese Johnson
gsc Meeting notes
November 2018 Full GSC Meeting Notes
December 2018 Full GSC Meeting Notes
The Public Purpose Journal
The Public Purpose is a peer-reviewed interdisciplinary journal presenting the work of graduate students from the SPA Departments of Government; Justice, Law, and Criminology; and Public Administration and Policy. Founded in 2003,The Public Purpose is supported by the SPA Graduate Council, with involvement and guidance of SPA faculty. More information can be found at the Public Purpose website.
Facebook: AU SPA Graduate Council
Twitter: SPAgradcouncil
Email: auspagradcouncil@gmail.com
AU Graduate Leadership Council: https://auglc.info/
American University Student Business Cards
AU SPA Events Page