Research
Small World, Big Ideas: The Race in the Marketplace Initiative Facilitates Collaboration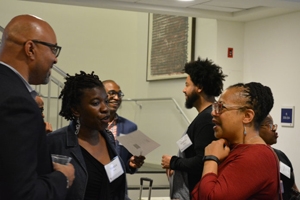 You decide to have a conference, and you invite a bunch of people you've never met. Will anyone show up?
Despite this uncertainty, the 2017 Race in the Marketplace Forum at American University ended up being an unequivocal success. It was not only well-attended, but it led to a scholarly exchange of ideas that's still vibrant nine months later.
The event launched the Race in the Marketplace (RIM) Research Network, cofounded by Kogod School of Business professor Sonya Grier. As she explains in an interview, the growth of RIM has encouraged collaboration among a variety of disciplines in a too-often siloed field. RIM brings together scholars from anthropology, sociology, geography, marketing, and other areas.
"In this subject, you don't even know who the people are who study similar topics in other fields. You may not even know what the research is. Most often, you just focus on the research that's in your discipline," says Grier. "The fact that we had people come and trust us—that we were doing something that would be relevant to them—is really important, and a signal of how much these issues are having an impact across disciplines."
Intellectual Connections
Though scholars in the race and markets field are scattered, one enterprising student traveled a long way to make this world a little smaller. Ten years ago, Guillaume Johnson was working toward his dissertation in South Africa when he approached Sonya Grier at a multicultural marketing conference in New Orleans. "This French guy walked up to me and said, 'I came from South Africa to this conference, so I could meet you. And I want to work with you because your research is my research,'" recalls Grier. "How could I say no to that?"
They worked together long distance, and Johnson is now a professor in France. They're also both cofounders of RIM. The other RIM cofounder, Kevin Thomas of the University of Texas–Austin, was a student of current RIM advisory board member Gerri Henderson—and Henderson was once Grier's classmate at Northwestern University.
The 2017 conference started with a video on Hennessy and the targeted marketing of alcohol to African-American consumers. "People would say, 'Should you target groups that have disproportionate health concerns?' And then some would respond, 'You can't be paternalistic, because you're talking about adults,'" Grier says. "We discussed it all weekend."
These kinds of conversations are continuing among RIM conference participants. For instance, AU assistant professor of health studies Elizabeth Cotter forged a research relationship with RIM advisory board member Naya Armendarez Jones. RIM is also editing a book, with chapter contributions from researchers on areas such as mortgages in the US, public health in Australia, discrimination in France, and stereotyping of Africa.
At a more casual, but fruitful, level, RIM has a Facebook page where researchers share all kinds of news items and discussions. The Facebook feed has included: facial recognition and race; banks shutting their doors to home ownership; lack of Black Panther merchandise; and the Cleveland Indians' move to abandon the "Chief Wahoo" logo.
Gentrification and Consumption
Grier's research delves into target marketing and consumer health. She's also explored gentrification through her own film, Dog Parks and Coffee Shops: Diversity Seeking in Changing Neighborhoods. In a related paper, soon to be published in the Journal of Public Policy & Marketing, she examines the notion of "faux diversity."
"We've seen younger, higher-income whites come into neighborhoods that have been traditionally African American or Latino, and you get people saying, 'I want to live in diverse neighborhoods.' But what we find is that the consumption opportunities there that are public or private don't really do anything to get people to intermingle," she says. "You might bring in a new, hip restaurant, but it may not cater to the appeal of the people who already live in the neighborhood. So you still end up with segregated consumption opportunities."
More Voices in the Room
RIM has another major conference scheduled for June 2019 in Paris, and there will be plenty for RIM members to investigate in the coming years. With race and markets, areas of study are almost limitless.
The marketplace, she notes, dramatically shapes people's racial attitudes. "Advertising is the most visible piece of that, and the subtleties of ads are things people start to believe over time. You see certain kinds of people associated with certain kinds of foods," she says. "These are serious stereotypes."
In recent years, the advertising industry had some well-publicized debacles: Kendall Jenner using Pepsi to end police brutality; Dove body wash magically turning a woman white; or the Dodge Ram truck-Martin Luther King connection nobody needed. Yet Grier says racial marketplace problems extend far beyond Madison Avenue. Even something as basic as faucet water in a public bathroom can be racially biased.
"If you have darker skin, the water might not come on in the bathroom, because the algorithms aren't tested with different skin colors."
Many of these difficulties can be attributed to having too few minority voices in the room, she notes. So even having a diverse group of researchers—such as RIM—can spur positive change.
"This kind of organization can do research and have an effect that's even more nuanced," she says. "When there's an opening, that's an opportunity to move this forward."