Commencement
Grace Under Pressure: SOC Grad on Film and New Beginnings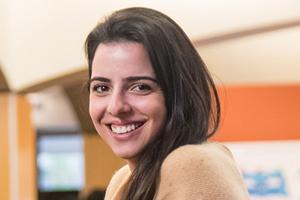 School of Communication graduate Grace Ibrahim will be one of the student speakers at commencement this weekend. The theme of her speech is about "ends and new beginnings," a concept she's pondered quite a bit. That's because four years ago, immigration issues forced her to leave the United States and start over.
For Ibrahim, beginning anew meant finding her true calling in video production. And that led to her second—markedly different—stretch at American University. Ibrahim earned her undergraduate degree here in 2015, and she never imagined returning to give a graduation speech with her master's in 2019.
"I always thought of myself as not very 'book smart.' I always thought I was more the athlete, and I kind of lived that type of lifestyle. So this time around, I'm graduating with a 3.9 and it's great," she says. "I've really gone through a new phase in my life."
Ibrahim is now earning her master's degree in film and media arts.
Inside and Outside the Bubble
Ibrahim is from a Palestinian family and she grew up in Saudi Arabia. Since her father worked for a US oil company there, she spent her formative years inside an American compound two hours from Riyadh. She describes it as very much a bubble, separated from the rest of Saudi society.
"We didn't grow up waiting in line at a movie theater and then getting a ticket and going in. It was kind of like the movie theater was for us, because we lived in that compound. It was its own city. We never had to leave unless it was to go to the airport," she says. "So it was an interesting childhood."
But she did get exposure to the outside world and the United States. She traveled to the West Coast, Midwest, and New York City, and she has two older siblings who attended Georgetown University. She soon set her sights on DC, and as a competitive swimmer, the athletic program here clinched the decision for her. She was AU bound.
She had some nice moments from her AU undergraduate years, including getting Patriot League Swimmer of the Week honors as a sophomore. Swimming was enjoyable but grueling—to be expected in a Division I program—and she was also competing for the Jordanian national team.
"It was a lot for me," she recalls. "I was homesick. I was struggling with balancing my schedules and all of that."
There was also basic culture shock. "I wasn't introduced to squirrels until 2011," she recounts, laughing. "It sounds funny, but it was almost like I was in Jurassic Park and I was seeing dinosaurs."
This came not just from being in a foreign country but living outside that bubble. In the Saudi-American compound, for instance, she recalled traveling via golf cart. Now all of a sudden she'd have to learn the DC Metro system. "There were just little, simple things that I'm sure a lot of kids in the US grew up doing," she says.
Packing Up Her Life
Yet Ibrahim's biggest struggle happened after graduation. She'd just signed a new housing lease, and was about to start a new job, when she got word that her work visa was denied. She called immigration officials to get more information. "I said, 'Well, how much time do I have to leave?' And they were like, 'You've got to get out of the country as soon as possible.' So I had a few days to pack up my life and pack up my apartment. I had to call work, and say, 'I'm sorry. I'm not coming in.'"
She moved to Amman, Jordan—a place she'd never actually lived before—and started the process of making new friends. She did have family there, and she quickly found a job. While doing PR and marketing for a K-12 school, Ibrahim got full creative freedom from her boss. She pitched ideas and met with video production companies, and she soon realized that she wanted to pursue a film production career.
"Once I got over the heartbreak of leaving the US, it was like, 'The world is my oyster. I'm going to turn this into something that I want, and I'm not going to let it stop me or hold me back,'" she explains. "Now that I'm a little older, I think it was a blessing in disguise."
Returning to SOC
She applied to AU and returned as a master's degree candidate. She's had many graduate school highlights, such as attending SOC's L.A. Intensive program last summer. Students interacted with numerous AU alums in Hollywood, including screenwriter Charlie Wachtel, producer Barry Josephson, Dichotomy Creative Group CEO Adam Goodman, and Dana Bramble, who has worked at the CW television network. Ibrahim also met and keeps in touch with James Middleton, an SOC alum who's an executive producer of the Netflix series Altered Carbon.
Ibrahim and other students got a glimpse of how the Hollywood sausage is made. She saw the set of a big studio action movie, and she was surprised by its unadorned look.
"It was just all wood. It looked like a construction site. And I was like, 'Are they done?' And they said, 'Oh yeah, that's what it looks like.' But artists have this vision, and they make it come to life, and it's absolutely incredible," she says.
On campus, Ibrahim has been a graduate assistant to Russell Williams, and she speaks glowingly about the Oscar-winning, SOC distinguished artist in residence. "It wasn't just about the grades. It was really about him teaching us life lessons and giving me the wisdom to move forward and be a good person," she says.
The Lens of Storytelling
Ibrahim is currently searching for a job. With her twin passions of producing and directing, she sees all film work through the lens of storytelling. "If you want to sell a watch right now, I believe that you can come up with a commercial that has a story—to tell you why you should buy that watch," she says. "I think everything has room for visual creativity."
Citing the approach of Quentin Tarantino and Martin Scorsese, she'd like to use the film medium to tell personal stories, possibly about her Palestinian background and early years in the Middle East.
"I've had so many experiences in my life. So I think, 'Let's start there.'"