American University Veteran Services News You Can Use May 2022, Volume 11
Announcements
Make sure to read News You Can Use Volumes 1 through 10 for other important announcements!
Congratulations to our Spring 2022 Graduates!
This month's Veterans spotlight recognizes our Spring 2022 graduates! It has been an honor and a privilege to serve you during your time at American University. We commend your hard work and diligence to reach your educational goals. We wish you the greatest of luck in your post-graduation endeavors. Congratulations!
-The Veterans Services Team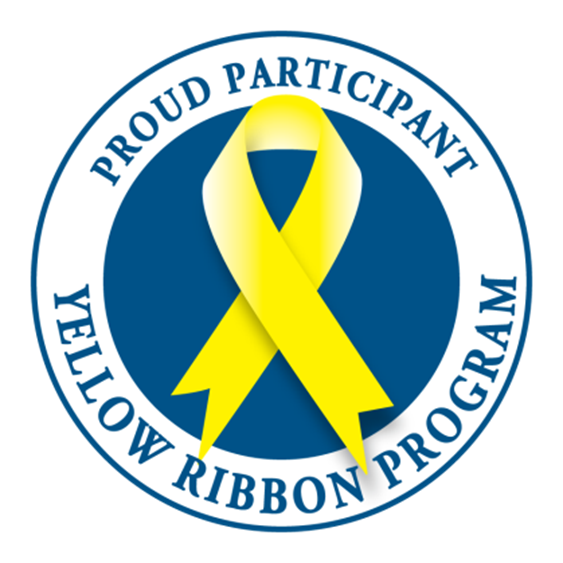 Understanding the Yellow Ribbon Program
What is the Yellow Ribbon Program?
American University is a proud participant in the Yellow Ribbon program. The Yellow Ribbon program was created to help bridge the gap between the VA GI Bill® Cap (average state tuition) and the tuition costs at American University. The agreement allows for additional funding to be processed, half by the VA and half by American University, to help with these costs within a GI Bill® Year (August 1st -July 31st).
American University does not have a cap on the number of eligible students who can participate in the Yellow Ribbon Program.
How do I know if I'm eligible to receive Yellow Ribbon funds?
Generally speaking, students are eligible to participate in the Yellow Ribbon program if they meet the following criteria:

Eligible to receive the Post-9/11 GI Bill® at the 100% rate with remaining months of eligibility. Once a student runs out of months of eligibility for Post-9/11 GI Bill® benefits, they will no longer be eligible for Yellow Ribbon funding.
New for 2022-2023! If you are an active-duty service member or spouse of an active-duty service member eligible for the Post 9/11 GI Bill ® at the 100% benefit rate starting in 2022-2023 you can also apply for Yellow Ribbon funding.
In a degree seeking program at AU. Students pursuing a Graduate Certificate Program are ineligible to participate in the Yellow Ribbon Program.
Would you like to see if you meet the eligibility requirements to participate in AU's Yellow Ribbon Program? Take our Yellow Ribbon Eligibility Quiz!

OK. So, I've met the basic eligibility requirements. How do I apply?
Newly admitted AU students and active-duty service members and their spouses who meet the basic eligibility requirements must apply to be a Yellow Ribbon Program participant.  Yellow Ribbon funding cannot be applied retroactively to a previous GI Bill ® year. Students must submit a Yellow Ribbon application as soon as possible, but no later than within the GI Bill ® year they plan on using Yellow Ribbon. Current Yellow Ribbon Program recipients do not need to reapply unless you are changing your degree program, i.e., bachelors degree to masters degree. Changing your major does not require a new Yellow Ribbon application.
What if I am already receiving Yellow Ribbon funds?
Current Yellow Ribbon Program recipients need not reapply UNLESS you're changing your degree program (BA/BS to MA/MS, etc.).
How are Yellow Ribbon Program funds processed?
Your Yellow Ribbon eligibility will be processed based on August 1st of the GI Bill® Year you choose or the date in which you were eligible for Yellow Ribbon benefits from the VA, whichever date is later. In order to process a Yellow Ribbon application submitted mid-year, institutional awards may be pulled retroactively from a previous semester. An example of this is if a student applies for Yellow Ribbon in Spring. Any institutional aid from the previous Fall semester would be removed from the account by the Office of Financial Aid and VA Education Benefits and Yellow Ribbon eligibility would be processed.
How much Yellow Ribbon Program funds are available to me?
Your School Certifying Official at AU will send your tuition and fees each semester to the VA. The VA will then send funding up to the GI Bill® Cap to AU. Once that cap is exhausted, your School Certifying Official will ask the VA for Yellow Ribbon Funding. Once received, Yellow Ribbon funds will be matched by AU. The current GI Bill® Cap and Yellow Ribbon Funding are as follows:
GI Bill® and Yellow Ribbon Match 2022-23 Year

| Student Status | Yearly Yello Ribbon Cap | Total Yellow Ribbon |
| --- | --- | --- |
| Undergraduate | $14,500 VA + $14,500 AU | $29,000 |
| Graduate | $12,500 VA + $12,500 AU | $25,000 |
| WCL | $23,974.82 VA + $23,974.82 AU WCL | $47,949.64 |
2022-23 GI Bill® Cap: $26,381.37
For more information, please review the Yellow Ribbon FAQs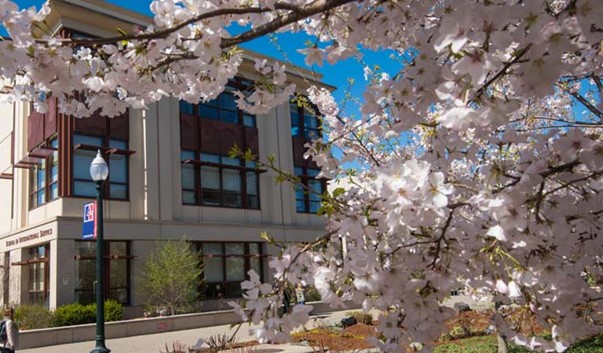 May Calendar
Don't miss these important deadlines and upcoming events!
April 28, 2022 (10:00 Am – 1:00PM): ROTC Study Break/Meet & Greet at the Veterans Lounge (Room 207 Asbury Building)
April, 28 – May 4 2022: Spring final examinations
May 1, 2022: Payment due for summer classes (Payment FAQs)
May 6, 2022: All full-term spring classes final grades due
May 6-8, 2022: Commencement Weekend activities!
May 6, 2022 (2:30 - 4:30 p.m.): Military-Connected Affinity Graduation Celebration at the Washington College of Law's Claudio Grossman Hall
May 8, 2022: Official Degree Award Date
May 14, 2022: Examinations end (Washington College of Law)
May 16, 2022: May graduates grades due (Washington College of Law)
May 22, 2022: Washington College of Law Official Degree Award Date
May 22, 2022: Washington College of Law Spring Commencement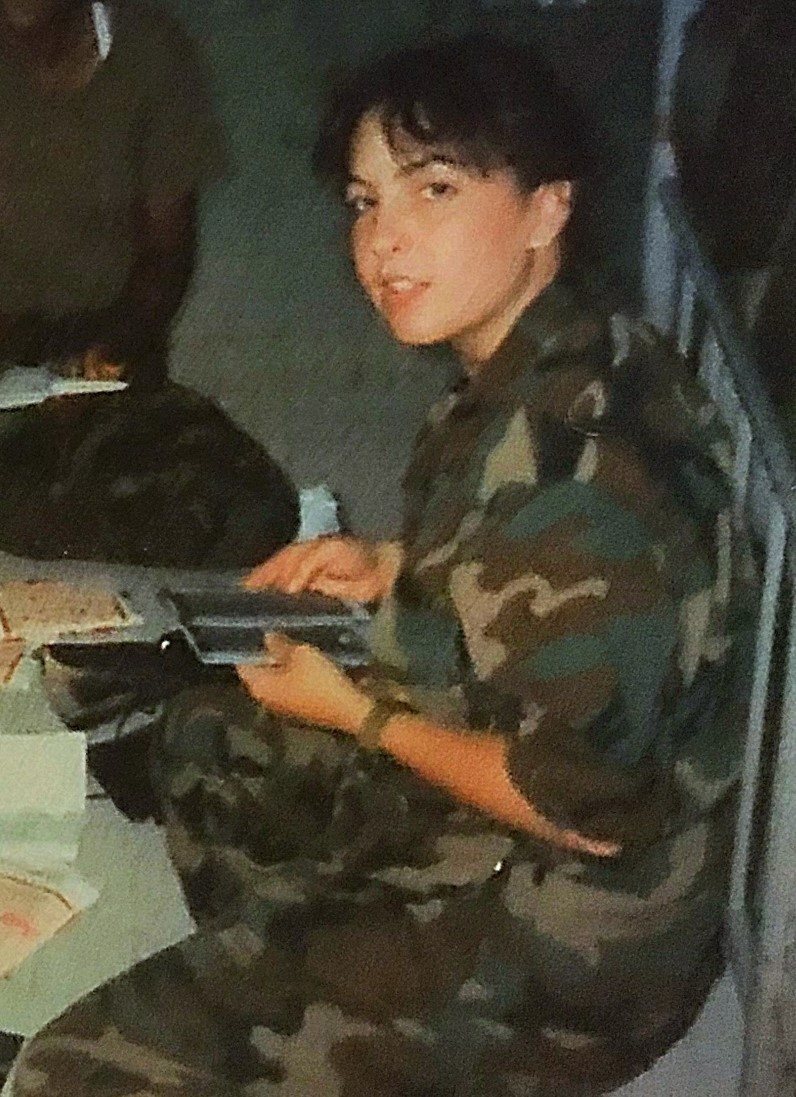 AU Veterans Spotlight
Jennifer Thurston
Jennifer is an American University masters student in the Film and Media Arts program who has served as the American Military University Club (AUMCC) President since January 2020. She also serves on the Student Veterans of America's Policy Liaison Committee and is a DC Veterans in Media and Entertainment Fellow. Jennifer retired in 2017 as a U.S. Army Captain. She started her military career at seventeen by enlisting in the Vermont Army National Guard and spent her first seven years enlisted as a Combat Medica. After a thirteen-year break in service, she rejoined the California Army National Guard and received her officer commission in 2009. During her service, she was the executive assistant to multiple General Officers while simultaneously supporting the Army's West Los Angeles Film and Television Public Affairs Office as their media liaison and an Active-Duty Casualty Notification and Assistance Officer.
Jennifer notified and assisted Gold Star Families whose Soldier died during service and trained senior leaders to employ professional empathy during this delicate operation. Her final deployment was to Guantanamo Bay as the detention facilities distinguished visitor liaison. She holds a B.A. in Psychology from the University of Vermont and is the proud mother to Cody, Logan, and Skye. Her MFA thesis is a military suicide prevention call-to-action documenter, "Preventing Tragedy"- filming Summer 2023.
"I have had the pleasure and honor of getting to know Jennifer during my time at American University. Her passion and drive to foster a community at the university that is inclusive of military connected faculty, staff, and students is commendable and essential in bettering the Student Veteran experience at AU. As a Student Veteran myself, I greatly appreciate her constant dedication and selfless service that she gives unconditionally. Jennifer is a force to be reckoned with and I am grateful to be a part of her vision for a better AU."
- - AU Veterans Services Coordinator Dymeah Casey