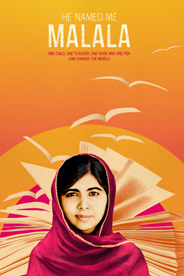 Free Screening Passes

He Named Me Malala

Tuesday, October 6, 7:00pm at AMC Georgetown.
This film, by documentary filmmaker Davis Guggenheim (An Inconvenient Truth, Waiting for Superman), is a personal portrait of the teenage Pakistani activist and youngest ever Nobel Prize laureate, Malala Yousafzai as we have not seen her before – showing her life and relationships with her family, her warmth, humor and her struggles as well as her dedication to the campaign for universal education for all girls.

Passes also available at Media Services. As with all advance screenings, please keep in mind that your pass does not guarantee entry. These events are intentionally overbooked to ensure a full house, so be sure to show up early to ensure that you get a seat.