Undergraduate Student Research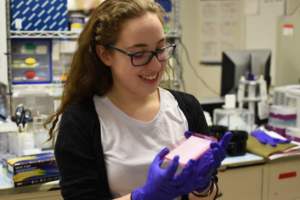 Sara Fierstein
Sara Fierstein is a Junior Biology major and Literature minor in the College of Arts and Sciences. She is a Leadership and Ethical decision-making certificate scholar and has been a part of the lab since June 2018. Sara works on the Squamous Cell Carcinoma Project with Dr. DeCicco-Skinner as well as the Multiple Myeloma Project. Her interest in multiple myeloma was initiated because her grandmother is currently undergoing multiple myeloma treatment. In the lab, Sara most enjoys learning and refining her lab skills and socializing with her fellow lab mates.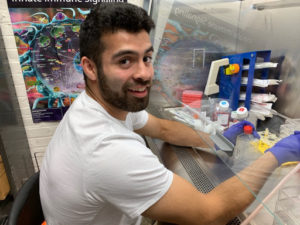 Abraham Correa-Medina
Abraham is a fourth-year student at American University majoring in biology with a minor in physics. After completion of his undergraduate degree, Abraham plans on attending medical school. More specifically, he hopes to study medicine at Walter Reed National Military Medical Center in Bethesda, Maryland. Abraham is also a current member of AU's wrestling team and a volunteer EMT at Glen Echo Fire Department. In his free time, Abraham enjoys to cook Hispanic food, watch comedy movies, and mountain bike. Abraham joined the Decicco lab in August 2018 and started out working on the Squamous Cell Carcinoma project. This semester he has enjoyed working on the Multiple myeloma project with Maria as his mentor.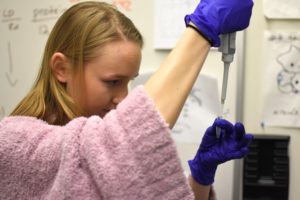 Taylor Geddes
Taylor is a Senior Biology major in the College of Art and Science. She is passionate about the field of medicine and hopes to become a great physician assistant one day. She works on both projects in the DeCicco lab (skin cancer and multiple myeloma), but has a stronger focus toward the skin project. The skin project provides research to better understand the mechanisms behind development and progression of squamous cell carcinoma. Her favorite thing about lab is that she never stops learning. It also provides her with an environment of supportive friends and mentors. When she's not in the lab, you can usually find her in the library, at the hospital volunteering, or taking on other things to keep busy!