Biology
4400 Massachusetts Avenue NW
Washington
,
DC
20016-8007
United States
Undergraduate Student Research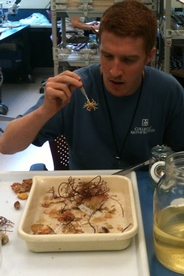 Owen Willis

Owen Willis parlays a summer internship with the Smithsonian Institution into research project on octocorals that famed diver Robert Bolland collected off the coast of Okinawa. While Willis, a rising senior biology major, is sorting only the octocorals, the most distinguishable form of coral that looks like a sea fan, he says they're not the only animals he comes across. "The bizarre array of creatures that I get to work with is fascinating," he said. "I come across new mollusks, crabs, algae, sea stars, worms, loads of different types of plants and animals, and of course tons of corals." Willis ended up at the Smithsonian thanks to a fascination with invertebrate zoology, after taking a class on the subject with Professor Christopher Tudge. Looking for opportunities to learn more about invertebrates, Willis turned to Tudge, who put him in touch with Tim Coffer, a coral specialist at the Smithsonian. Coffer is Willis's project advisor, and the two work at the Smithsonian's Museum Support Center in Suitland, Maryland. See more.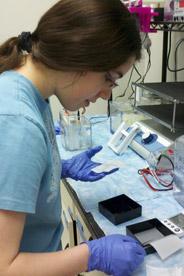 Tracy Tabib

Tracy Tabib is performing experiments examining the role of the Tpl2 gene in a particular type of skin cancer called squamous cell carcinoma. As a sophomore she became interested in this work when she took Cell Biology from Dr. Katie DeCicco-Skinner. Now she is doing research in Dr. DeCicco-Skinner's lab because she is the recipient of both the 2011 Likins Award and the Grebe Award. The Likins award is given to an outstanding female student who is majoring in Biology to encourage more women to enter the research field. The purpose of the Grebe Award is to support students who perform research in laboratories in the biology department over the summer months. Tracy's work on the Tpl2 gene is helping to determine how this gene normally suppresses skin cancer development, and how in its absence susceptibility to skin cancer increases. She has learned how to do western blots, quantitative PCR, cell cultures, and proliferation assays to list a few techniques. The possibility of getting her work published and the importance of having this research experience will help her fulfill her dream of entering a MD/PhD program when she graduates.
Laura Lee

Laura Lee has won the College of Arts and Science's Dean's Undergraduate Award to study how an organism called Gammarus lacustris can vary from one individual to another and change over time. This little crustacean lives both in and out of caves in Norway, and these two very different habitats may create opportunities for genetic differentiation. Studying the genetic make up of these organisms may tell us how new species are naturally selected over many generations. Laura has been doing her work in the lab of Dr. David Carlini and she is using a variety of molecular biological techniques including DNA extraction, PCR, and DNA sequencing.
Rashmi Prasad

Rashmi Prasad is a junior studying the genetic basis for the rapid evolution of fecundity in populations of soapberry bugs, Jadera haematoloma. These bugs had used the native balloon vine as a source of food but have quickly adapted to the exotic goldenrain tree which was introduced to the United States in the 1950's. Rashmi is examining populations of the bugs for differences in expression of the genes related to fecundity and the nutritional provisioning of eggs, which may have helped them adapt to the goldenrain tree. Rashmi was awarded the College of Arts and Science's Dean's Undergraduate Award to do this work over the summer in the lab of Dr. David Angelini.
Joosang Lee

Joosang Lee is working to identify if anti obesity drugs can inhibit the growth of a type of blood cancer multiple myeloma. The anti obesity drugs inhibit enzymes involved in making endogenous fat which cancer cells require at higher levels than normal cells. Joosang is also a recipient of the College of Arts and Science's Dean's Undergraduate Award and is performing his research under the direction of Dr. Katie DeCicco-Skinner. He is hoping to attend dental school when he graduates next year.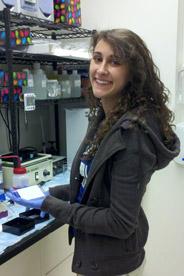 Sarah Goodheart

Sarah Goodheart has been given a Grebe Award to study how chemicals in the brain may affect memory loss. Specifically, she is looking at the levels of the neurotransmitter, dopamine, and inflammatory proteins after irradiation using the techniques of western blots and quantitative PCR assays. Sarah is a junior and performing her research in Dr. Katie DeCicco-Skinner's lab. This research will aid Sarah in her quest to enter medical school when she graduates.