Biology
4400 Massachusetts Avenue NW
Washington
,
DC
20016-8007
United States
Undergraduate Student Research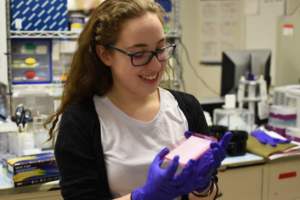 Sara Fierstein
Sara Fierstein is a Junior Biology major and Literature minor in the College of Arts and Sciences. She is a Leadership and Ethical decision-making certificate scholar and has been a part of the lab since June 2018. Sara works on the Squamous Cell Carcinoma Project as well as the Multiple Myeloma Project. Her interest in multiple myeloma was initiated because her grandmother is currently undergoing multiple myeloma treatment. In the lab, Sara most enjoys learning and refining her lab skills and socializing with her fellow lab mates.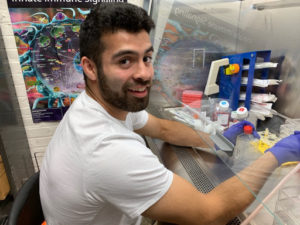 Abraham Correa-Medina
Abraham is a fourth-year student at American University majoring in biology with a minor in physics. After completion of his undergraduate degree, Abraham plans on attending medical school. More specifically, he hopes to study medicine at Walter Reed National Military Medical Center in Bethesda, Maryland. Abraham is also a current member of AU's wrestling team and a volunteer EMT at Glen Echo Fire Department. In his free time, Abraham enjoys to cook Hispanic food, watch comedy movies, and mountain bike. Abraham joined the Decicco lab in August 2018 and started out working on the Squamous Cell Carcinoma project. This semester he has enjoyed working on the Multiple myeloma project with Maria as his mentor. 
Rashmi Prasad

Rashmi Prasad is a junior studying the genetic basis for the rapid evolution of fecundity in populations of soapberry bugs, Jadera haematoloma. These bugs had used the native balloon vine as a source of food but have quickly adapted to the exotic goldenrain tree which was introduced to the United States in the 1950's. Rashmi is examining populations of the bugs for differences in expression of the genes related to fecundity and the nutritional provisioning of eggs, which may have helped them adapt to the goldenrain tree. Rashmi was awarded the College of Arts and Science's Dean's Undergraduate Award to do this work over the summer in the lab of Dr. David Angelini.
Joosang Lee

Joosang Lee is working to identify if anti obesity drugs can inhibit the growth of a type of blood cancer multiple myeloma. The anti obesity drugs inhibit enzymes involved in making endogenous fat which cancer cells require at higher levels than normal cells. Joosang is also a recipient of the College of Arts and Science's Dean's Undergraduate Award and is performing his research under the direction of Dr. Katie DeCicco-Skinner. He is hoping to attend dental school when he graduates next year.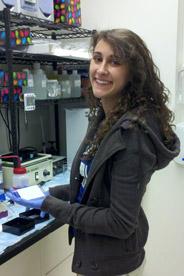 Sarah Goodheart

Sarah Goodheart has been given a Grebe Award to study how chemicals in the brain may affect memory loss. Specifically, she is looking at the levels of the neurotransmitter, dopamine, and inflammatory proteins after irradiation using the techniques of western blots and quantitative PCR assays. Sarah is a junior and performing her research in Dr. Katie DeCicco-Skinner's lab. This research will aid Sarah in her quest to enter medical school when she graduates.