Our interdisciplinary program uses a variety of models to study the molecular, cellular, physiological, genetic, and biochemical mechanisms that drive fundamental cellular processes and underlie disease. Faculty participate in collaborative research and have diverse research interests in cellular signaling, growth and differentiation, gene regulation, developmental biology, endocrinology, neurophysiology, microbiology, and genomics. Graduate students will develop specialized knowledge in cutting-edge technologies while gaining research, critical-thinking, and communication skills necessary to pursue a wide variety of career options.
Thesis and Non-Thesis Options
The Cell & Molecular Biology Track offer thesis and non-thesis paths. The thesis option is designed for students interested in research-focused careers. Recent graduates have entered PhD programs and obtained positions in various government agencies, non-governmental organizations, and private biotechnology firms. The non-thesis option is designed for those who may leverage a strong background in the biological sciences in preparation for careers or to advance careers in education, communication, consultancy, legal and paralegal professions, and medical and allied health fields, among others. The non-thesis option is especially suitable for part-time enrollment.
Full-time students will usually complete the program in two years. Part-time students can complete the program in up to six years.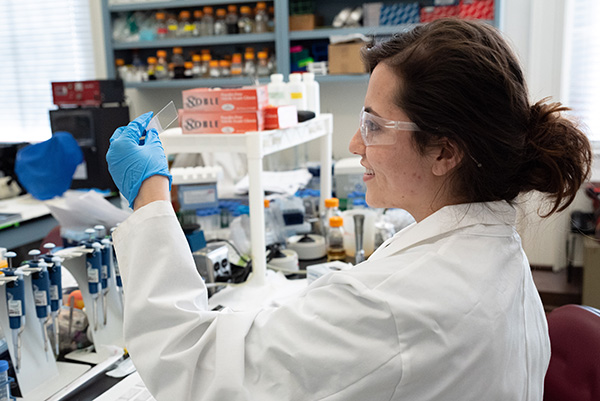 Funding Your Graduate Studies
Merit based financial aid in the form of assistantships are awarded by the Biology Department's Graduate Studies Committee to suitably qualified candidates. These include partial tuition remission, and student stipends. Learn more about Graduate TA Assistantships offered through the department of Biology.
Degree Requirements
30 credits of approved Graduate Work
Required (9 credit hours)
BIO-666 Evolution (3)
BIO-683 Molecular Biology (3)
BIO-697 Research Methodology in Biology (3)
Statistics (3 credit hours)
Complete 3 credit hours from the following:
DATA-612 Statistical Programming in R (3)
STAT-614 Statistical Methods (3)
Specialization (12 credit hours)
Complete 12 credit hours from the following, or other courses as approved by the graduate program director or thesis advisor:
BIO-501 Mechanisms of Pathogenesis (3)
BIO-505 Introduction to Neurobiology (3)
BIO-541 Cellular Immunology (3)
BIO-650 Developmental Biology (3)
BIO-655 Endocrinology (3)
BIO-685 Bioinformatics (3)
BIO-687 Principles of Genomics (3)
BIO-689 Biotechnology (3)
BIO-696 Selected Topics: Non-Recurring (1-6)
CHEM-665 Biochemistry I (3)
ISCI-601 Communicating Science to the Public (3)
PSYC-613 Neuropharmacology: The Biochemistry of Behavior (3)
Capstone (6 credit hours)
Non thesis Option 
  BIO-691 Internship (6 credit hours required)
Thesis Option
  BIO-797 Master's Thesis Research (6 credit hours required)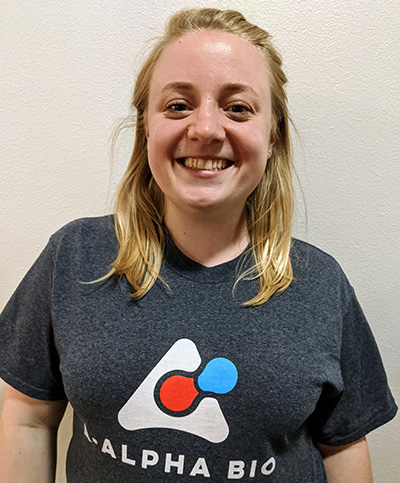 "The MS program at AU really kicked me into gear and helped me overcome the insecurities I had as a scientist."
Mary Kelley, MS Cell & Molecular 19,
Production lead for A-Alpha Bio, Seattle, WA
I attended AU from 2018- 2019. I wanted to get as much as possible out of a MS program, and many of the other universities that I had looked at did not have as much opportunity as AU. The MS in Biology offered a variety of interesting classes, along with the option to TA for labs and the ability to run your own research project. 
Prior to starting at AU I had worked for a cancer diagnostics company, so I knew I wanted to work on cancer. Cancer is uncontrollable cell growth, and our bodies function based on how our cells grow, die, and communicate with each other. There are so many unanswered questions around what causes cancer and the proteins being activated or deactivated within mammalian cells. Understanding how proteins are expressed and interacting can give insight into what is fueling cancer and what drugs can be used to inhibit it. Prior to applying, I visited AU and met with Dr. DeCicco-Skinner to discuss her research and what projects I could work on in her lab. Her interest in signal pathways in relation to tumor formation was exciting and I could not wait to get started.
I loved everything about the program! That may seem overkill, but I was able do what I was interested in and more. My advisor Dr. DeCicco-Skinner gave me a lot of autonomy, and challenged me to figure out the next steps of my project on my own. I was able to run my own experiments and learn countless new lab techniques. I mentored and trained undergraduates in the lab, was a TA for 7 undergraduate lab courses, and took a variety of interesting biology courses to strengthen my background. Overall, I was really challenged and came out the other side more confident in my ability as a scientist. I'm currently identifying protein-protein interaction on a large scale by hijacking Saccharomyces cerevisiae's natural mating system. As Production Lead I am responsible for executing wet lab protocols for our assay, managing the production team, and optimizing our processes.
The program at AU really kicked me into gear and helped me overcome the insecurities I had as a scientist. The most important thing I learned was that you can be wrong. You can make a hypothesis/prediction about how an experiment will turn out and it can be wrong, but that's okay! Every result, every wrong answer helps you think creatively.