The strength of this concentration derives from the diversity of research interests of our faculty and students and their model organisms. Research programs have relevance for global change, biodiversity, current extinction crisis, and genetic mechanisms underlying the morphological and functional adaptations of organisms. Close working relations between students and faculty foster an atmosphere conducive to rapid learning and professional growth.
Thesis and Non-Thesis Options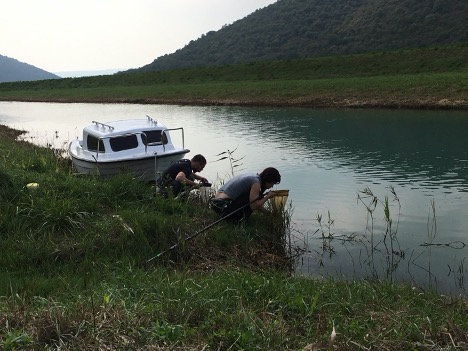 This concentration offers a thesis and non-thesis path. The thesis option is designed for students interested in research-focused careers. Recent graduates have entered PhD programs and obtained positions in various government agencies, non-governmental organizations, and private biotechnology firms. The non-thesis option is designed for those who may leverage a strong background in the biological sciences in preparation for careers or to advance careers in education, communication, consultancy, legal and paralegal professions, and medical and allied health fields, among others. The non-thesis option is especially suitable for part-time enrollment.
Full-time students in either concentration will usually complete the program in two years. Part-time students can complete the program in up to six years.
Faculty
Funding Your Graduate Studies
Merit based financial aid in the form of assistantships are awarded by the Biology Department's Graduate Studies Committee to suitably qualified candidates. These include partial tuition remission, and student stipends. Learn more about Graduate TA Assistantships offered through the department of Biology.
Degree Requirements
30 credits of approved Graduate Work
Required (9 credit hours)
BIO-666 Evolution (3)
BIO-683 Molecular Biology (3)
BIO-697 Research Methodology in Biology (3)
Statistics (3 credit hours)
Complete 3 credit hours from the following:
DATA-612 Statistical Programming in R (3)
STAT-614 Statistical Methods (3)
Ecology and Evolutionary Biology Concentration (12 credit Hours)
Complete 12 credit hours from the following, or other courses as approved by the graduate program director or thesis advisor:
BIO-617 Biology of Insects: Introduction to Entomology (3)
BIO-623 Ecology (3)
BIO-644 Biology of Birds: Introduction to Ornithology (3)
BIO-650 Developmental Biology (3)
BIO-685 Bioinformatics (3)
BIO-687 Principles of Genomics (3)
BIO-696 Selected Topics: Non-Recurring (1-6)
CSC-610 Introduction to Geographic Information Systems (3)
ENVS-505 Energy (3)
ENVS-520 Biogeochemistry (3)
ENVS-572 Topics in Conservation Biology (3)
ENVS-670 Water Resources
ENVS-696 Selected Topics: Non-Recurring (1-6)
ISCI-601 Communicating Science to the Public (3)
Capstone (6 credit hours)
Non thesis Option 
  BIO-691 Internship (6 credit hours required)
Thesis Option
  BIO-797 Master's Thesis Research (6 credit hours required)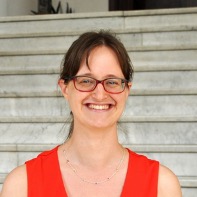 "At AU, I learned that I value the academic scientific community. I enjoy collaborating and brainstorming creative hypotheses together with people who are interested in the same questions as I am."
-Mara Laslo, MS in Ecology '13, Curriculum Fellow at Harvard Medical School
I chose the MS Program at AU because I had research experience at NIH but felt like academic research might be a better fit. I looked at several MS programs, but AU stood out because of the tight and friendly community and the research
I have always been an amateur naturalist, and I learned about Evolutionary and Developmental (Evo-Devo) Biology at AU. Evo-Devo combines molecular and computational tools to understand how diverse life forms have evolved. I was also really drawn to the research of several faculty at AU – Dave Carlini, Dave Angelini, and Dan Fong.
The AU Biology Community (faculty, staff, and other grad students) were extremely welcoming and kind. It felt like right away I had an academic home and could talk with faculty about science informally. In fact, after I completed most of my MS work, I began a side project with Dan Fong.
At AU, I learned that I value the academic scientific community. I enjoy collaborating and brainstorming creative hypotheses together with people who are interested in the same questions as I am. As I was finishing up my MS, I knew I wanted to continue in research and so applied for PhD programs. I credit the AU faculty with making academia (not always a welcoming place for all people) a welcoming space where I could push myself to grow scientifically. During my PhD I also became more interested in science education. This interest also began at AU! I worked as a TA for several classes and worked with Lab Director Meg Bentley to restructure one of the labs. Working with Meg to try new things in the lab was a similar creative and collaborative process that I really enjoyed. I have carried that interest through my PhD and am now looking for positions where I can teach and do some research.
I recently just graduated with my PhD in Organismal and Evolutionary Biology from Harvard and the Curriculum Fellow program is an educational post-doc position, where I can do research, learn about pedagogy, and teach. I am currently teaching a lab for non-majors at Emmanuel College and working on several research projects on the evolution of direct development in frogs.