Our Work
Our research focuses on proven strategies of facilitating changes, from the individual level to system-wide policies, to support healthy behaviors, increase access to healthy foods and physical activity, and reduce risk factors that contribute to chronic disease.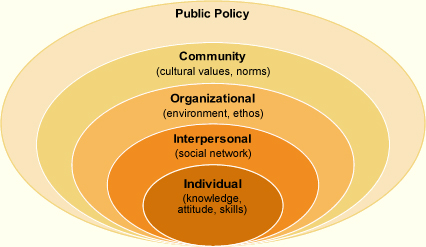 Utilizing both the Social Ecological Model (Bronfenbrenner, 1977) and Equity-Oriented Obesity Prevention Framework (Kumanyika, 2019), our work takes place across multi-sector settings such as schools, corner stores, supermarkets, and faith-based communities. We seek to develop community engagement strategies that will result in a community-driven approach to creating a culture of health tailored to the needs and desires of the residents.
Our goal is to examine and affect the different levels of influence that can improve the health and food environment, leading to improved health outcomes and increased resources and capacity in vulnerable communities.
Through authentic community engagement, we address the needs of the individual and community within the social, economic, and cultural contexts where people live, work, learn, and worship to ensure health for all.
The current landscape
In the District of Columbia, as well as across the country, where one lives has a significant impact on the opportunities to live a long and healthful life. We've often heard the statement "Your zip code may be more important than your genetic code for health."
Our work is focused in Wards 7 and 8 in Washington, DC, where residents face higher rates of health disparities across many health markers. The local realities and community context must be at the heart of community-led action and transformation that will achieve the strongest and most sustainable impact.
News & Notes
February 2023 – Watch the 3-mintue video on Faithfully Fit's work in the community: "DC pastors are promoting healthy living among congregants."
October 2022 – Ayanna Wells, Robin McClave, Zoe Smith, Hugo van Dyke, and Dr. Anastasia M. Snelling completed the 6th annual  DCCK Healthy Corners Evaluation Report. DC Central Kitchen's Healthy Corners program works toward improving access to fruits and vegetables for communities that have limited food stores available. Through increased access and food and nutrition knowledge, improved consumption of healthful foods can lead to a decrease in chronic disease. The evaluation includes an analysis of the performance of corner stores who participate in selling fresh produce and gathering feedback from store customers to identify barriers and facilitators for purchasing fresh produce at these corner stores.
Sept 2022: Ayanna Wells, Robin McClave, Dr. Elizabeth W. Cotter, Tom Pruski, Deborah Nix, and Dr. Anastasia M. Snelling published the results of capacity building strategies and formative assessments completed among the five faith-based organizations (FBO) participating in Faithfully Fit in the Journal of Religion and Health. Faithfully Fit is 4-year program funded wholly, or in part, by the Government of the District of Columbia, the Department of Health, Community Health Administration and seeks build a culture of health and wellness, improve health literacy, and prevent obesity in adults FBOs in Wards 7 & 8.
August 2022: Dr. Melissa Hawkins, Dr. Stacey Snelling, Robin McClave and DC community members published their qualitative, community-engaged project examining the impacts of the COVID-19 pandemic on food access and health in the journal Nutrients. This project was supported by the Luce Foundation and Mellon Foundation part of the AU Humanities Truck fellowship program. Listen to interviews and learn more about the Corner Store Communitues project.

July 2022: The Healthy Schoolhouse 2.0 team, including MS Data Science student Mergentevne Narangerel, Dr. Melissa Hawkins, Dr. Sarah Irvine Belson, Robin McClave, and Dr. Stacey Snelling, presented at the virtual portion of American School Health Association's (ASHA) 96th annual conference July 21-23. The poster titled "Examining the relationship between job stress, self-efficacy and personal health among elementary school teachers in Washington, D.C.: Empowering teachers through professional development" identifies that in order to empower teachers to manage workplace stress to protect and maintain a robust teacher workforce, it is imperative to offer support for professional learning about health. 
June 2022: The Healthy Schoolhouse 2.0 team published a brief report in Childhood Obesity linking Kumanyika's "Getting to Equity in Obesity Prevention" framework to the holistic approach and strategies utilized in Healthy Schoolhouse 2.0 to address childhood obesity and advance health equity.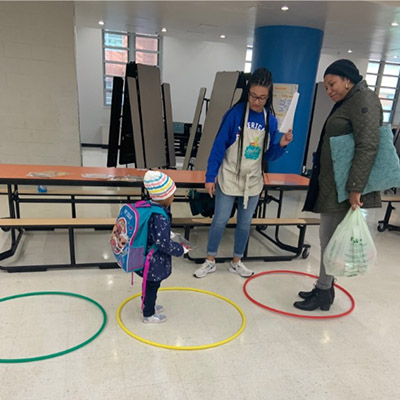 Image info
An HSHC team member integrates physical activity and nutrition education at a Joyful Food Market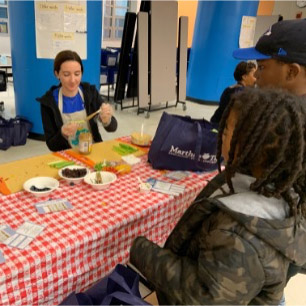 Image info
Students at the Joyful Food Market learn about healthy snacking by making and eating Ants on Log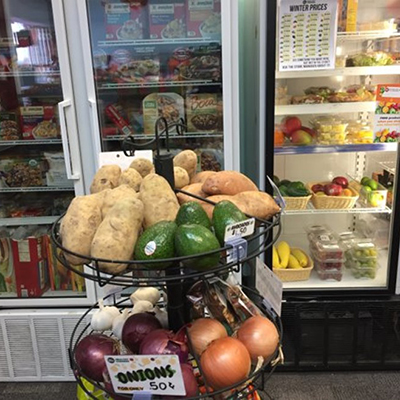 Image info
Partnering with DC Central Kitchen and DC DOH, we seek to evaluate the use of corner stores to increase acces to fresh produce in food deserts in Washington, DC.