Education
Getting Creative: Teaching at AU in a Pandemic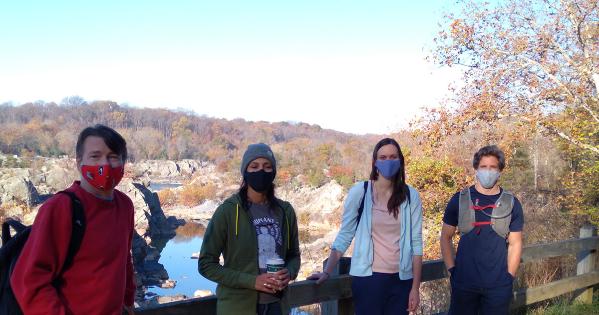 When American University pivoted to virtual learning in the spring, faculty, staff, and students faced daunting technological challenges—all while navigating the uncertainties and fears of a new pandemic. Thanks to hard work and ingenuity, and a lot of 24/7 help from AU's technology experts, things went pretty smoothly despite the abrupt change. This summer, we wrote about some of the innovative courses College of Arts and Sciences faculty were offering online for the fall.
But as the fall semester stretched on, faculty realized they were facing a new challenge: how to keep students engaged in their coursework despite some reports of "technology fatigue" and the isolation and sadness many students, and even faculty and staff, were reporting feeling. College instructional designers and faculty hosted a series of "show and tell" videos to explore how technology can keep students engaged and provide an excellent online experience on par with that found face-to-face inside a classroom.
Meantime, the College Dean's Office, concerned about students' well-being and their connection to their professors, conducted a faculty survey and discovered some fascinating ways faculty are engaging with their students.
Stephen MacAvoy headed outdoors with his Environmental Science and Geology students, exploring areas near campus and in Great Falls National Park.
In the Theatre program, Karl Kippola and his students have begun a program called "Fridays@Five" in which they host on Zoom a wide range of guests—actors, directors, designers, playwrights, and artistic directors. "We have particularly focused on bringing in artists of color," Kippola says. Once a month they do a Community Check-in—a Zoom meeting in which students are encouraged to talk about what they are experiencing, the challenges they are facing, and what faculty can do to help. In all classes, professors have been doing a daily check-in with students at the beginning of every class to allow students to express what they are thinking and feeling.
Teresa Larkin in Physics had one-on-one Zoom sessions with most of her students in August, before classes started. She says she "wanted to do more than simply send out a welcome email or a short video for my students. The message I gave to each student was, 'I see you, I hear you, and you are a valued member of my class.'" She starts her classes early, inviting students to come with their coffee, tea, breakfast—or even their dinner, since about 50 percent of her students are in China and Taiwan. She finds that students arrive early to class and/or stay late just to talk and share. "We've even had some show and tell, where we share our pets or any number of things. Students have indicated that this has really helped build community, which I believe has also helped to enhance student learning."
Jenny Axe in the Department of Chemistry says she has "virtual background theme days, like End of Summer, Autumn, Halloween, etc., or themes related to the class topic like CRISPR, DNA, genetics." Students tend to keep their webcams more on these days, she says, to show off their cool backgrounds. They also had a virtual costume party for Halloween. Axe says nearly all students came in costume and kept their webcams on for the duration of class.
Jesse Meiller, in the Department of Environmental Science, is holding individual meetings with seniors about their Capstone projects. "This has been a wonderful (albeit time-consuming) way for us to connect in a meaningful way outside of the Zoom classroom," Meiller says. "My seniors are also developing a Mentorship Program for first and second year environmental science students so they can create a sense community within the department, especially during this pandemic when so many students are feeling isolated and separate from what AU really is." In Meiller's Environmental Health class, students are developing case studies in teams, focused on health effects as a result of climate change. They work together to develop the cases and then facilitate and present them to the class. Meiller says, "This was a semester-long assignment which has been iterative in nature, with multiple levels of feedback along the way—including team meetings with me, working with Rachel Borchardt (AU Science Librarian), and developing their own team contract complete with a schedule and responsibilities."
Cathy Schaeff says she does a casual check-in with her Biology students at the beginning of class. It lasts until no one has anything else to say. She says the exercise "is not focused on problem-solving, but rather sharing their experience." Schaeff also reports this interesting fact: her students don't like what they perceive as the administration's focus on Zoom burnout. Her students say, "It erases all the other real impacts they are dealing with, and instead makes them feel that if they just figured out how to cope with Zoom, all would be fine."
In the Department of Anthropology, David Vine says students have had a departmental Halloween party via Zoom, as well as open conversations among undergraduate students about Black Lives Matter, COVID, and the election. There is also a self-examination process underway about potential racism in the department. Vine says it is meant to eliminate any practices or procedures that uphold or reinforce racism and white supremacy.
Núria Vilanova, Associate Dean of Undergraduate Studies for the College, says, "This has been a turbulent and troubling time for everyone, and our students are the most vulnerable. Our faculty have gone to great lengths, and will continue to do so, to give them safe space to express their concerns and needs, and to ensure that they get the high-quality education and experience for which American University is known."