Philosophy / Religion
4400 Massachusetts Avenue NW
Washington
,
DC
20016-8056
United States
The Annual Durfee Lecture was initiated by a generous gift from Harold A. Durfee and Doris G. Durfee.  Held every spring, the series provides our students and colleagues with the opportunity to meet distinguished thinkers.
2018 Lecture: "Reading the Qur'an in America"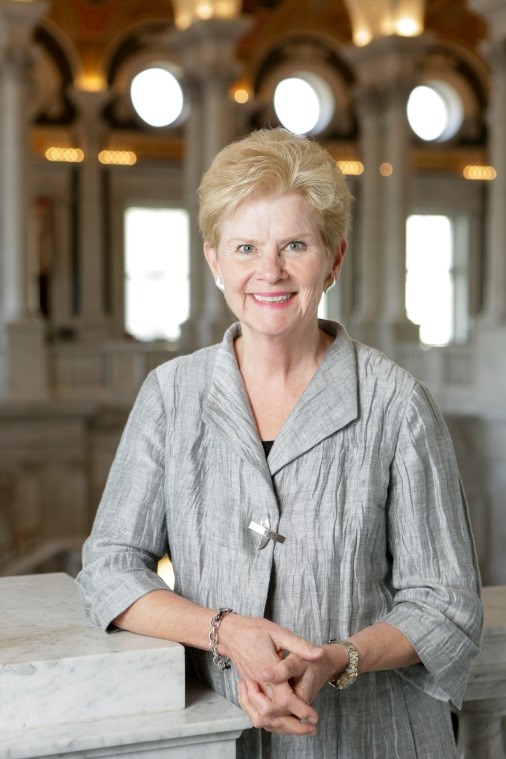 Jane McAuliffe
Inaugural Director of National and International Outreach at the Library of Congress
 
Lecture Abstract
Despite the pervasive misperception that the Qur'an arrived only recently on American shores, it actually has a history in this country that predates the formation of the Republic. It lived in the minds and hearts of enslaved west Africans for generations; it had a place on the library shelves of some of our Founding Fathers; it fascinated literary figures in the nineteenth century and beyond; and it continues to be a source of new interpretation and expression in this American century.
Yet the Bible's long prominence in American culture, society and politics has obscured this history and complicated the reception of the Qur'an as a genuinely American scripture. It has also shaped the scriptural experience and expectations with which many American readers come to the Qur'an.
Bio: Jane McAuliffe
Jane McAuliffe is the inaugural Director of National and International Outreach at the Library of Congress, where she oversees a broad range of programs, including the National Book Festival, the Kluge research center for scholars, the Library's exhibits, publishing office, visitors services, business enterprises, programs for K-12 teachers and the National Library for the Blind. Her previous positions include President of Bryn Mawr College, Dean of Arts and Sciences at Georgetown University, and professor at the University of Toronto and Emory University. McAuliffe has written extensively on Islam and the Qur'an, as well as on Muslim-Christian relations. She has published Qur'anic Christians (1991); ʿAbbasid Authority Affirmed (1995); With Reverence for the Word (2002); Encyclopaedia of the Qur'an (2006, 6 vols and online); Cambridge Companion to the Qur'an (2006); Norton Anthology of World Religions: Islam (2015); and The Qur'an: A Norton Critical Edition (2017). She is past president of the American Academy of Religion, a member of the American Philosophical Society, the American Academy of Arts and Sciences and the Council on Foreign Relations.
Past Lectures
2017: "Rest, Bullet: Ritual Homecoming Practices among Combat Veterans"
Kathryn McClymond
Professor and Chair, Department of Religious Studies
Georgia State University
2016: "Locating Contemporary Spirituality: New Thoughts on the Changing American Religious Landscape"
Courtney Bender
Professor of Religion
Columbia University
2015: "Religious Difference Without Religious Conflict"
Stephen Prothero
Professor of Religion, Boston University
2014: "The Religious-Secular Binary as a Space of Pluralism"
Slavica Jakelic
Assistant Professor of Humanities and Social Thought
Valparaiso University
Fellow, Institute for Advanced Studies in Culture
University of Virginia
2013: "God's Fifth Abode: Entrepreneurial Faith in the Hindu Himalayas"
Brian K. Pennington
Chair, Division of Humanities; Professor of Religion
Maryville College
2012: "Islam and Human Rights: Religious and Secular in Conversation"
Abdulaziz Sachedina
Frances Myers Ball Professor of Religious Studies
University of Virginia, Charlottesville
2011: "A for Antigone: Reading Derrida's Difference Again"
Amy Hollywood
Elizabeth H. Monrad Professor of Christian Studies
Harvard Divinity School
2009: "Sheep Gone Astray: The Tragic History of the Religious Right"
Randall Balmer
Professor of American Religious History
Bernard College, Columbia University
2008:"Religion and National Conflict: Reflections on Myanmar, Iraq, and Other Current Examples"
David Little
Professor of the Practice in Religion, Ethnicity, and
International Conflict, Harvard Divinity School;
Fellow of the Weatherhead Center for International Affairs
Harvard University
2007: "Parmenides in the 21st Century"
Harold A. Durfee
Professor Emeritus
Department of Philosophy and Religion
American University