Philosophy / Religion
4400 Massachusetts Avenue NW
Washington
,
DC
20016-8056
United States
The Annual Durfee Lecture was initiated by a generous gift from Harold A. Durfee and Doris G. Durfee.  Held every spring, the series provides our students and colleagues with the opportunity to meet distinguished thinkers.
2017 Lecture: "Rest, Bullet: Ritual Homecoming Practices among Combat Veterans"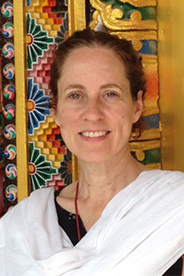 Kathryn McClymond
Professor and Chair, Department of Religious Studies
Georgia State University

Lecture Abstract

Based on research conducted with oral histories, memoirs, public videos, and personal interviews with veterans of WWII, Vietnam, Iraq, and Afghanistan, McClymond argues that veterans, usually without realizing it, often deal with traumatic and potentially traumatic war experiences by engaging in four ritual behaviors: pilgrimage, atonement, testimony/prophecy, and/or memorial-making. Specifically, the research suggests that veterans, often unconsciously, engage in (and sometimes construct) such rituals as practical strategies for making peace with the moral/ethical trauma that they carry with them home from war. While engaging in ritualized practices does not erase the trauma they have experienced, it is clear from the veterans' own narratives that ritual activities can offer a meaningful, constructive response to moral/ethical injury.
Bio: Kathryn McClymond

Kathryn McClymond is Professor and Chair in the Department of Religious Studies at Georgia State University. McClymond is a comparative historian of religion, with a special emphasis on comparative ritual. She is the author of Beyond Sacred Violence: A Comparative Study of Sacrifice and, most recently, Ritual Gone Wrong: Case Studies in Ritual Disruption, which examines ritual mistakes, sabotage, and disruption and their significance for ritual theory. Her current research focuses on religious rituals as combat veterans' homecoming practice. McClymond serves on the Board of Directors for the American Academy of Religion as the Program Unit Director.
Past Lectures
2016: "Locating Contemporary Spirituality: New Thoughts on the Changing American Religious Landscape"
Courtney Bender
Professor of Religion
Columbia University
Abstract: Over the last two decades, surveys have captured a portrait of a rapidly changing American religious landscape: more Americans are opting out of religious identities, and many of this group claim that they are post-religious, or "spiritual not religious." While surveys can tell us much, it nonetheless remains that many features of this landscape thus remain rather dimly lit – or difficult to discern from such remove. Taking this observation as a beginning point, this talk first considers the ethnographic "ground" passed over by surveys, to consider the durable and flourishing organizational support for American spiritualities that suggest more stability than change, and then considers the American spiritual imagination that has developed through surveys — as they have suggested a position from the "sky" which makes new national religious horizons visible.
2015: "Religious Difference Without Religious Conflict"
Stephen Prothero
Professor of Religion, Boston University
2014: "The Religious-Secular Binary as a Space of Pluralism"
Slavica Jakelic
Assistant Professor of Humanities and Social Thought
Valparaiso University
Fellow, Institute for Advanced Studies in Culture
University of Virginia
2013: "God's Fifth Abode: Entrepreneurial Faith in the Hindu Himalayas"
Brian K. Pennington
Chair, Division of Humanities; Professor of Religion
Maryville College
2012: "Islam and Human Rights: Religious and Secular in Conversation"

Abdulaziz Sachedina
Frances Myers Ball Professor of Religious Studies
University of Virginia, Charlottesville
2011: "A for Antigone: Reading Derrida's Difference Again"

Amy Hollywood
Elizabeth H. Monrad Professor of Christian Studies
Harvard Divinity School
2009: "Sheep Gone Astray: The Tragic History of the Religious Right"

Randall Balmer
Professor of American Religious History
Bernard College, Columbia University
2008:"Religion and National Conflict: Reflections on Myanmar, Iraq, and Other Current Examples"

David Little
Professor of the Practice in Religion, Ethnicity, and
International Conflict, Harvard Divinity School;
Fellow of the Weatherhead Center for International Affairs
Harvard University
2007: "Parmenides in the 21st Century"

Harold A. Durfee
Professor Emeritus
Department of Philosophy and Religion
American University