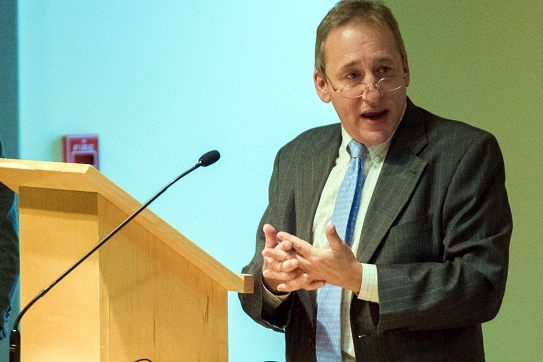 With American University re-opening its classrooms and other facilities in recent weeks, CLALS staff have returned to the office, working in hybrid mode – some days in the office, and others remotely from home. Given the ongoing pandemic, we are still not able to host guests from outside the University, but we continue to carry out an array of activities virtually and to meet with current and prospective partners in appropriate settings off campus.
During the 18 months since our on-site work was interrupted, we have managed to sustain an array of existing projects and to launch quite a few new initiatives, details of which are available on our website. New grant-funded programs include analyses of the impact of US engagement with Chile and Uruguay, in partnership with Catholic Universities in both countries; a study of China's messaging strategies across Latin America and the Caribbean, in collaboration with the Coordinadora Regional de Investigaciones Economicas y Sociales in Buenos Aires; and an investigation identifying key characteristics of transnational criminal organizations operating in the region, once again in partnership with InSight Crime. Working with colleagues at the Greater Washington Hispanic Chamber of Commerce, we have also completed a thorough review and analysis of the myriad ways in which pandemic relief was delivered to Latino-owned businesses throughout the Washington, DC metropolitan area, and the gaps that remained despite innovative efforts to reach vulnerable firms and communities. This will be the focus of our Annual Latino Public Affairs Forum, scheduled to take place virtually on October 27.
Planning is underway to advance work in these areas as well as on both new themes and old. Thus the ways in which religious actors and ideas interpret and shape responses to environmental change is a topic that we have explored with Luce Foundation funding for the past two years, and that will remain a priority during the coming months. Similarly, we intend to maintain our focus on challenges of governance and corruption, in Central America in particular but likely extending beyond, including to Brazil under the auspices of the AU Brazil Research Initiative, whose blog is becoming an increasingly prominent voice in debates about that country's evolution. Dynamics of North American regionalism continue to occupy the CLALS-sponsored network of researchers engaged with the Robert A. Pastor North American Regional Initiative, which we expect will organize a convening to coincide with the release of project publications over the course of the academic year. Our longstanding engagement with Cuba's political economy and US-Cuba relations will be advanced through publication on our website of an ambitious set of writings on the July 2021 protests and their implications. At the same time, we intend to maintain and expand our portfolio of projects exploring the impact of the pandemic, and responses to it, on Latino communities across the United States as well as on the economies, societies and polities of Latin America.
While our ability to take on new responsibilities in the short term is somewhat constrained by the challenges of working in a hybrid mode – partly though not entirely dependent on virtual platforms for collaborative activities – as always we invite our colleagues on campus and beyond to share ideas and aspirations that might motivate the development of new initiatives. We are optimistic about our prospects for generating valuable knowledge and for sharing findings of research with multiple stakeholders, and look forward to doing so over the course of the academic year and beyond.
Sincerely,
Eric Hershberg
September 16, 2021