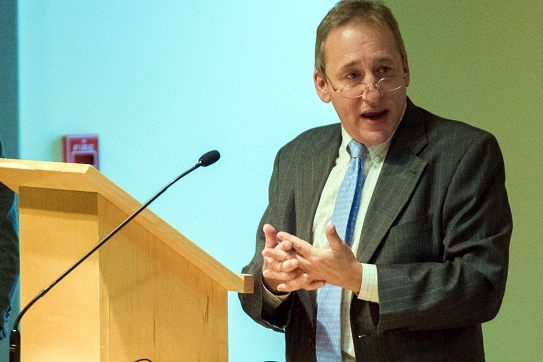 Much has been accomplished at the Center over the course of 2022. We completed separate projects on United States engagement with Chile and Uruguay; illicit, unlicensed, and unregistered (IUU) fishing in Latin America and the Caribbean; China's messaging in the region; and anti-corruption missions in Central America. Products of these initiatives have included publications, podcasts, videos, and public events, and additional outcomes are in the pipeline. Meanwhile, as we explore opportunities to follow up on these inquiries, we have continued to advance analyses of North American regionalism, environmental migration, and various aspects of social inclusion. We expect to soon announce renewed lines of work on Cuban economy and society, and several initiatives related to migration.
For the first time since the pandemic interrupted traditional ways of convening events in March 2020, we have begun to convene live gatherings and panel discussions on campus. At this juncture, we are conducting these in hybrid fashion, with on-line as well as on-site participants, and it increasingly appears that this change in the way events are delivered to audiences will be one impact of the pandemic that endures. It remains to be seen, meanwhile, whether CLALS will return to its pre-pandemic practice of routinely convening events across the country and in Latin America and the Caribbean. My sense is that these activities will resume gradually, though on a lesser scale than was typical prior to 2020.
This is a year of transition and renewal in many other respects, as well. In particular, I am working productively with the talented Center staff to pass the leadership baton to my colleague Ernesto Castañeda of the AU Sociology Department, who as previously announced will succeed me as Director of CLALS beginning in January. This is a long-planned process and I consider it a great opportunity for the Center to build on the record of achievement accumulated since I arrived at AU as founding Director a dozen years ago. CLALS has become and will remain a space for collaboration and innovation – for integrating multiple strands of knowledge and diverse audiences to deepen understanding of questions that matter for the human condition. While I am proud of what we have accomplished to date, I am also confident about the prospects for the Center to take on fresh lines of work and add new kinds of programming to its repertoire. As always, its success will hinge on the contributions of the extraordinary community of thinkers and doers who have collaborated with the Center since its inception, and to whom I am deeply grateful.
Sincerely, 
Eric Hershberg
October 5, 2022