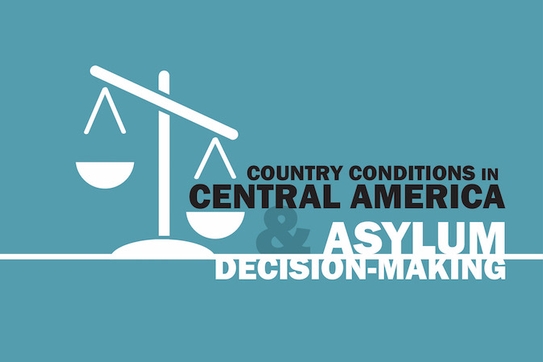 Recent years have witnessed a sharp increase in undocumented migration to the United States by Central American minors and families with children seeking refuge from violence in their home countries. This influx of migrants is straining the capacity of the U.S. immigration system to adjudicate their claims, and is taxing an already overburdened community of attorneys available to provide legal assistance. In collaboration with American University's Washington College of Law, CLALS is connecting leading social scientists with expertise on the conditions driving migration from the region with legal scholars and practitioners in an effort to enhance scholarship and better inform decision-making on asylum claims submitted by Central Americans.
The volume and nature of the claims submitted by Central American asylum seekers present significant challenges for the U.S. immigration system as well as new opportunities for collaboration between social scientists and legal scholars. One specific challenge is the relative mismatch between the dangers cited by many applicants as motivating them to flee their home countries and the categories of persecution established in asylum law and related jurisprudence.
A January 2017 workshop supported by the National Science Foundation help build and strengthen interdisciplinary networks that continue to facilitate dialogue between social scientists and legal practitioners to brainstorm ways in which collaborative research can assist in bridging the gap between complex forms of persecution in Central America and the requirements of asylum law. These efforts are informing the adjudication of claims brought by Central Americans and generating insights into how asylum law is being interpreted and implemented in these cases.
As this work progresses, project resources will contribute to greater transparency around asylum decision-making, further public understanding of the U.S. refugee protection system, and propose recommendations for making the asylum system more responsive to present-day humanitarian crises.
This material is based upon work supported by the National Science Foundation under Grant No. 1642539. Any opinions, findings, and conclusions or recommendations expressed in this material are those of the authors and do not necessarily reflect the views of the National Science Foundation.