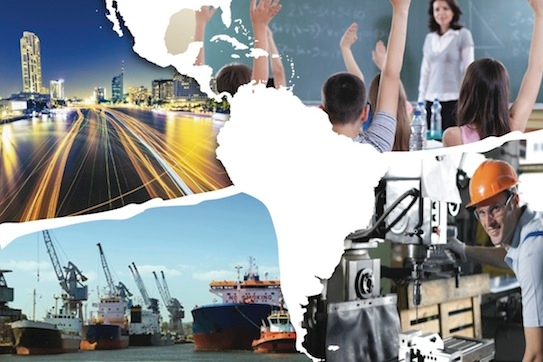 Most countries in Latin America and the Caribbean are struggling to escape what economists label "the middle income trap." While much if not all of the region has emerged from low income status, neither growth nor productivity has increased sufficiently to enable Latin America to narrow the gap separating it from the world's most developed economies. And while income inequality has diminished across much of the region in recent years, social vulnerability remains widespread and institutional weaknesses continue to plague efforts to achieve equitable development.
Many factors lead to the middle income trap, but three are especially crucial:
a slowdown in growth due to an inability to achieve continuous improvements in competitiveness and productivity;
the poor quality of education and the slow transfer of knowledge and innovative ideas; and
excessive inequality and lack of social protection.
To illuminate how Latin America and the Caribbean might transcend these challenges, CLALS partnered with the Corporación de Estudios para Latinoamérica (CIEPLAN) to analyze Latin America's paths toward escaping the middle income gap. With support from the Inter-American Development Bank (IDB), CLALS and CIEPLAN generated a series of studies that address productivity and innovation, on the one hand, and social inclusion, on the other. The research also sought to identify lessons to be derived from experiences within the region and in East Asia, where the middle income trap has largely been avoided.
Results of these investigations have circulated in various venues, including at the IDB, which supported the endeavor through its Office of Strategic Planning and Development Effectiveness.
A Spanish-language volume, published by CIEPLAN and edited by project directors Alejandro Foxley and Barbara Stallings, takes stock of the current state of affairs and offers analysis and prescriptions for transforming Latin America's political economy. An electronic version of the book, entitled Economías latinoamericanas: Cómo avanzar más allá del ingreso medio, is available for download.
A revised version of the volume, published by Palgrave MacMillan, brings the findings of the project to an English-speaking audience. Titled Innovation and Inclusion in Latin America: Strategies to Avoid the Middle-Income Trap, the book argues that Latin America must confront two main challenges: greater innovation to increase productivity, and greater inclusion to incorporate more of the population into the benefits of economic growth.
A working paper by Alejandro Foxley, entitled "Groundwork for Inclusive Development: Responses to Emergent Challenges for Latin American and Caribbean Economies" can be downloaded on the Social Science Research Network.