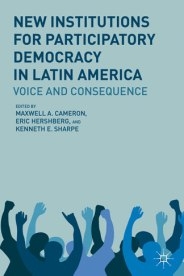 Scholars from seven Latin American countries, the U.S., and Canada examined the tensions and complementarities between democratic representative institutions and emerging mechanisms of direct participation, identifying opportunities for strengthening democracy in the region.
From community councils to participatory budgeting, from referenda and recall to citizen initiatives, mechanisms of direct participation have spread throughout Latin America in recent years. Some of these mechanisms are new, as in the case of Venezuela's community councils; in other cases, such as citizen initiatives in Ecuador, they have been on the books for years but had fallen into disuse. They have spread most rapidly where established representative institutions, such as party systems, have collapsed, or where legislatures, often seen as markets for buying and selling influence, have fallen into disrepute. And they have often been accompanied by the rise of powerful social movements seeking inclusion. Is the spread of direct participation at odds with the consolidation and deepening of representative institutions, or are participation and representation mutually reinforcing?
This project co-organized by CLALS and the University of British Columbia's Andean Democracy Research Network convened scholars from the U.S., Canada, and Latin America to consider this question through analysis of case studies that examine mechanisms of direct participation in Bolivia, Brazil, Ecuador, El Salvador, Mexico, Peru, Uruguay and Venezuela.
Participating scholars first came together in June 2010 at a workshop held at AU to share country-specific research on diverse aspects of direct participation and to consider the evolving parameters of the research framework. In memos submitted prior to the workshop, each scholar considered the ways in which a series of initial framing questions about the relationship between participation and representation related to their field research.
Building on this conversation, a revised conceptual framework of the project was established to guide participants in conducting further research as needed and in developing their memos into full-length articles. Scholars reconvened to discuss these articles in a workshop hosted at the Universidad Nacional de San Martin, in Buenos Aires in December 2011. Following further revision, the articles have been combined in a scholarly monograph, edited by Maxwell Cameron of UBC, Eric Hershberg, of CLALS, and Ken Sharpe, of Swarthmore College. The book is published by Palgrave Macmillan in English, New Institutions of Participatory Democracy: Voice and Consequence, and by FLACSO-Mexico in Spanish, Nuevas instituciones de democracia participativa en América Latina: la voz y sus consecuencias. Both are available for purchase online.