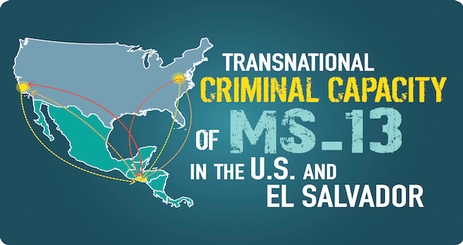 The U.S. government designation of MS-13 as a transnational criminal organization (TCO) in October 2012 has raised serious questions about the gang's transnational criminal capacity. At present, insufficient data has hindered the formulation and implementation of policies aimed at countering the steady growth and professionalization of this criminal organization. CLALS concluded a multi-year collaborative research project on MS-13 to advance scholarship on the gang's criminal activities and social networks and to assist federal, state, and local law enforcement agencies in keeping pace with the gang's expansion and evolution.
Researchers from CLALS, InSight Crime, and the Center for Violence Prevention and Community Safety at Arizona State University gathered data from official sources and from interviews with local stakeholders, law enforcement experts, and active MS-13 members in three major metropolitan areas: Washington, DC; Los Angeles; and San Salvador, El Salvador. The study was designed to provide key insights into MS-13's criminal activities, structure, inter- and intra-gang relationships, level of community penetration, and recruitment strategies.
Project findings aspire to serve as an empirical basis on which to shape new policies and practices, guide the allocation of law enforcement resources, anticipate MS-13's movement, and inform the design of intervention and suppression strategies. In addition, CLALS and InSight Crime released a comprehensive investigative report on MS-13, "MS13 in the Americas: How the World's Most Notorious Gang Defies Logic, Resists Corruption." The report details project findings across research sites in El Salvador and the U.S. in a format accessible to policymakers, policy analysts, law enforcement officials, journalists, and the general public. The report is also available in Spanish. 

Over the course of the project, findings were published by InSight Crime and disseminated widely via their website and other media outlets, including The New York Times and The Conversation.
This project was supported by Award No. 2013-R2-CX-0048, awarded by the National Institute of Justice, Office of Justice Programs, U.S. Department of Justice. The opinions, findings, and conclusions or recommendations expressed in this publication are those of the author(s) and do not necessarily reflect those of the Department of Justice.