Couch to 5k & 5k to 10k Training Fall 2018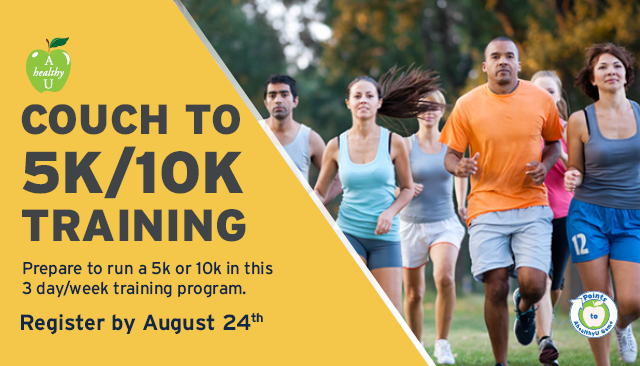 Ready to run your way to a healthy you?
This running program will take you from the couch to the finish line of a 5k in 8 weeks, or you can choose to train for a 10k over the course of 10 weeks.
What is it?
Prepare to run a 5k or 10k in this 3 day/week training program.
How does it work?
You will train with a coach twice/week on campus and train once/week on your own. Your sessions will include intervals of walking and jogging to increase endurance while staying injury-free, then you will gradually build to jogging more as race day approaches. The training program is tailored to your goals and your experience.
Additional Training Information:
5k training runs through Wednesday, October 17th
10k training runs through Wednesday, October 31st
*There will be no training on Labor Day (Monday, September 3rd)

**Please note that we will not be meeting at the AU Greenburg Track on August 29th, October 17th, and October 24th. Meeting location for these dates is TBD. 
Register for Couch to 5K/10K Group Training
Date: Mondays* and Wednesdays, beginning August 27th
Time: 5:30PM - 6:30PM
Location: AU's Greenberg Track**

REGISTER FOR GROUP TRAINING
Deadline Friday, August 24th
Register for Pre-selected 5K or 10K Race
10K Race: Hot Cider Hustle 10K Race
Where: National Harbor (137 National Plaza, National Harbor, MD 20745)
When: Saturday, November 3rd
Time: 9:00AM

10K RACE REGISTRATION
Join the AhealthyU Team! Check "yes" when asked "Would you like to join a Group/Team?" After signing the waiver, check "Join an Existing Group/Team". The password and team name is "AhealthyU".