Couch to 5k & 5k to 10k Training Spring 2019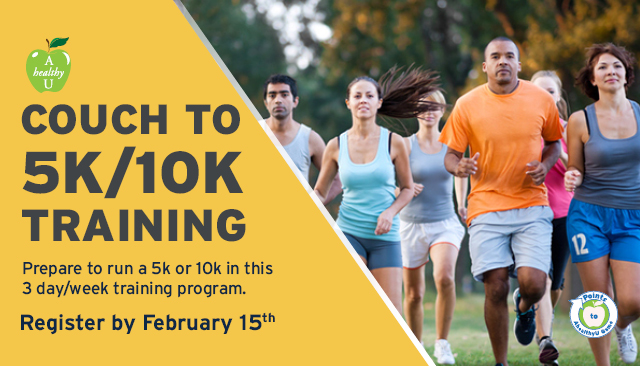 Ready to run your way to a healthy you?
This running program will take you from the couch to the finish line of a 5k in 10 weeks, or you can choose to train for a 10k over the course of 10 weeks.
What is it?
Prepare to run a 5k or 10k in this 3 day/week training program.
How does it work?
You will train with a coach twice/week on campus and train once/week on your own. Your sessions will include intervals of walking and jogging to increase endurance while staying injury-free, then you will gradually build to jogging more as race day approaches. The training program is tailored to your goals and your experience.
Additional Training Information:
5k and 10k training runs through Wednesday, April 24th
Register for Couch to 5K/10K Group Training
Date: Mondays and Wednesdays, beginning February 18th
Time: 5:30PM - 6:30PM
Location: AU's Greenberg Track

REGISTER FOR GROUP TRAINING
Deadline Friday, February 15th
Register for Pre-selected 5K or 10K Race
5K Race: M5K/10K
Where: Fletcher's Cove (Washington, DC)
When: Saturday, April 27th
Time: 9:00 AM