Research
Building the Knowledge Network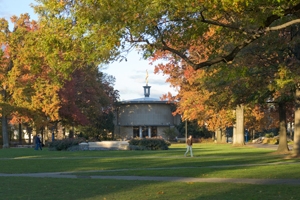 American University has amassed a talented crop of 23 new tenured and tenure track professors for the upcoming year. As part of the AU 2030 project, the university has invested significant resources in key subject areas that cut across departments. The new faculty will help foster an environment of academic excellence.
College of Arts and Sciences
Though the substance of his work delves into indecision, Mark Laubach has a clear idea about the research that animates him. "I like trying to figure out decision-making. How does the brain resolve a decision?" Laubach poses. "And how do you learn from one occasion to the next to do something better next time?"
Laubach is a new associate professor of biology in the College of Arts and Sciences. Along with other professors, Laubach hopes to collaborate with Terry Davidson, director of the Center for Behavioral Neuroscience.
Laubach has been working with a National Science Foundation grant to understand brain circuits for executive control. Through Klarman Family Foundation support, he's been conducting research to comprehend neuronal circuits that control food-seeking behavior.
Originally from Bergen County, New Jersey, Laubach did his undergraduate work at Lafayette College in Pennsylvania. He was initially inclined towards marine biology, and one summer in Oregon he did a research project on crabs and their claws. He refocused his attention to neuroscience and neurobiology, eventually earning his Ph.D. from Wake Forest University.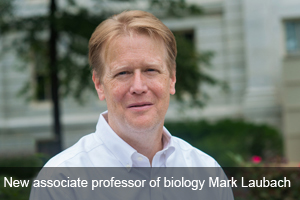 Most recently, Laubach was an associate professor of neurobiology at Yale School of Medicine. He's made the move to Washington with his wife, Bernadette—a chemist and a preschool teacher—and their daughter and son. True to his North Jersey roots, Laubach is still loyal to the New York Mets and the New York Giants. But he's open to some of the local teams, and he's already started going to games with his sports-fanatic son.
Given his academic field, does he think about the neurons in his brain while he's fulfilling routine chores? "No, when I do my own decision-making, I do not think about my brain's role in it. But when I drive my car home, I end up having my best work-related ideas."
Other new CAS faculty:
Nicole Angotti is a new assistant professor in the Sociology Department. She's also a faculty affiliate at AU's Center on Health, Risk, and Society.
Michael Baron, who previously taught at the University of Texas at Dallas, is now a professor in the Mathematics and Statistics Department. Also teaching math and stats is assistant professor Kristina Crona.
John Bracht is now an assistant professor in the Biology Department. His research interests include genomics and cell biology.
Catherine Anne Claus is a new assistant professor in the Anthropology Department. Her teaching interests have included ocean studies and political ecology.
Joshua McCoy is an assistant professor in the Computer Science Department. He's focused on new video game experiences through game technology, design, social science, and artificial intelligence.
Ying-Chen Peng is a new assistant professor in the Art Department. She's researched late imperial and modern Chinese art history, globalization in art, and Asian material culture.
Jennifer Steele is an associate professor in the School of Education, Teaching, and Health (SETH). She's an urban education policy researcher and she formerly worked at the RAND Corporation. Also joining SETH is assistant professor and nutritional neuroscientist Kathleen Holton.
Kogod School of Business
Andrew Schnackenberg, a new assistant professor of management at the Kogod School of Business, is not one to accept received wisdom. He's explored areas of the informal economy, discovering that industry consensus sometimes obscures a much more complicated reality.
He observed a dramatic shift in the discourse surrounding medical marijuana, and a certain amount of industry myth making. "[The industry has] repositioned the product as being less a threat to public well-being and more of a benefit to public health," Schnackenberg says. "There's evidence that marijuana is good for your health, but there's also a lot of evidence that it's not so good for your health."
He's also studied payday lending, an industry that he says is increasingly stigmatized. Much of his earlier research was on corporate transparency.
Schnackenberg was born and raised in Japan. He was heavily influenced by the experience, and it's even reflected in his research choices. "I've been interested in this idea of transparency because in Japan things were very nontransparent," he says. "With these controversial issues I've studied, there's a tremendous amount of symbolism and myth making that goes on. And this is something that I think happens all the time in Japan."
He did his undergraduate studies at University of Nevada, Las Vegas and started working at a private equity firm. He then went back overseas to complete his MBA in Australia. Upon returning to the U.S., he says he wasn't "satisfied with the answers to the compelling questions that business professionals have around these kinds of issues." He subsequently entered academia and earned his Ph.D. from Case Western Reserve University this year.
Other new Kogod faculty:
Shuai Ma is a new assistant professor in the Accounting Department. He's delved into issues such as tax reporting and corporate governance.
School of Communication
Benjamin Stokes is an incoming professor at AU's School of Communication. Stokes is currently doing his postdoctoral work at University of California, Berkeley, and he'll start at AU as a full-time faculty member in the fall of 2015. He's listed as a civic media research fellow at AU's Center for Media & Social Impact, and he'll be part of the AU Game Lab with SOC professor Lindsay Grace and others. His research and teaching revolve around civic learning and technology.

Stokes was born in Montana, but grew up in Ashland, Oregon. Even in high school, he was building online virtual field trips for kids. He got his bachelor's degree in physics from Haverford College. While living abroad, he studied West African drumming in Senegal.
Before launching a full-time academic career, Stokes worked in the nonprofit world. This included online education work on global poverty. "Increasingly, I got pulled into games," he says. While dealing with global interdependence and global citizenship, the biggest challenge was getting people engaged. "We discovered that games were a powerful way to build some of that cause and effect learning." He later joined with colleagues in launching a nonprofit, Games for Change, which facilitates gaming for social impact.
In designing games—particularly for mobile devices—he emphasizes the human component and game interactivity with everyday life. It's not just about advanced technology and coding, he says.
"The intersection around civic media that is partly online and partly face-to-face is really exciting. And it's a really good time for this right now. The technology makes it possible with phones. We're bringing the Internet back into the physical world."
School of International Service
Miles Kahler has been teaching on the West Coast since 1986. So moving across the country to take a new job at AU's School of International Service is certainly a big life change. Yet Kahler is no stranger to the area: He grew up near Baltimore, Maryland, and he spent time in Washington in the 1980s. In 2012-2013, he was on sabbatical and serving as a fellow at the D.C.-based Woodrow Wilson International Center for Scholars. Among other activities, he attended conferences at AU and met with SIS Dean James Goldgeier. "I was just very impressed with the trajectory of the institution," Kahler says.
Kahler will serve as a distinguished professor at SIS as well as a senior fellow at the Council on Foreign Relations. He's an expert on international politics and international political economy, with a focus on global governance and international monetary cooperation. He previously taught at University of California, San Diego.
During the Vietnam War era, Kahler became curious about international conflict. "It did get me interested in the question of imperialism, and why great powers or superpowers get involved in wars with much weaker powers," he recalls. When he eventually prepared his doctoral dissertation at Harvard, he focused on decolonization in Great Britain and France.
Kahler maintains many other intellectual passions, and he has an enduring connection to China. He was part of an early academic delegation there in 1979, around the time the U.S. formally recognized the rising nation. In 1980, he undertook his first teaching stint in Shanghai. "China was just opening again to the international economy and to the world," he says. "And meeting the students—who in many ways had their entire lives set back by the Cultural Revolution—was really quite an important experience for me." Kahler would return to Shanghai to teach in 2009.
In conjunction with his latest research, Kahler will teach an undergraduate senior seminar this spring on emerging economies, including Brazil, China, and India, and global governance. SIS has developed impressive faculty expertise to address issues related to governance at all levels, Kahler adds.
"'What is the most efficient, just means of governing an interconnected world?' is one of the critical questions that we face in the coming decade," he says.
Other new SIS faculty:
Adam Auerbach, a new assistant professor, recently received the 2014 Best Dissertation Award from the urban politics section of the American Political Science Association.
Austin Hart is now an assistant professor. He specializes in political campaigns and public opinion, with a focus on Latin America.
Sarah Snyder, also an assistant professor, is a historian of the Cold War and U.S. human rights policy.
School of Public Affairs
Derek Hyra is an associate professor in the School of Public Affairs and he will serve as the director of SPA's new Metropolitan Policy Center. "One of the missions of the center is to do interdisciplinary, collaborative research, but also to show and highlight AU's engagement in Washington, D.C.," says Hyra.
Hyra was first drawn to urban studies not in the classroom, but on the basketball court. Hyra grew up in Somers, N.Y., which he describes as a mostly white, middle-to-upper income suburb. Yet he played competitive basketball through an Amateur Athletic Union (AAU) team based out of West Harlem. "I saw Harlem in the late 80s and early 90s, when it was still coming off the crack epidemic. And there were a lot of abandoned buildings and vacant lots," he recalls. "A lot of what I learned through developing relationships with my teammates, who were mostly African-American kids from Harlem and the Bronx, really taught me about race in America." Hyra notes the overall value of this experience. "I didn't know it at the time, but it had a very dramatic impact on what I eventually did as a career."
Hyra ended up going to Colgate University, where he played Patriot League basketball for four years. He also discovered the writings of sociologist William Julius Wilson and learned about the historic conditions creating urban blight.
He's had a rich and varied career since that time, working at both the Housing and Urban Development Department and the Treasury Department. He earned his Ph.D. from the University of Chicago. Earlier this year, he ran in the Democratic primary for a U.S. House seat in the Northern Virginia-based 8th District. Though he lost, Hyra feels like he elevated the discussion on affordable housing.
"I try to look at how you can bring redevelopment to a low-income area, but do it in a way that's equitable," Hyra says of his research. He's examined gentrification and economic transformation in Harlem in New York and Bronzeville on Chicago's South Side.
For a forthcoming book, he completed a five-year ethnographic study of the redevelopment of the Shaw-U Street neighborhood in D.C. Outside of work, Hyra is a fan of jazz—one of the great cultural traditions of this Shaw-U Street area.
Other new SPA faculty:
Ryan Moore is a new assistant professor and his research interests include the politics of health, pensions, and welfare.
Elizabeth Suhay is an assistant professor of government. Her specialties have included political psychology and public understanding of science.
Erdal Tekin, a new professor, is an expert on health economics and policy. He comes over from Georgia State University.
Vicky Wilkins is a professor in the Department of Public Administration & Policy and an associate dean for academic affairs.
Thomas Zeitzoff is a new assistant professor. He's conducted research on political violence and political psychology.
American University Washington College of Law
AUWCL has several new faculty leadership appointments. Lia Epperson, an expert on constitutional law and civil rights, is now associate dean for faculty and academic affairs. Jenny M. Roberts has been appointed associate dean for scholarship. A former public defender and law clerk, she's done research on issues of right to counsel and indigent defense. Amanda Frost is the new director of the Doctor of Judicial Science (S.J.D.) Program. Frost has published widely and has been a frequent contributor to SCOTUSblog.