Main Office (Anderson Hall): Mon-Fri: 9 AM-5 PM; Sat-Sun: Closed;
Some information on this webpage may not be up to date based on the current operating status of American University. As part of our response to COVID-19, on-campus housing is presently limited to students approved for emergency housing.
Before You Arrive Fall 2020 Move-In
Plan ahead for your fall move-in. We'll send emails leading up to move-in, but you can get started
Know where you're living.

You can find your room assignment and suitemate's contact information, if relevant, on your AU Housing Portal after you receive a housing assignment.
You can also visit your residence hall's webpage to view virtual tours, learn about room dimensions, review what is included in your room, and much more.

Take care of your One Card (AU ID card) photo and any other outstanding needs.

Submit your OneCard Photo: To ensure that your OneCard is prepared for the start of this academic year, you must submit your OneCard photo by July 31.
Fall 2020 Meal Plan Information: The Meal Plan Portal will open immediately following the addition of housing charges to your account in mid-July. First-Year residential students will automatically default to the 175 Block Meal Plan. Apartment residential students are not required to be on a meal plan. Please connect with One Card & Dining Services for continued updates regarding the status of fall 2020 Meal Plan Enrollments.  

Create a packing list and get to know what items you can't bring into your building and room.

Students live in a variety of residence styles around campus. Each traditional residence hall room measures approximately 12 by 15 feet and is equipped with built-in closets or wardrobes, storage cabinets, beds, desks and chairs, and bookcases. Because specific layouts can vary, visit your residence hall to learn more.
We encourage you to remember that you will need to bring far less than you imagine. Rather than purchasing new supplies, consider renting items from one of our preferred vendors or purchasing something gently used. Many necessities can also be purchased on or near campus. Make your move-in motto "when in doubt, leave it out."
Many students take advantage of our various vendor partnerships to personalize their living experience. You can rent a MicroFridge or lockbox and purchase bedding and room decorations!
Certain items are restricted in your room but can be used in your lounge space, while others are completely prohibited from your hall. Know what items you can or can't bring before you travel to campus.

Packing for Move-In & the Ship Ahead Program
To provide a safe and efficient move-in experience, Housing & Residence Life has developed several guidelines to help you prepare for your arrival to campus.
Move-In Day

Bring only essential items, in suitcases or sealed boxes. We are asking students to limit the number of items they bring with them on Move-In Day. This speeds up Move-In and reduces the need for students and families to gather in hallways or waiting for elevators with multiple boxes or suitcases.
As a guideline, we encourage packing with the goal of all your belongings fitting in 1 move-in cart (sized 48"x24"x28").  
All items need to be packed in luggage or sealed boxes. Please, no loose items that can fall out or require extra handling

Utilize our Ship Ahead Program for non-essential items

Ship as much as possible to campus ahead of move-in day to make your move-in easy!
To ship ahead:

Pack your belongings in boxes no larger that Boxes 36"L X 24"H X 24"W and weigh no more than 50 pounds.

These items cannot be shipped ahead: Bikes, Flat Screen TVs over 36" X 36", and furniture

Label your boxes per the instructions on our Mail & Packages page.
Ship your boxes to arrive to campus in August. See specific dates in the section below.

Where will my shipped packages be when I arrive?

For on-campus residence halls, items arriving between August 3-10 will be delivered directly to resident rooms. Items arriving before August 3 may be returned to sender and after August 10 will be available for pickup beginning August 17.
For Frequency residents, items arriving on or after August 3 wil be held for pickup by residents when they move in. Items arriving before may be returned to sender.
For residents in Frequency and Scott Circle, items arriving on or after between August 12 will be held for pickup by residents when they move in. Items arriving before may be returned to sender.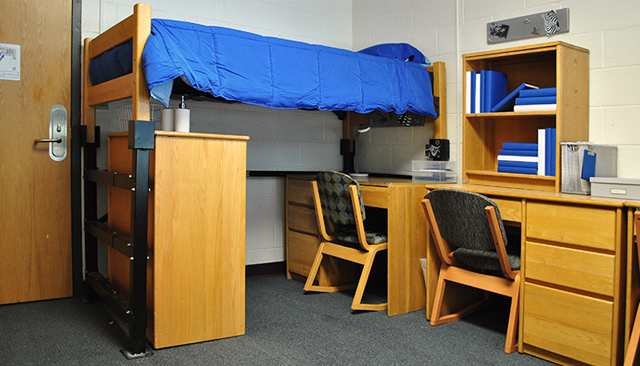 Your living experience should be personal. Explore products and services, such as a MicroFridges, lock box, and bedding!