Main Office (Anderson Hall): Mon-Fri: 9 AM-5 PM; Sat-Sun: Closed;
Housing & Residential Life staff are excited to welcome students and families to AU!  We want to make sure you have all of the information you need to make your move-in day fun and easy.
Fall 2021 Move-In Dates
Move-In will take place between Sunday, Aug. 22 and Friday, Aug. 27, according to the following schedule:
Upper-class students living in Frequency or Nebraska apartments: Sunday-Sunday, Aug. 22-29.
Upper-class & sophomore students living in East Campus, Cassell, or McDowell: Sunday, Monday and Tuesday, Aug. 22-24.
First-year students: Wednesday, Thursday and Friday, Aug. 25-27.
Transfer students: Move-in dates is based on classification as first-year, sophomore, or upperclass and residence hall as noted above.
Selecting Your Move-In Date
June 1, noon: Returning sophomores and upperclass students.
June 15, noon: First-year students who submitted their housing applications before the priority deadline on June 7.
Early July: Transfer students can select their move-in after they have received their housing assignment.
Students who have not met the priority deadline can select their move-In date and time on a rolling basis, after they receive their fall housing assignment.
Athletes, student staff, and other designated early arrivals will receive separate information on arrangements.
Guests and Logistics
Students will be able to register up to two guests to help them with Move-In. Guests can be registered on the AU housing portal when you select your move-in date and time.
AU will provide logistical support with bins, hired movers, and volunteers to ensure the process goes quickly, smoothly, and safely.
Plan ahead for your fall move-in. We'll send emails leading up to move-in, but you can get started
Know where you're living.

You can find your room assignment and suitemate's contact information, if relevant, on your AU Housing Portal after you receive a housing assignment.
You can also visit your residence hall's webpage to view virtual tours, learn about room dimensions, review what is included in your room, and much more.

Take care of your One Card (AU ID card) photo and any other outstanding needs.

Submit your OneCard Photo: To ensure that your OneCard is prepared for the start of this academic year, you must submit your OneCard photo by July 1.
Fall 2021 Meal Plan Information: The Meal Plan Portal will open immediately following the addition of housing charges to your account in mid-July. First-Year residential students will automatically default to the 175 Block Meal Plan. Apartment residential students are not required to be on a meal plan. Please connect with One Card & Dining Services for continued updates regarding the status of fall 2021 Meal Plan Enrollments.  

Create a packing list and get to know what items you can't bring into your building and room.

Students live in a variety of residence styles around campus. Each traditional residence hall room measures approximately 12 by 15 feet and is equipped with built-in closets or wardrobes, storage cabinets, beds, desks and chairs, and bookcases. Because specific layouts can vary, visit your residence hall to learn more.
We encourage you to remember that you will need to bring far less than you imagine. Rather than purchasing new supplies, consider renting items from one of our preferred vendors or purchasing something gently used. Many necessities can also be purchased on or near campus. Make your move-in motto "when in doubt, leave it out."
Many students take advantage of our various vendor partnerships to personalize their living experience. You can rent a MicroFridge or lockbox and purchase bedding and room decorations!
Certain items are restricted in your room but can be used in your lounge space, while others are completely prohibited from your hall. Know what items you can or can't bring before you travel to campus.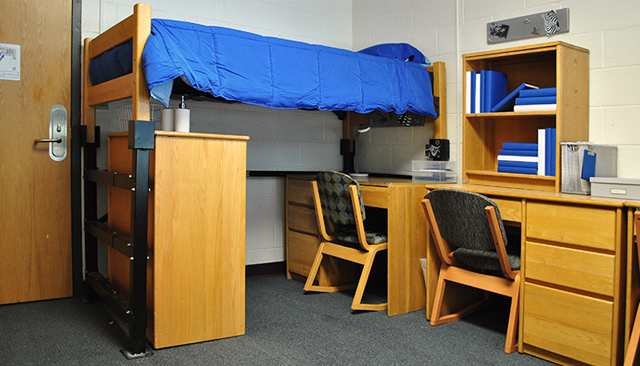 Your living experience should be personal. Explore products and services, such as a MicroFridges, lock box, and bedding!