Main Office (Anderson Hall):
Mon-Fri: 9 AM-5 PM;
Sat-Sun: Closed;
Welcome to Your Home at AU!
We are committed to making sure your Move-In Day goes smoothly! There will be movers and volunteers to help unload, staff to point the way, hand-outs, and more. Watch for more details coming soon to your AU email and this page.
Your Move-In Date & Time
Pre-Assigned: Each student will be pre-assigned a move-in date and time based on their housing classification. If this date does not work for your plans, you can elect to move to an alternate day or time. Details will be emailed in July and additional information can be found on the move-in section of the Housing Portal.
Change your move-in timeslot: Once students receive their date and time, they can switch to any open move-in timeslot. Not all timeslots will be open, it will be restricted by classification. All students can go to any early day move-in.
Move-In Calendar
Move-In takes place between Sunday, Aug. 21 and Saturday, Aug. 28, according to the following schedule:
Sunday August 21 – Early Arrival move-in
Monday, August 22 - Early Arrival move-in
Tuesday, August 23 -

Early Arrival move-in and
Transfer move-in

Wednesday, August 24 – First Year assisted move-in
Thursday, August 25 – First Year assisted move-in
Friday, August 26 - Sophomores move-in
Saturday, August 27 - Sophomores & Junior/Senior (upperclass) move-in
Sunday, August 28 to Sunday, September 4 - Late move-in available to all students
Move-In Guests
Guests are welcome during move-in and don't need to be registered in advance.
Know Where You're Living
You can find your room assignment and suitemate's contact information, if relevant, on your AU Housing Portal after you receive a housing assignment.
You can also visit your residence hall's webpage to view virtual tours, learn about room dimensions, review what is included in your room, and more.
Submit Your One Card Photo Online
To ensure that your One Card is ready when you arrive and to avoid lines, submit your One Card Photo online.
Plan Mail or Packages
Visit AU's Mail Services to learn when mail and packages will be received on campus. Items should not be send in advance of the stated date.
Create a packing list
GENERAL ITEMS
Twin sheets and pillowcases (full sheets for Nebraska Hall)
Pillows and blankets

Mini fridge, if not renting (no larger than 4.5 cubic ft.)

Alarm clock
Non-halogen desk lamp
Surge protector power strip with long cord
Bath towels
Shower shoes or flip flops
Toiletries (shampoo, toothpaste, toothbrush, etc.)
Toiletries caddy
Headphones
Hangers
Wall mounting strips
Laundry bag and high efficiency (HE) laundry detergent
Cleaning supplies
Small vacuum
Trash and recycling bins
Dishes and glasses
Eating utensils
Water pitcher
Hand sanitizer 

Thermometer

Disinfectant wipes/spray 

Single serve coffee maker with automatic shut-off (ex. Keurig, Bella, etc.) 
* Nebraska Hall and the Frequency residents should bring kitchen equipment, cooking appliances, toilet paper and cleaning supplies.
* Cassell, Centennial, and East Campus residents should bring bathroom cleaning supplies and toilet paper.
It is a violation of the Residence Hall Regulations to bring these items to the AU Residence Halls:
Weapons
Illegal drugs or drug paraphernalia
Fireworks
Halogen lamps
Open-coil appliances (toasters, hot plates, space heaters, etc.)
Grills (including George Foreman)
All candles and incense
Space heater
Hot plates
Items with Exceptions
Pets
Bed loft

Must rent bed lofts via AU

MicroFridge & Microwaves

Can be rented from MyFridgeRental

Microwaves are only allowed in-room when rented from MyFridgeRental as part of a microfridge unit. Microwaves are also available in community kitchens on each residence hall floor.

Students may bring a personally owned refrigerator that is no larged than 4.5 cubic ft. in size.

Extension cords

Surge protector power strips allowed)

Electric coffee makers or electric tea kettles

Single serve coffee maker with automatic shut-off (ex. Keurig, Bella, etc.)
All cooking devices that produce heat (ex. rice cooker, toaster, crock pot, etc.) can only be used in common (traditional or suite style halls) or in-unit(apartment style halls) kitchens. Students living in kitchens can store these devices in their room when not in-use and after they have cooled down. 
The following are required for any heat producing cooking device to be approved in any residence hall: 
All heat elements must be enclosed (ex. no stand alone burners or hot plates) 
All devices must have an automatic shut-off 
All devices must be UL approved
Fall Communication
Move-in communications will be posted here as they are sent to students in July and August.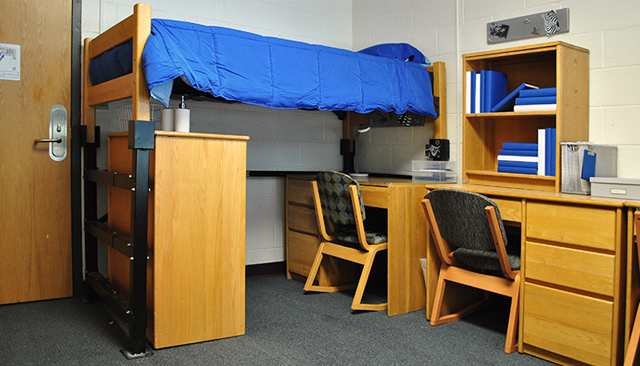 Fridges & Other Amenities
Do you want a microfridge for your room? A good deal on bedding? Check out AU's vendor partnerships.