Main Office (Anderson Hall): Mon-Fri: 9 AM-5 PM; Sat-Sun: Closed;
Before You Arrive Fall 2019 Move-In
Plan ahead for your move-in during summer. We'll email you starting in early August, but you can get started by thinking about these topics.
Know where and with whom you're living.

You can find your room assignment and roommate contact information on your AU Housing Portal after you receive a housing assignment. Whether you're living with someone you know or someone new to you, getting to know your similarities and differences early makes a large impact on settling in. Because your room might not be as large as the one you have at home, it is also useful to discuss what you plan to bring to campus.

Take care of your One Card (AU ID card) photo and any other outstanding needs.

New students should upload a One Card photo with the One Card & Dining Services office before July 31 or take a photo during Eagle Summit. Your card, which you'll use all over campus, will be ready for you at check-in if you have done so by that date.
Check out the services for New Undergraduate Students subsite, which provides more information about academic or financial deadlines and documentation you'll need to know for your transition to university life.

Create a packing list and get to know what items you can't bring into your building and room.

Students live in a variety of residence styles around campus. Each traditional residence hall room measures approximately 12 by 15 feet and is equipped with built-in closets or wardrobes, storage cabinets, beds, desks and chairs, and bookcases. Because specific layouts can vary, visit your residence hall to learn more.
We encourage you to remember that you will need to bring far less than you imagine. Rather than purchasing new supplies, consider renting items from one of our preferred vendors or purchasing something gently used. Many necessities can also be purchased on or near campus. Make your move-in motto "when in doubt, leave it out."
Many students take advantage of our various vendor partnerships to personalize their living experience. Some choose to rent bed lofts, which increase usable floor space by raising your bed. Others purchase lockboxes to protect their belongings.
Certain items are restricted in your room but can be used in your lounge space, while others are completely prohibited from your hall. Know what items you can or can't bring before you travel to campus.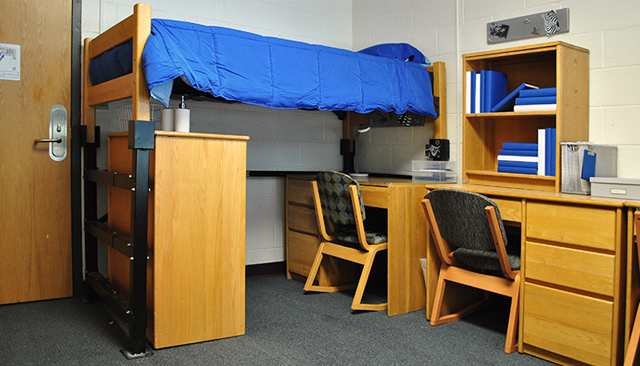 Your living experience should be personal. Explore products and services, such as bed lofts, MicroFridges, and personal property insurance.