Main Office (Anderson Hall): Mon-Fri: 9 AM-5 PM; Sat-Sun: Closed;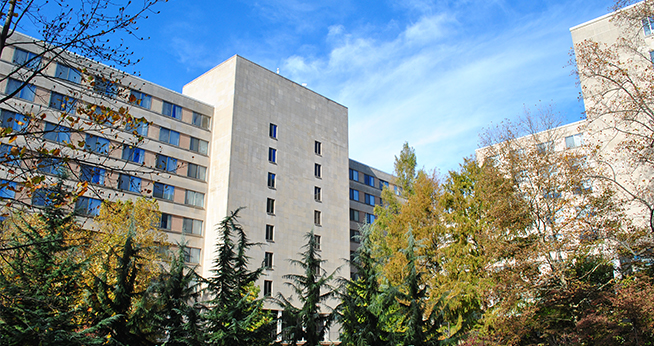 Leonard Hall is home to a diverse population of students, housing approximately 275 residents. Different communities are housed in Leonard, such as Washington Mentorship Program, AU Gap Program, Washington Semester Program, Delaware in D.C., International Accelerator Program, transfer students, and more!
About The Hall
The building has a traditional residence hall design with corridor-style rooms and shared floor bathrooms. Each floor community has a central lounge space with a kitchen, lounge furniture, and television for students to study or socialize with their community. A student computer lab on the first floor supports Internet and printing needs. Each floor also has a laundry room. The Cassell Fitness Center, open to all AU students, is across the street. Leonard overlooks the Woods Brown Amphitheatre, a peaceful and eventful green space for the AU community. Leonard is also home to The Hatch, a community space that provides many opportunities for social and educational events and programs.
Virtual Tours
Our virtual tours are representative of a given room type. Each space varies based on room sizes and dimensions. Each virtual tour includes some decorative items and a MicroFridge to show what the room looks like when occupied, but these items are not included in rooms. Bed lofts, visible in the double and triple room configurations, will not be included in rooms for the 2020-2021 academic year.
Click below to view virtual tours of Leonard Hall:
Perosnalize Your Room
Decorative and additional items (bedding, MicroFridge) can be purchased from the HRL coordinated vendors through our Personalize Your Room webpage.  Each room will include the furniture noted on this webpage.
In-Hall Staff
In-hall staff include Resident Assistants (RAs) and a Community Director (CD). Leonard's seven RAs live in the building, acting as peer educators and helping residents connect to their community. The Leonard community has one CD, a professional, live-in staff member who works with RAs to foster a living-learning environment to bridge the academic and residential experience.
Approximate Dimensions
Room sizes and dimensions provided are approximate. Layouts or room configurations may vary due to the uniqueness of all residence hall accommodations.
Leonard Hall

| Description | Approximate Dimensions |
| --- | --- |
| Room | 15'2" x 9'7" |
| Built-in shelves | 2'.5" (W) x 2' (D) x Adjustable (H) |
| Bookcase | 1'10" (W) x 10.5" (D) x 2'6" (H) |
| Desk | 3'6" (W) x 1'11.75" (D) x 2'6.25" (H) |
| Wardrobe or built-in closet | 3'2.5" (W) x 1'11.25" (D) x 5'10" (H) |
| Dresser or built-in drawers | 2'6" (W) x 1'8.25" (D) x 3'9" (H) |
| Bed frame | 3'6" (W) x 2'4" (H) x 6'7" (L) |
| Mattress | Standard twin |
Images
Get involved in your Residence Hall Association or Hall Council.

Check out the history plaque in the front lobby!