Welcome back to campus!
Despite the heat and humidity you see on your weather app these days, summer has actually come to a close. And it was a busy one. In between catching up with some of the campus wildlife (for those of you who follow me @SylviaBurwell), the few months between the spring and fall semesters were a time for engaged learning, in-depth research, and long-term planning.
I was fortunate to take some time to go back "home" – all the way home to Greece, from where my grandparents emigrated. I was able to show our children a bit of family history and reconnect with my Greek roots. After all, my father always said that every word has a Greek root... 
Convocation, Celebrate AU, and the Provost's Ice Cream Social have all been a great chance to meet new members of our community, welcome back others, and eat more sugar than I should!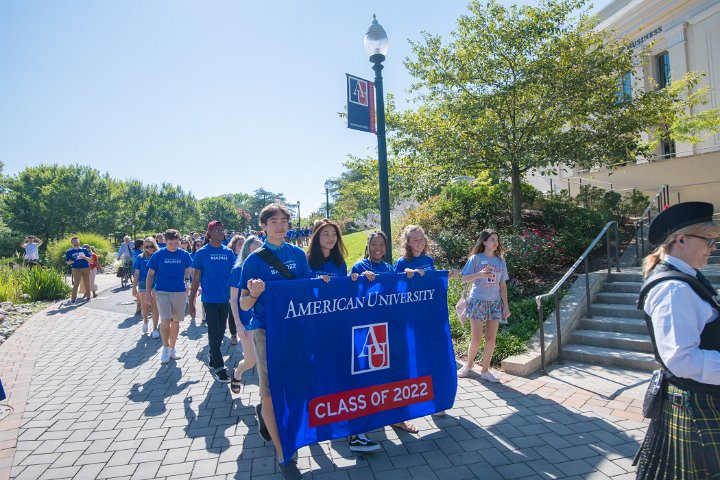 The AU community was proud to welcome our newest Eagles at Convocation on August 24. 
Our New Eagles
Speaking of our community, we just recently welcomed our new students to AU at convocation, but the AU family has welcomed many new members over the past few months. If you see a new faculty member, staff or administrator, or of course a new student, don't hesitate to introduce yourself!
Here's a few interesting tidbits about these new Eagles:
We've welcomed some musical talent to the staff. Two of our new hires for AUx are DJs, one of our first-year advising staff is a ukulele player, and another sings accapella and performed for Justice Ruth Bader Ginsburg over the summer!
Our new faculty include three new computer science experts in CAS, and two data studies experts in Kogod, even an expert in augmented reality and virtual reality at SOC. And nearly 40 percent of our new tenure-line faculty self-identify as faculty of color.
Finally, our new Eagle first-year undergraduates represent 52 different countries, 46 states, Puerto Rico, Guam, and the Virgin Islands. More than 130 are the first in their family to go to college, a number of them are veterans, and one in three are students of color.
Strategic Plan
The construction you see around campus is just one of the many things we're building this year. Another major effort underway is our work to build and unveil a new strategic plan for the university. Those of you who have been on campus since last year know that we've been working to build, with community input at the center, a plan to guide how American University seizes the opportunities it has over the next five years.
That plan starts and ends in the same place – our community. Over the past year, gathering insights and input from every school, department, office, and residence hall has been our top goal. You can visit https://www.american.edu/about/strategic-plan/community-input.cfm for more information.
Here are some of the work streams and key topics of focus:
Post-Secondary Lifelong Learning
Online Strategy
Future of Research and Learning
Student Experience and Readiness
Areas of Excellence
Excellence in Execution
Partnerships in DC, Nationally, and Around the World
International Strategy
Stay tuned, because we'll seek your input again. Throughout the next month, our Strategic Planning Committee members will consult across the campus on where the plan stands now, and we'll share information for how you can participate in person or online.
Inclusive Excellence
Another key element of our strategic plan is our Plan for Inclusive Excellence. For those new Eagles joining us, learn more about our work to meet today's challenges with a firm foundation of inclusion: https://www.american.edu/president/diversity/inclusive-excellence/
Over the summer, we have been making progress on the plan. We have taken time to shore up training, learning and development. Our affinity groups have expanded. We have updated key policies and procedures, and we are launching the full rollout of AUx with all first-year students now enrolled in the AUx program. Keep an eye on your inbox around September 12 for more updates on our work on diversity, equity, and inclusion on campus.
Your New Home
To all our new Eagles out there – welcome home! I'm sure the past few weeks have been a whirlwind of new roommates, new textbooks, maybe even getting lost on campus a couple of times (don't worry – it still happens to me too, sometimes!). Just keep an eye out for the cranes and the giant holes in the ground. In case you find yourself looking at all the construction around campus and asking yourself What's Going On? (I love that song), here's the reason: you're joining American University at an exciting time of growth and change. Sometimes that will mean a bit of construction, a few detours, and some noise now and then. But it means we will have a new Hall of Science soon, a heating system that helps us be more responsible stewards of our environment, and a campus that's ready to take on the future.
In case you need to take a break and escape the construction, I hope you'll head downtown and visit our amazing city—one of our alumni did this often, and he took his camera with him, too. Kevin Sutherland, SPA '13, was a budding, self-taught photographer, and he was fond of capturing the beauty of Washington's architecture and monuments in his spare time. His parents recently shared some of his photos with me, and I hope you will click below to browse the photos he left behind.
Kevin was taken from us much too soon, but his spirit is still with us. He was a two-time secretary of the AU Student Government, and the door to the AUSG on the second floor of the Mary Graydon Center now bears his name: the Kevin J. Sutherland Executive Office. That honor is a fitting tribute to his service to the university he loved, and his photographs are a wonderful tribute to the beauty to be found all around us here in Washington. I hope they are also a good reminder of just how fortunate we are to call the District of Columbia our home. I hope this AU community feels more and more like home to each of you every day.
Go Eagles!
Best wishes,