Welcome back!
How was your summer? I hope you had a chance to recharge with friends and family, reflect on all you accomplished over the past year, and maybe roam around a new place.
I had the chance to paraglide off an 11,000-foot mountain with my two children. It was both scary, and great. When I told my mother I was taking the children paragliding, she said, "Don't even call me if anything happens to my grandchildren." She laughed, knowing that she and my dad raised me to try new things.
Riding in the back of a pickup truck winding up the mountain, surrounded by blue sky, trees, and just a few clouds, I felt blessed by the beauty—and a little tentative about this adventure. In paragliding, you're connected to a pilot. Behind him is a parachute that fills with air as you head off the mountainside.
You have to lean into it. If you lean backwards, you and your pilot might fall back and you'll stumble instead of gliding into the air. It takes confidence to run off the mountain.
My pilot pointed to a house on a mountain across the way and said, "Run for that house. Even when you feel the tug, keep confident, and run for the house." It was the most amazing feeling to just run into the air and start gliding.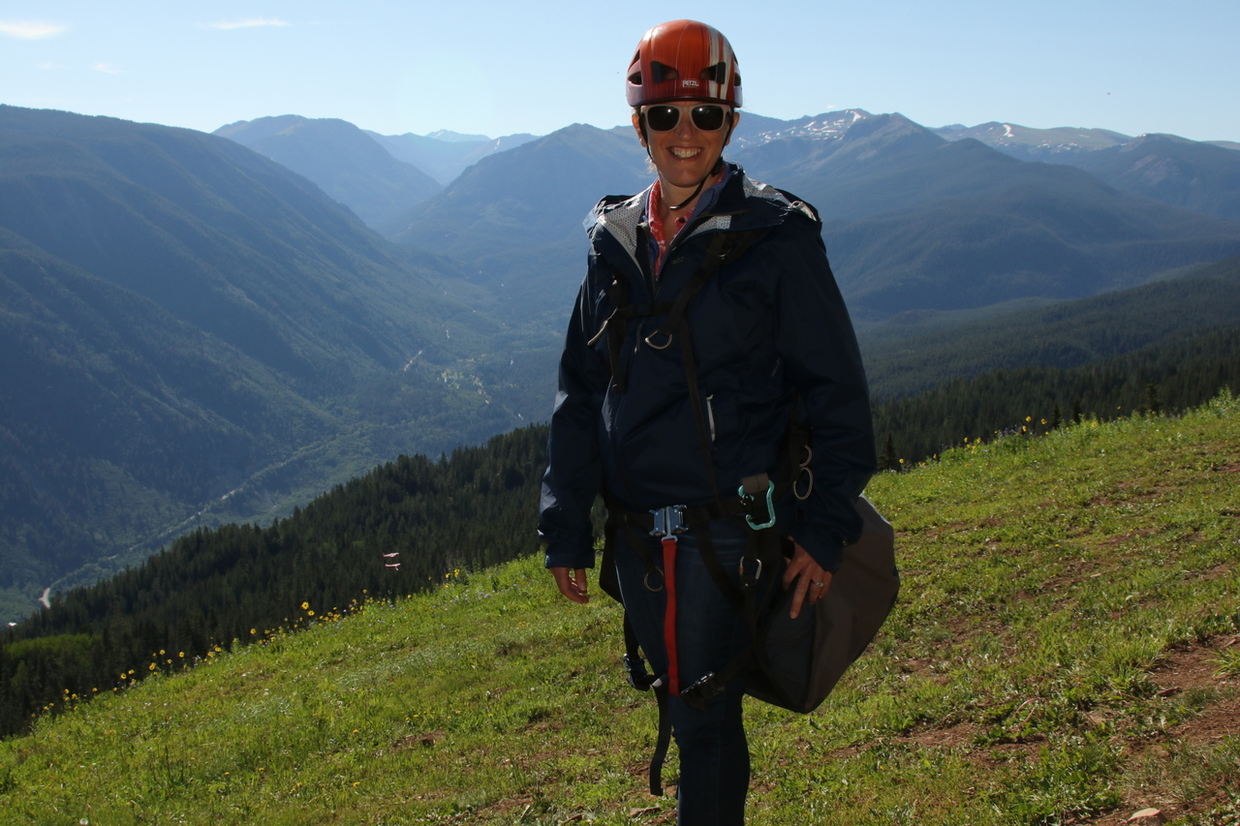 Eagle wings! Off to new heights!
This adventure combined both a healthy fear, and a confidence to try something new. As we start this new year, that's what we're also doing.
For our new students, one sees the trepidation and the confidence as they take this important step in their life's journey.
Our faculty, staff, and the broader AU community are also embarking on journeys to new places, with new momentum. These changes elicit, and they need, both a healthy fear and confidence.
As we begin this new year – as we take on everything from implementing our new strategy, to starting our college career, to completing exciting and innovative research, I hope that we can have that balance of a little fear about what new opportunities can bring, and the confidence to keep running and take off into new heights.
---
The year ahead
Across AU, there's a lot to celebrate as we start the academic year and welcome the class of 2023. We're making daily progress on our new strategy, Changemakers for a Changing World. It's a good summary of AU's unique strengths and unique opportunities, and how those will guide us through the next five years – and beyond. 
A key part of our strategy is an emphasis on the scholarship and research that our faculty do while being world-class teachers. Over this past year, our faculty set a record for research grants—more than $33 million in externally funded grants and contracts, the highest level of external support ever achieved in AU's history.
That exciting progress in research is making a footprint on our campus. As you probably noticed, the building structure for our brand-new Hall of Science is complete! When it opens, the state-of-the-art facility will bring together our biology, environmental sciences, chemistry, and neuroscience departments into a single, modernized location – fostering a spirit of collaboration across the sciences with shared space and laboratories. (It's on track to be LEED Gold certified! Continuing our work on sustainability!)
---
Fun Facts About The Class of 2023
The class of 2023 comes from 56 different countries.
They speak 33 languages other than English.
More than 130 are the first person in their family to go to college.
Nearly two-thirds of them volunteered while in high school.
AU is a great place for politically active students. About 1 in 5 did high-school debate, with almost the same doing drama.
Learn more about the class of 2023.
Take off running
We aren't just welcoming a new class of students. This spring, we'll also welcome our second class of fellows to the Sine Institute of Policy and Politics. Take a look at the influential, interesting inaugural class of fellows who were on campus last spring, and follow the Sine Institute on Twitter for more updates and events throughout the year.
As we move forward, we'll continue building a sense of community during challenging times, making sure, American University works to achieve excellence by being inclusive. I hope you'll take a moment to look at the plan and at ways you can play your part.
The campus is buzzing with energy again. We can feel it from our beautiful campus (the first carbon-neutral US university) and from our community—the staff, faculty, and students who make American University such a special place.
With that energy, that tailwind at our backs, let's take off running, AU!
Best,