2023 William K. Reilly Awards for Environmental Leadership May 4, 2023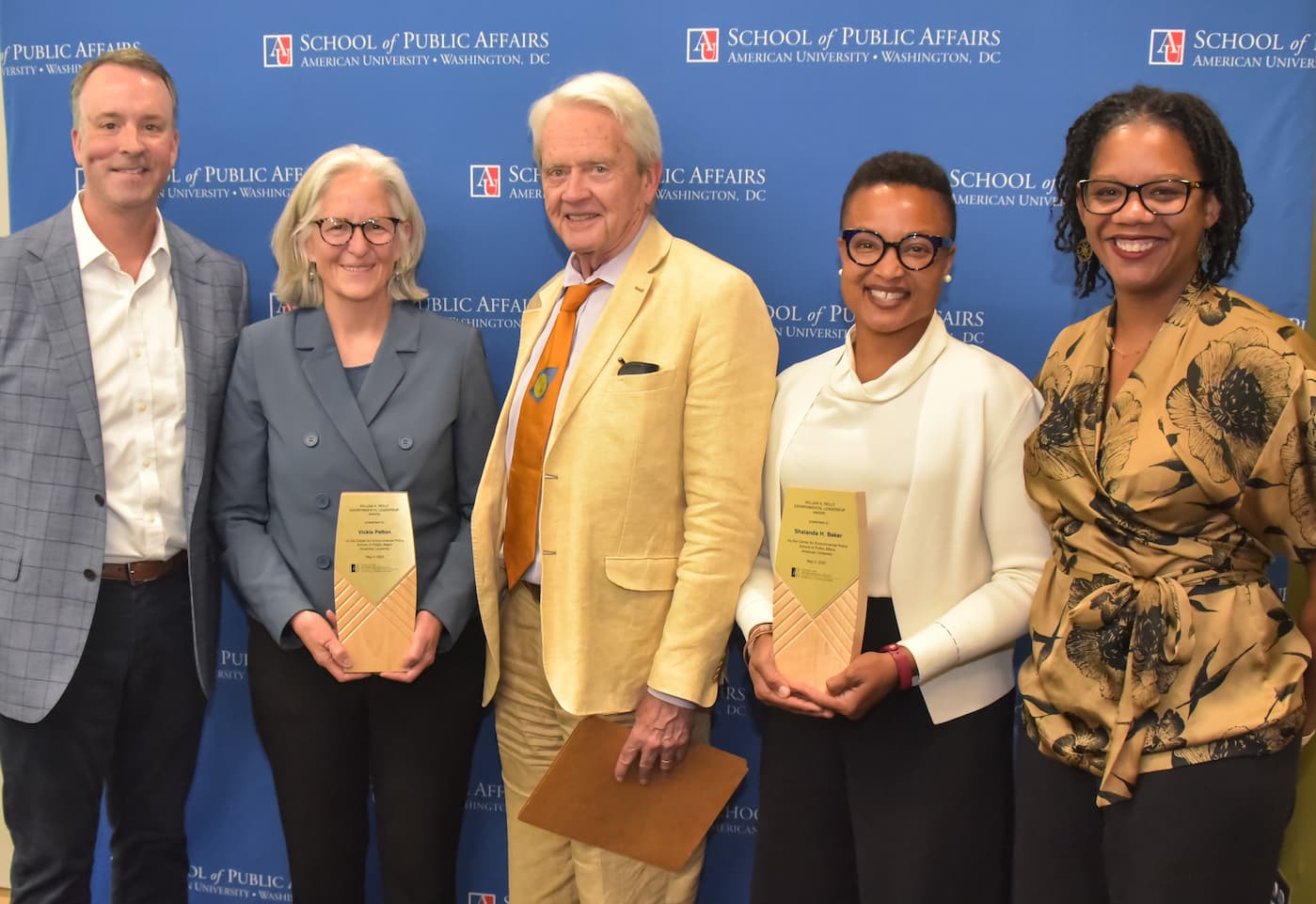 Shalanda Baker, Director, Office of Economic Impact and Diversity, US Department of Energy, and Vickie Patton, General Counsel, Environmental Defense Fund, were presented with the 2023 William K. Reilly Awards on May, 4, 2023. In addition to the awards presentations, master's students in the School of Public Affairs were awarded scholarships and internships in Mr. Reilly's name. 
---
Shalanda H. Baker, Director of the Office of Economic Impact and Diversity and Secretarial Advisor on Equity
Prior to her Senate confirmation, the Honorable Shalanda H. Baker served as the Nation's first-ever Deputy Director for Energy Justice. Before joining the Biden-Harris Administration, she was a Professor of Law, Public Policy and Urban Affairs at Northeastern University. She has spent over a decade conducting research on the equity dimensions of the global transition away from fossil fuel energy to cleaner energy resources. She is the author of over a dozen articles, book chapters, and essays on renewable energy law, energy justice, energy policy, and renewable energy development. In 2016, she received a Fulbright-Garcia-Robles research fellowship to study climate change, energy policy, and indigenous rights in Mexico. She is the Co-Founder and former Co-Director of the Initiative for Energy Justice (www.iejusa.org), an organization committed to providing technical law and policy support to communities on the frontlines of climate change. Her book, Revolutionary Power: An Activist's Guide to the Energy Transition (Island Press 2021), argues that the technical terrain of energy policy should be the next domain to advance civil rights. She received her BS from the United States Air Force Academy and JD from Northeastern University School of Law. She obtained her LLM while serving as a William H. Hastie Fellow at the University of Wisconsin School of Law.

Vickie Patton, General Counsel, Environmental Defense Fund
Vickie Patton serves as Environmental Defense Fund's General Counsel and leads its U.S. Legal and Regulatory initiatives. For over thirty years, she has worked with partners to protect people from climate and air pollution. Patton began her career in the U.S. Environmental Protection Agency's Office of General Counsel as part of the "class of 1990" – the team of EPA staff hired by Administrator William K. Reilly to implement the Clean Air Act Amendments of 1990. At EPA, she received the Gold Medal for Exceptional Service (for outstanding achievement and leadership in forging a landmark agreement on the control of air pollution impacting Grand Canyon National Park), four EPA Bronze Medals (for outstanding initiative and achievement in carrying out EPA air quality protection programs), an EPA Special Achievement Award (for exceptional work and legal counsel on the development of EPA's policy authorizing tribal air quality programs), and a U.S. Department of Justice Commendation (for outstanding performance in complex litigation). 
At EDF, Patton has successfully advocated for numerous national and state climate and air quality protections anchored in science-based analysis, collaboration, and partnerships; public education and outreach; and strategic litigation. Patton has been involved in a variety of cases in which EDF has participated as a party or amicus curiae including Supreme Court rulings affirming the constitutionality of the particulate matter and ozone national air quality standards, upholding Clean Air Act enforcement against large industrial emitters (Environmental Defense vs. Duke Energy), affirming EPA's authority and responsibility to address greenhouse gases, and upholding EPA limits on interstate air pollution. It also includes U.S. Court of Appeals cases addressing greenhouse gases and air pollution from numerous sources and the first U.S. Court of Appeals ruling requiring federal agencies to meaningfully consider the societal costs of climate pollution when developing regulatory policies. The EDF legal team won the first legal challenge to efforts by the Trump administration to unravel public health and environmental protections, overturning the administration's suspension of methane pollution limits for oil and gas activities. EDF's legal team also blocked a policy by the Trump administration to unlawfully suspend enforcement of pollution limits for diesel trucks and secured a judicial ruling striking down a Trump administration policy to impede reliance on the best available public health science in addressing air pollution and toxic chemicals. Patton also worked with the nation's largest institutional investors, state treasures, and fiscal management officials in successfully petitioning the U.S. Securities and Exchange Commission to clarify and explicate the climate risk disclosure obligations for publicly traded companies. She has worked with companies to secure commitments and action addressing climate and air pollution including the first private sector climate commitments in the U.S. to fully decarbonize a major power company and to eliminate tailpipe emissions from new passenger vehicles by 2035. Patton also worked on the historic Clean Air Act Amendments of 2022, incorporated in the Inflation Reduction Act, that reinforce EPA's authorities and expand solutions to protect the American people from climate and air pollution. 
Patton has received numerous awards and is a co-founder of Moms Clean Air Force, a community of over 1.5 million moms, dads and caregivers united against air pollution to protect children's health. She serves on the Boards of the Environmental Law Institute, Earthshot and the Initiative on Climate Risk and Resilience Law, and was inducted as a Fellow of the American College of Environmental Lawyers. She graduated from the University of Arizona where she studied hydrology and was a Rhodes Scholar finalist. She received her J.D. from the New York University School of Law where she studied environmental law under Dean Emeritus Richard Revesz. 
2023 William K. Reilly Award Honoree - Vickie Patton
Interview with 2023 William K. Reilly Awardee Vickie Patton
William K. Reilly Annual Lecture & Award for Environmental Leadership
This annual event recognizes professionals from the public and corporate sectors who have contributed to innovation in environmental leadership and policy, including on energy and climate; advanced environmental justice; engaged diverse stakeholders; and helped nurture the leaders of tomorrow.  Support for future generations of environmental leaders is an important goal of the William K. Reilly Fund, and the Reilly Scholarship awardees are recognized during this event.
2022 William K. Reilly Awards for Environmental Leadership
The Center for Environmental Policy at the School of Public Affairs held a special event honoring the 2022 winners of the William K. Reilly Award for Environmental Leadership: Catherine Coleman Flowers, Founding Director of the Center for Rural Enterprise and Environmental Justice (CREEJ), and Paul Polman, campaigner and co-author of "Net Positive" 
2022 William K. Reilly Award Winners
The Center for Environmental Policy presented the winners of the 2022 William K. Reilly Awards for Environmental Leadership on Monday, May 2nd in a virtual ceremony.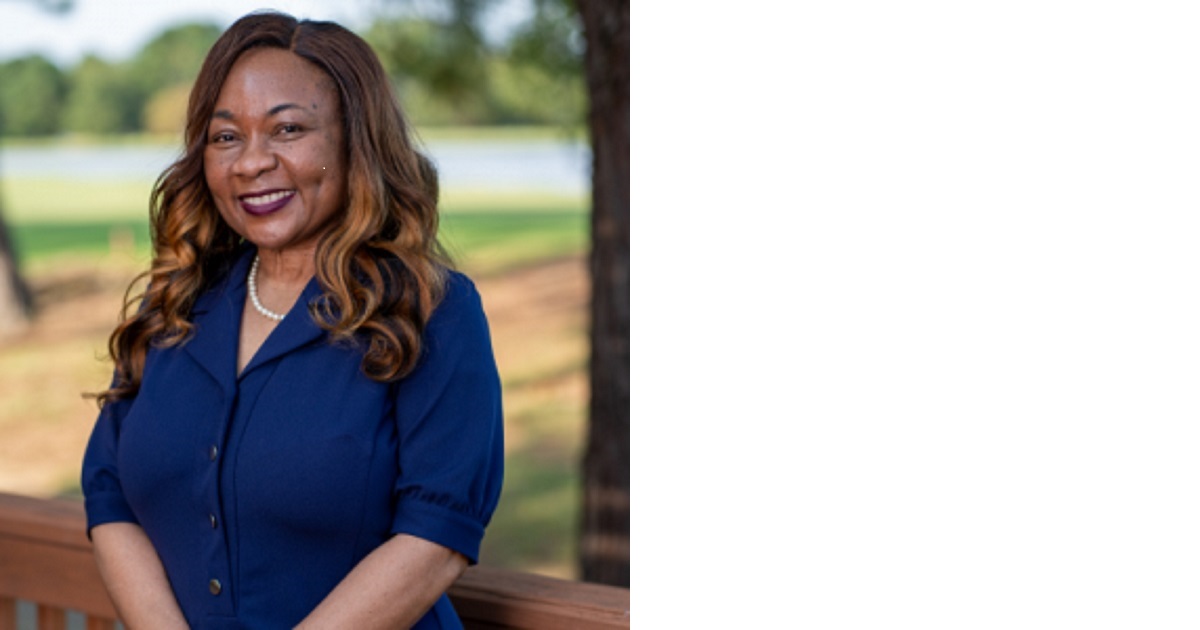 Catherine Coleman Flowers, Environmental Justice and Health Advocate, Founding Director of the Center for Rural Enterprise and Environmental Justice (CREEJ), Author of Waste: One Woman's Fight Against America's Dirty Secret
Catherine Coleman Flowers is recognized for broadening the scope of environmental justice to include issues specific to disenfranchised rural communities and encouraging policy and research to address failing infrastructure that causes continuous socioeconomic disparities in rural neighborhoods in the U.S.
Flowers is an internationally known advocate for sanitation solutions and water access and chronicles her journey in her book Waste: One Woman's Fight Against America's Dirty Secret. As Vice Chair of the White House Environmental Justice Advisory Council, Flowers advocates for addressing the overlapping and synergistic impacts of climate change and inequality. She
highlights the disproportionate burdens borne by those with the fewest resources and the most constraints on their civil rights and that reside in the most polluted places.
Flowers was named 2020 MacArthur Fellow for Environmental Health Advocacy and serves as a board member of both the Natural Resources Defense Council and The Climate Reality Project.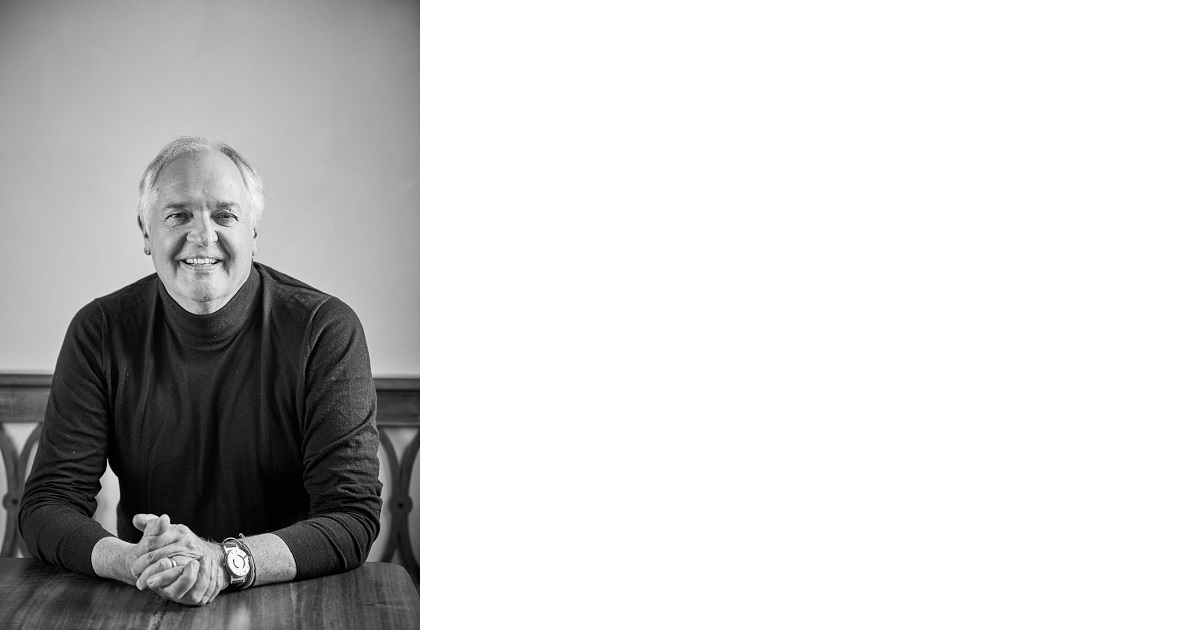 Paul Polman, Business leader, Campaigner and Co-author of "Net Positive: how courageous companies thrive by giving more than they take.
Paul Polman works to accelerate action by business to tackle climate change and inequality. A leading proponent that business should be a force for good, Paul has been described by the Financial Times as "a standout CEO of the past decade".
As CEO of Unilever (2009-2019), he demonstrated that a long-term, multi-stakeholder model goes hand-in-hand with excellent financial performance. Paul was a member of the UN Secretary General's High-Level Panel which developed the Sustainable Development Goals and which he continues to champion, working with global organizations and across industry to advance the 2030 development agenda.
Paul's new book, "Net Positive", is a call to arms to courageous business leaders, setting out how to build net positive companies which profit by fixing the world's problems rather than creating them. He Chairs IMAGINE, a social venture dedicated to systems change, the Saïd Business School, and he is Vice-Chair of the UN Global Compact as well as a B Team Leader. Paul is Honorary Chair of the International Chamber of Commerce, which he led for two years.
2021 William K. Reilly Awards
The Center for Environmental Policy at the School of Public Affairs held a special event honoring the 2021 winners of the William K. Reilly Award for Environmental Leadership: Peggy Shepard, co-founder and executive director of WE ACT for Environmental Justice, and EPA career civil servants, represented by current EPA Administrator Michael S. Regan.
2020 Event
April 14, 2021 | 6:30-7:45 pm Eastern
The 2020 Award Winners are Monica Ellis and Frank Loy were honored on April 14, 2021 in an interactive discussion moderated by Center for Environmental Policy Director Dan Fiorino and featuring Bill Reilly.
Monica Ellis, CEO, Global Environment & Technology Foundation; Global Water Challenge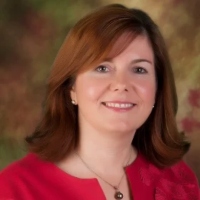 Monica Ellis serves as the CEO of two organizations: Global Environment & Technology Foundation (GETF) and the Global Water Challenge (GWC). Ms. Ellis focuses on bringing safe water to communities and families that lack reliable and affordable access to this essential resource. To date, over four million people in 41 countries across Africa have received clean water through her team's effort and a total of six million are expected to receive water by the end of 2020. In support of this work, she has organized a partnership of companies, foundations and government agencies and raised over $200 million dollars to support these programs.
Today, hundreds of projects are either underway or have been successfully transitioned to local communities as a result of Ms. Ellis' vision, resilience, leadership and unfaltering commitment to leaving the world better than she found it.
Ms. Ellis serves as a member and/or advisor to several boards, including that of GETF, the Johns Hopkins University Global Water Advisory Board, U.S. Water Partnership, the Graham Sustainability Institute at the University of Michigan and the Global Water Institute at Ohio State University
Frank Loy, former Under Secretary of State for Global Affairs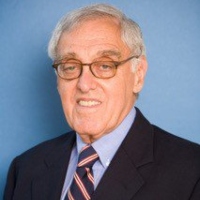 Frank Loy has been engaged in environmental and climate issues since the 1980s.  He has served as lead U.S. climate negotiator, and as chair of major non-governmental organizations:  The Environmental Defense Fund, Resources for the Future, The League of Conservation Voters and Population Services International, the largest family planning organization operating in the developing world.  He served nine years on the Global board of The Nature Conservancy, was founding chair of ecoAmerica, and now chairs several climate-related organizations, including Climate Advisers Trust and The Smart Surfaces Coalition. 
 
He was appointed to posts in the State Department in four administrations:  by President Johnson as Deputy Assistant Secretary for Economic Affairs, by President Carter as Director of the U.S. Refugee Program, by President Clinton as Under Secretary for Global Affairs (which included the climate and environmental portfolios), and by President Obama as Alternate U.S. Representative to the UN.  He now funds an annual award for State career officers' achievements in environmental diplomacy.
 
He spent a decade in the business sector, including as Senior VP of Pan American Airways, and as a partner of a turn-around firm that brought companies out of bankruptcy, including the Penn Central Transportation Company, then the largest bankruptcy in U.S. history.
 
He served for a decade as president of The German Marshall Fund of the U.S., an American foundation focused on US/European relations.
He has served on numerous corporate boards, including Madison Square Garden, Six Flags, and companies in the energy and real estate sectors.  He now serves on the Advisory Board of Terra Alpha Investments and on ExxonMobil's External Sustainability Advisory Panel.
A Conversation with the 2020 Reilly Award Winners
Interview with 2020 William K. Reilly Awardee Monica Ellis
Interview with 2020 William K. Reilly Awardee Frank Loy
Keynote Speaker

Phil Sharp, President, Resources for the Future

Leadership Awardees

Linda Fisher, former VP and Chief Sustainability Officer, DuPont; Deputy Administrator, EPA 
Kevin J. Fay, Executive Director, Alliance for Responsible Atmospheric Policy

Scholarship Winners

Caroline Nickerson, SPA/MPP '19
Sabina Blanco Vecchi, SPA/MPP '19
Keynote Speaker

Chad Holliday, Retired Chair of the board of directors and Chief Executive Officer of DuPont

Leadership Awardees

Ben Grumbles, Maryland Secretary of Environment
Fred Krupp, President, Environmental Defense Fund (EDF)

Scholarship Winners

Amy Purpura, SPA/MPP '16
Jennifer Hatch, SPA/MPA '16
Keynote Speaker

Bob Graham, former Senator from Florida

Leadership Awardees

Daniel C. Esty, Executive Director, Yale Center for Environmental Law & Policy and Yale Center for Business & Environment
Nsedu Obot Witherspoon, Executive Director, Children's Environmental Health Network

Scholarship Winners

Jennifer Hernandez, SPA/MPP '15
Kavita Mak, SPA/MPP '15

View the Program
We invite corporate, foundation, and nonprofit organizations to engage as William K. Reilly Fund sponsors. Your generous support enables the Center for Environmental Policy to continue to provide meaningful forums for environmental policy dialogue based on sound analysis. Sponsors are recognized at CEP events and in our communications.
Learn More
Danielle Miller Wagner at 202-744-6506
Victoria Black at 202-885-2661