Learning About AU, DC, and ThemselvesPart II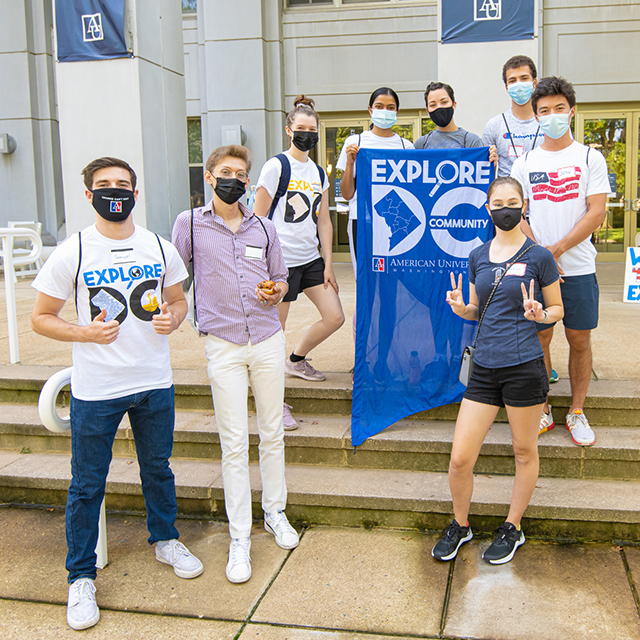 During All-American Welcome, 157 first-and second-year and transfer students fed members of the DC community-packed school backpacks with supplies, and participated in gardening and clean-up projects as they experienced the District and its many unique opportunities for changemaking.
Through Explore DC, they engaged with the city's neighborhoods and their histories and cultures, and then volunteered 580 service hours with 14 nonprofit organizations across the city's eight wards and the greater DMV.
As he sorted through clothing donated to DC Doors, a non-profit shelter for homeless youth, Josiah Carolina, SPA/BA '24 said, "It's a great way to get to know DC. I'm impressed about how [DC Doors] takes care of community members who are struggling."
A community service project through Explore DC is part of the Summer Transition Experience Program (STEP), another experiential education program designed by the Center for Diversity and Inclusion to help first-generation and multicultural students transition to college life. The 2021 STEP cohort included 28 students, 25 of whom were the first in their families to attend college. More than 10 percent of AU's student body is first- generation.
Over seven weeks, STEP participants build a sense of community and prepare for life at AU through classes that count toward graduation, in-depth workshops about AU resources from financial aid and career development to student-centered wellness, and opportunities to discuss DC-centric issues as they visit landmarks like the National Museum of African American History and Culture. "Students might know about the university resources at hand, but they might not know how to implement them when needed," said STEP manager Stephon Bradberry. "We're teaching them their value, how to [navigate] them. These are important skills students will carry all through their lives."
Bamidele Idaomi, CAS/BA '25, said he learned much through STEP, but three tools stand out for him: remembering why he is in DC to underscore his sense of dedication and motivation for the future, figuring out how to balance his studies with the multitude of opportunities available on campus, and deciding who to surround himself with as they help create his environment. Many of the latter are the people he met through STEP. "They're my backbone now," Idaomi said. "If I ever need help, they're here for me."
Tsetan Namdol, SIS/BA '25, described the friends she made in STEP as "a family I could never have imagined joining . . . . We have such good conversations and dialogue. [STEP is] a community of intellectual people who are trying their best to succeed any way they can, and you can clearly see that through their action and determination," she said.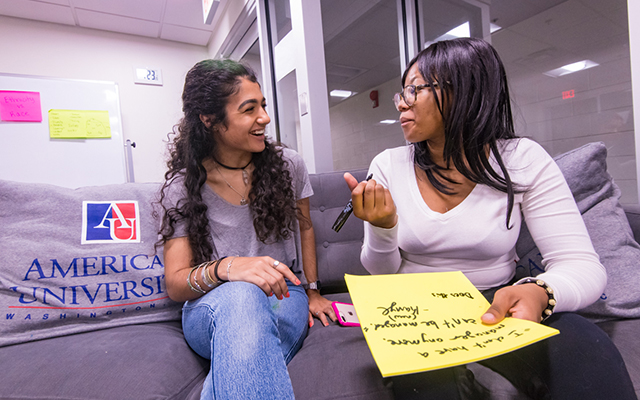 AU's redesigned undergraduate experience, from outstanding academics in the classroom to meaningful personal and professional pursuits across our community, gets an A with a 90.5 percent retention rate—the percentage of first-year students who return for their second year—compared to an 81 percent national average. One reason is AU's first-year advisors. With a student advisor ratio of 76 to 1, they are go-to mentors who get to know the students, serve as a single source of information, and help them achieve a holistic transition, so they can thrive academically, socially, culturally, and psychologically. (The student-advisor ratio nationally is 300:1). Another is AU's specially-designed first-year classes, which include AU Experience—two semesters on transitioning to college, creating a diverse community of learners, and promoting civil discourse—and a one-semester Complex Problems seminar on interdisciplinary approaches to tackling modern problems.