Ramping Up for Fall Part III
When more than 500 students from the Class of 2024 arrived on campus in mid-March 2021 for the Mid-Semester Residential Experience (MSRE) that gave them the opportunity to experience life at AU and in DC, a corps of intensively trained upper-level students helped guide them through comprehensive health and safety protocols and twice-weekly COVID-19 testing.
Donning red vests and carrying spare masks, AU Health and Safety Ambassadors educated those on campus about COVID-19 policies and answered questions, modeled safe behavior, flashed the thumbs up to those following safety protocols, and checked in and showed people at the COVID testing clinics how to take the test.
Although Alice Wang, Kogod/BSBA '21, became an ambassador to help her regain a sense of normalcy and to be on campus again, the experience became more than that—she loved being the big sister, welcoming new students to the AU community while helping them figure out things she'd had to learn on her own, like the best restaurants in Tenleytown or how to use the AU Shuttle. "When you run into us on shifts, you can ask us any questions," Wang said of the ambassadors.
A series of significant moments allowed for the MSRE and began to pave the way for a full in-person return to campus in the fall. While faculty and staff worked together to provide solid academic experiences through remote instruction, the university—led by President Sylvia Burwell, former US Secretary of Health and Human Services and former director of the White House Office of Management and Budget—concurrently began its ramp up for fall by building on its extensive health and safety infrastructure, updating the AU Forward plan with the evolution of pandemic, and regularly communicating these through the COVID-19 Resources page at american.edu.
In January, AU created the Affiliate Notification Program that facilitated contact tracing protocols for the community. With an eye to not only reopening universities but also K-12 schools in the region, AU led a partnership with the Consortium of Universities of the Washington Metropolitan Area to build a mobile laboratory that processed the innovative Shield T3 saliva-based COVID-19 testing system. (AU funded the construction and Gallaudet University provided the physical space.) With a processing capacity of 50,000 tests a week, the system allows saliva samples to be taken on individual university and school campuses in the DMV region. Baltimore and DC secondary schools joined the testing partnership to facilitate testing for K-12 students. By fall, AU alone was averaging 2,500 COVID-19 tests per week. In April, the university announced a mandatory COVID-19 vaccination for all students who reside on campus, come to campus for any reason, or study abroad. A vaccine requirement for all faculty and staff followed in May, and booster requirements for all community members came in December. By the time the fall semester began, more than 98 percent of the AU community had self-reported that they had been vaccinated.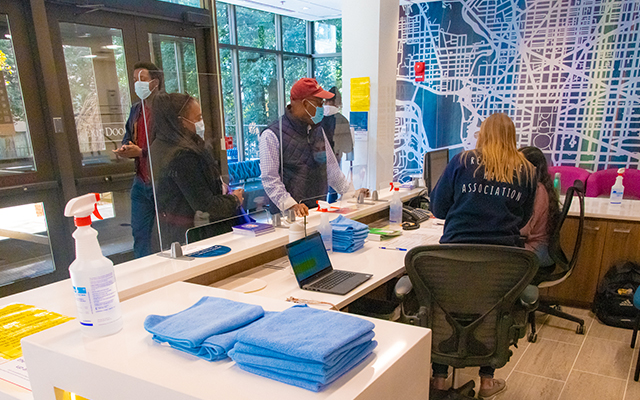 By the start of MSRE, the Facilities Management Team (FMT) had ensured the cleanest air possible by checking every building system for safety as it does every semester. FMT also upgraded airflow systems to Center for Disease Control and American Society of Heating, Refrigerating, and Air Conditioning Engineers safety requirements, installing 7,700 new, enhanced air filters. They placed plexiglass shields and hand sanitizer stations on every floor of every building and in the university shuttle buses. The Housekeeping Team continuously cleaned all residence hall spaces whether they were used or not, and fog machines frequently disinfected busy areas in buildings and shuttle buses.