Research Brings Science to Life
The MS in Biology is a research-intensive program preparing you for a variety of careers in the life sciences or further graduate study. The program offers
Concentrations in Cell and Molecular Biology or Ecology and Evolutionary Biology with thesis and non-thesis options, 30 credit hours to completion, and rolling admissions; see admissions and course essentials
Immersive learning in research practices, including testable hypotheses, experiment design, data collection and analysis, written articles and oral presentations, along with teaching experience with undergraduate labs
Assistantships, stipends, or other financial aid for 95% of biology graduate students
Internships, networking, and career opportunities with DC-area institutions and firms, nationally among the highest paying and actively recruiting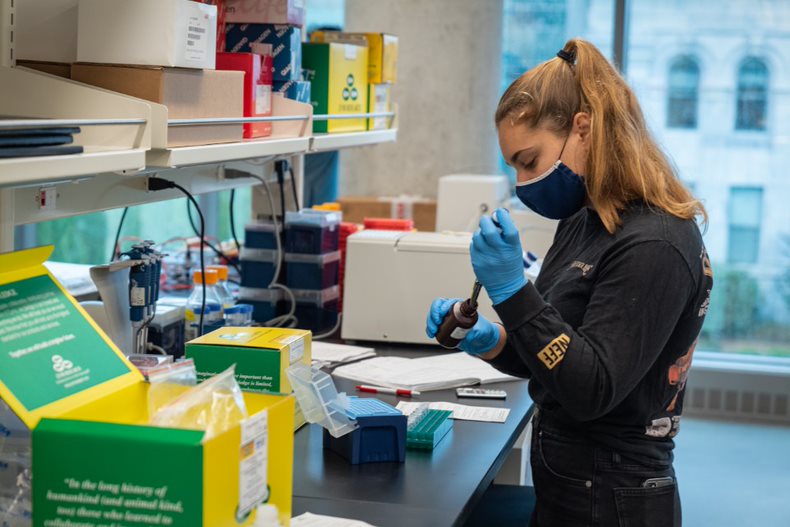 In this program, you will conduct your own independent research with access to state-of-the-art equipment in the new science building opened in fall 2020 and recently opened Technology and Innovation building. Thanks to our small classes and collegial atmosphere, you will benefit from individual attention and one-on-one mentorship from our experienced and dynamic faculty, known for their work in cancer biology, developmental biology, ecology and evolution, and molecular biology, funded by a variety of sources including the National Science Foundation, the National Institutes of Health, and the Fish and Wildlife Service.  
This program is designated as a STEM degree program.
Rigorous Research Training
Cell and Molecular Biology Track
Our interdisciplinary program uses a variety of models to study the molecular, cellular, physiological, genetic, and biochemical mechanisms that drive fundamental cellular processes and underlie disease. Faculty participate in collaborative research and have diverse research interests in cellular signaling, growth and differentiation, gene regulation, developmental biology, endocrinology, neurophysiology, microbiology, and genomics. Graduate students will develop specialized knowledge in cutting-edge technologies while gaining research, critical-thinking, and communication skills necessary to pursue a wide variety of career options.
Ecology and Evolutionary Biology Track
The strength of this concentration derives from the diversity of research interests of our faculty and students and their model organisms. Research programs have relevance for global change, biodiversity, current extinction crisis, and genetic mechanisms underlying the morphological and functional adaptations of organisms. Close working relations between students and faculty foster an atmosphere conducive to rapid learning and professional growth.
Thesis and Non-Thesis Options
Both concentrations offer thesis and non-thesis paths. The thesis option is designed for students interested in research-focused careers. Recent graduates have entered PhD programs and obtained positions in various government agencies, non-governmental organizations, and private biotechnology firms. The non-thesis option is designed for those who may leverage a strong background in the biological sciences in preparation for careers or to advance careers in education, communication, consultancy, legal and paralegal professions, and medical and allied health fields, among others. The non-thesis option is especially suitable for part-time enrollment.
Full-time students in either concentration will usually complete the program in two years. Part-time students can complete the program in up to six years.
Start Your Career in the National Research Hub
Washington, DC, is a hub of cutting-edge biological research activity. AU's location and professional partnerships allow graduate students to collaborate with investigators at some of the nation's most prestigious biological research centers, including
Smithsonian Institution
National Aquarium in Baltimore
National Institutes of Health
National Oceanic and Atmospheric Administration.
Our students gain additional experience and get a head start on their careers by interning at these facilities.
Bring Your Career to Life
The DC metro area offers the hightest average wages for biologists in the US, according to the Bureau of Labor statistics. Maryland, DC, and Virginia all rank in the top 5 among US states for microbiologists' wages. Many of our students go on to pursue medical degrees or careers in life and medical sciences. Our graduates go on to PhD programs at respected universities, such as Harvard University, Cornell University, and Georgetown University. 100% of our recent graduates were either working or in grad school within 6 months of graduating.
Recent employers of our graduates include
Emergent Biosolutions
Department of Obstetrics and Gynecology, College of Medicine, The Ohio State University
Lancaster General Health
National Aquarium
National Cancer Institute
National Institutes of Health
National Oceanic and Atmospheric Administration
Urban Land Institute
Smithsonian Conservation Biology Institute
TB Alliance
Discover CAS: The Sciences
00:02:05
Explore our community of scientists.
Video Take a Video Tour.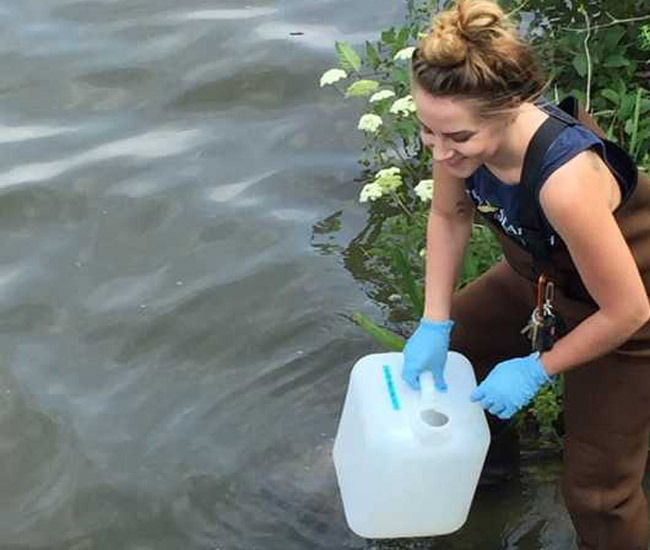 Rebecca Wilken, CAS/MS '17
Biology
I am confident we can introduce higher quality, safer products to the market.
Rebecca Wilken (MS in Biology, 2017) used zebrafish to model biological river health by tracking hatch rate, survival, growth, and behavior of fish reared in water from the Anacostia River. Her results may allow behavioral data to identify contaminants in aquatic systems. Rebecca is now a regulatory scientist with Exponent, Inc., where she works to introduce better, safer pesticide products and devices.
Please send me information about Master of Science in Biology