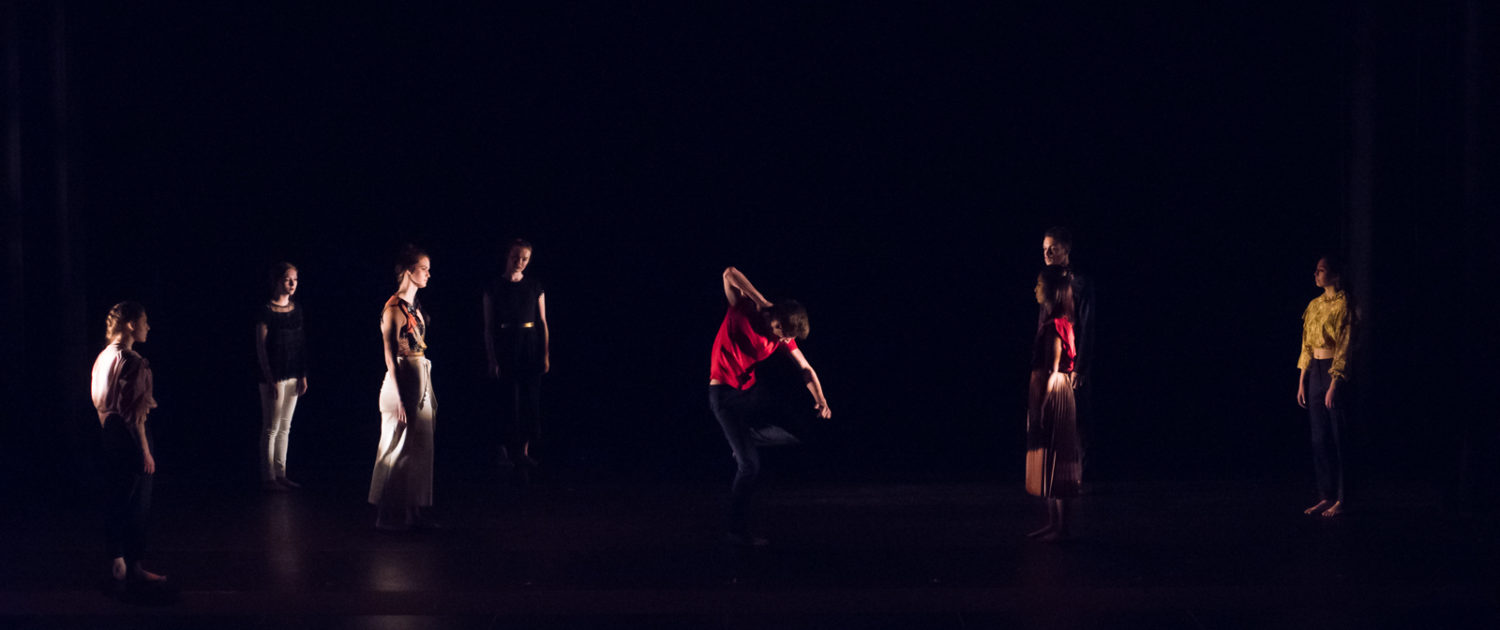 Are you interested in performing? Choreographing? Creating music or projection? Designing costumes, set or lights? Making site specific or community engaged work? 
There are many opportunities every semester to contribute creatively to the AU Dance Community!

Fall semester features the annual CHOREOLAB on the Greenberg main stage. CHOREOLAB is an annual workshop for emerging student choreographers who are mentored by Faculty Creative Advisors.
To apply as a choreographer, check back here in August 2018. Applications will be due Friday August 31st.

Choreographers do not need to be a dancer major or minor, only be registered as a student at AU. Applications are reviewed for by Dance Faculty, and invitations to participate go out early September.
Auditions for dancers will be held Saturday September 8th, 12-2PM in the Katzen Dance Studio. Pre-registration will be posted here in August.


"AU Dances" is a shared informal performance where all Dance Faculty and students come together to demonstrate and celebrate the progress of each class. 
Embodied Knowledge classes (African, Ballet, Contemporary, Dance Improvisation, Jazz, Musical Theatre Styles, Tap, Urban Dance forms) perform a small dance/piece comprised of material developed over the course of the semester. The performance is typically held in the Katzen Recital Hall, either in the first week of December or the last week of April. Friends and family are welcome and encouraged to attend!


Spring semester features the American University Dance Company (AU/DC) in DANCEWORKS, at the Greenberg Theatre.
This annual main stage concert presents fresh and seasoned perspectives on concert dance, choreographed by AU Faculty, visiting Guest Artists, and curated AU students.
Faculty work intensely with AU/DC through week-long choreographic residencies, as well as extended semester-long creative processes. Faculty also curate student work out of Fall main-stage performances, allowing for students to continue their processes and receive full production support through presentation in DANCEWORKS.
The AU Dance Program hosts Guest Artists from around the country, who are professionals in the field, who either re-stage an existing dance, or make a newly commissioned work for AU/DC. The Dance Program invites artists within a rotation of dance forms, so that students have an opportunity to be cast in concert dance that includes Afro-Contemporary, African, Ballet, Contemporary, Improvisation, Jazz, and Urban dance forms. Guest Artists also regularly teach Master Classes to the AU community, as well as present in "Movement Speaks: Conversations about dance." The "Movement Speaks" lecture series is open to the public, and is a look into the choreographic laboratory. Through an lecture/demonstration, audiences get an inside view into the creative process. Recent artists include Charles O. Anderson, Geoff Chang - Bboy Toyz R Us, Cynthia Gutierrez-Garner, Elizabeth Johnson and the Dance Exchange, Michel Kouakou, Christopher K. Morgan, Juan Rodriguez - Bboy Coel, Zoe Scofield of zoe | juniper.
Auditions for AU/DC occur in the beginning of December.
American College Dance Association Conference
The American College Dance Association hosts a regional conference every spring across the United States. These conferences serve as a way for dance students to engage with the larger dance community, taking master classes from a range of faculty, seeing work from multiple universities, networking with other collegiate dance students, and expanding their understanding of dance aesthetics and perspectives from across the country. 
The AU Dance Program responds to the shifting demands of the student body, rotating conference attendance between in-region (Mid-Atlantic) and out-of-region through an anonymous student vote. 
Typically, AU will bring two works for conference adjudication, as well as one work for informal performance. Depending on the conference coordinators, there may also be opportunities to share dance films, improvisations, and research projects. 
ACDA attendance is based on AU/DC "DANCEWORKS" casting, as well as Faculty curation of student work. Student will have the opportunity to express their interest in attending the conference at AU/DC auditions, as well as at the beginning of the spring semester. Generally, students will cover the cost of travel and accommodations to the conference.
In 2018, we attended the ACDA Conference at Montclair State University from March 14-17.



There are multiple student dance clubs on campus at AU! Clubs are student-led, and range in style and type. Some clubs focus on learning new skills where others perform each semester. A few to connect with include: