Cuba Archive - Fidel Castro's Death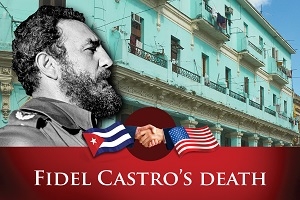 The Statement by President Obama extended a hand of friendship to the Cuban people as they mourned the death of Fidel Castro. While neutral in its judgment of Castro's legacy, President Obama reiterated his commitment to reestablishing relations with Cuba after nearly six decades of hostility. The statement also recognizes shared bonds between Cubans and Americans, especially for the Cuban Americans who maintain contacts with their families abroad.
Link to full text via the White House
Statement by Secretary of State Kerry on the Passing of Fidel Castro
(U.S. Embassy in Cuba, November 26, 2016)
Secretary of State John Kerry's Statement on the death of Fidel Castro offers sympathy and affirmation of Castro's irrefutable impact on regional and global affairs. It emphasizes the commitment of the United States to deepening engagement and cooperation with Cuba and the desire to learn from history as the two nations move forward.
Link to full text via U.S. Embassy in Cuba
President-Elect Trump's Statement
By Cleve R. Wooston, Jr. (Washington Post, November 26, 2016)
This article analyzes the reactions of President-Elect Donald Trump and other members of his party in the wake of Fidel Castro's death. President-Elect Donald Trump's celebratory tone cites the end to nearly six decades of brutal oppression and the denial of human rights. Meanwhile, many accused Donald Trump of knowingly violating the U.S. embargo of Cuba in the 1990s when he considered building a casino on the island. While Trump had been in favor of President Obama's work to normalize relations with Cuba, he also insisted that if elected president, he would reverse these efforts if Castro did not meet his demands.