Cuba Archive - Human Rights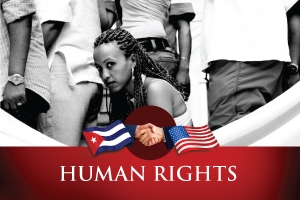 In a joint press conference with President Obama, President Raúl Castro criticized the United States' human rights record while defending his own human rights record. Following Castro's remarks, PolitiFact attempts to both define what a political prisoner is in the Cuban context and compile a list of known Cuban political prisoners, ultimately concluding that Castro's claim is false.
Link to full text via PolitiFact
Pushing the Boundaries of Free Speech in Cuba
By Ernesto Londoño ( New York Times, March 7, 2016)
Using the example of recent articles published on the island that criticize the current state of Cuban baseball, Londoño discusses how Cubans are increasingly pushing the boundaries of free speech. In the past, defections by baseball players were ignored by state-sponsored media; since late 2014, articles have appeared in the media discussing defection and other issues. Londoño connects the December 2014 normalization announcements with a decline in the "culture of fear" that has long dominated Cuban media.
Link to full text via New York Times
Obama's Long Game for Cubans' Rights
By William M. LeoGrande ( New York Times, March 2, 2016)
In this op-ed, LeoGrande explores President Obama's careful and subtle strategy for engagement with Cuba. Since the December 17 announcements, Obama's administration has received criticism from many Republicans, especially on the 2016 campaign trail. LeoGrande assesses these criticisms and concludes that Obama's subtle approach has already been successful, and that his March 2016 visit to the island will continue to strengthen commercial and diplomatic ties between the two countries.
Link to full text via New York Times
"We Will Be More Effective in Promoting Human Rights," says Kerry's Assistant
By Lilianne Ruiz ( 14ymedio, August 27, 2015)
In this interview, U.S. Assistant Secretary of State for Human Rights Tom Malinowski answers questions from Cuban citizens and exiles. He reassures that the U.S. government's commitment to promote democratic principles remains as strong as ever and that normalizations has opened more possibilities to discuss human rights issues with Havana.
Link to full text via 14ymedio
U.S., Cuba Hold First Formal Talk on Human Rights
By Lesley Wroughton et al (Reuters, March 31, 2015)
Reuters reported on the historic U.S.-Cuba meeting to discuss how the two countries intended to broach the topic of human rights as both countries move toward restoring diplomatic ties. No major announcements emerged from the meeting, but "there was broad agreement on the way forward for a future substantive dialogue," according to the U.S. State Department.
Human Rights in the New Approach to U.S.-Cuba Policy
By Tom Malinowski (U.S. Department of State, February 3, 2015)
In this testimony before the Senate Committee on Foreign Relations, the Assistant Secretary of the Bureau of Democracy, Human Rights, and Labor offers thoughts on how the United States can best advance its human rights agenda in Cuba in light of Obama's policy shift. Though Assistant Secretary Malinowski acknowledges examples of government repression of Cuban citizens, he also points out that the embargo has not strengthened civil society in Cuba or toppled the current political system. Instead he argues that it has damaged the U.S.'s international reputation. Under the new agenda, Malinowski will enlist other nations' support for strengthening the Cuban private sector and promoting the free of flow of information to, from, and within the island, among other goals.
Link to full text via Department of State
Is Repression Really Escalating in Cuba? Let's Look at the Numbers
By Ric Herrero (#CubaNow Blog Post, July 8, 2015)
Since Presidents Obama and Castro announced that the U.S. and Cuba were going to pursue the normalization of relations, hardliners in Washington and Miami have been claiming that repression in Cuba is escalating as a result. In this blog post, Herrero looks at monthly statistics published by Cuba's Commission for Human Rights from 2010 through 2015, and concludes that detentions seem to have peaked in 2014 and dropped since then. Political prisoners are also down by nearly half of what the figure was in 2014. Although the human rights situation on the Island remains of grave concern, Herrero posits, U.S. engagement has at least helped to advance it.
Link to full text via Cuba Now
Cuba, USA Talks on Human Rights to be Continued
( Prensa Latina News Agency, April 1, 2015)
Prensa Latina reports that, despite profoundly different visions on human rights, Cuba and the United States completed their first meetings on this subject. Both countries expressed a deep commitment to human rights, while also voicing concerns for the areas in which they perceive the other country to have violated these rights. The success of these meetings laid the foundation for proposed talks in the future.
Link to full text via Prensa Latina
U.S., Cuba hold first formal talks on human rights
(Reuters, March 31, 2015)
In a preliminary meeting in March, Cuba and the United States discussed their plans for future dialogue on the "thorny issue of human rights as the two countries move toward restoring diplomatic ties." While a State Department representative emphasized the U.S.'s continued focus on human rights and democratic principals in Cuba, his Cuban counterpart repeated the island's demand for sovereignty and cited the events in Ferguson, Missouri as proof of the U.S. government's human rights violations.
Statement by the Minister of Foreign Affairs of Cuba at the High-Level Segment of the 28th session of the Human Rights Council
By Bruno Rodríguez Parrilla (MINREX, March 2, 2015)
In accordance with its long tradition of voicing its opinion about the necessity of universal human rights, Cuba called for the rights and freedoms of poor and marginalized citizens to be upheld amidst an unequal international order that privileges developed countries. In his speech, the Minister of Foreign Affairs questioned the legitimacy of electoral systems manipulated by the media and questionable financing, expressed concern about the low unionization rates of some important western economies, and supported the "inalienable right of the Palestinian people to a state of their own," among other declarations.
Five Key Human Rights Issues to Watch as U.S.-Cuba Talks Continue
By Ric Herrero (#CubaNow Blog Post, February 27, 2015)
The article highlights five key human rights issues that need to be addressed in the U.S.-Cuba talks, including the repression of Cuban citizens' freedoms of expression, association, and assembly by the Cuban government; the negative impact of the U.S. embargo on the economic and social rights of Cubans; and the recognition by Cuban civil society leaders that the embargo has benefitted Castro's regime by providing it with a scapegoat.
Link to full text via Cuba Now
2015 World Report on Cuba
(Human Rights Watch, 2015)
The report concludes that the Cuban government continues to repress dissent and discourage public criticism. While in recent years the Castro government has relied less on long-term prison sentences to punish its critics, short-term arbitrary arrests of human rights defenders, independent journalists, and other critics have increased dramatically. Other repressive tactics employed by the government include beatings, public acts of shaming, and the termination of employment. The report mentions, in accordance with the normalization of relations with the U.S., Cuba committed to release 53 political prisoners and to allow visits by international human rights monitors.
Link to full text via Human Rights Watch
Trafficking in Persons Report 2015 - Cuba Country Narrative
(U.S. Department of State, 2015)
The U.S. government's annual Trafficking in Persons (TIP) Report provides information on the scope and nature of human trafficking worldwide. In 2015, the TIP Report ranked Cuba as a Tier 3 country, due to evidence of sex trafficking of both adults and children and inadequate efforts by the Cuban government to comply with minimum standards for eliminating trafficking.
Cuba Report on Legal and Punitive Actions against Trafficking in Persons and other forms of Sexual Abuse (2013)
(MINREX, December 23, 2014)
In this document, Cuba outlines its zero-tolerance policy for sex trafficking and sexual exploitation. It lays out specific sentencing guidelines and other legal repercussions for perpetrators of any sex/human trafficking crime, and reiterates its commitment to protecting victims.
Cuban 2014 Human Rights Report
(U.S. Department of State, 2014)
In the 2014 Report, the Department of State reports that the principal human rights abuses included those involving the abridgement of the ability of citizens to change the government and the use of government threats, extrajudicial physical assault, intimidation, violent government-organized counter-protests against peaceful dissent, and harassment and detentions to prevent free expression and peaceful assembly. Most human rights abuses were committed by officials at the direction of the government. Impunity for the perpetrators remained widespread.
Link to full text via the U.S. Department of State
Candidature of Cuba to the Human Rights Council, 2014-2016
(UN Human Rights Council, September 2013)
The Government of Cuba put forth its candidacy to the Human Rights Council for the period of 2014 to 2016. Included with this request are Cuba's voluntary pledges and commitments to the Council, which generally ensure its commitment to human rights and to cooperate with the international community.
Cuba 2013 Human Rights Report
(U.S. Department of State, 2013)
Summary
Report on Human Rights in Cuba
(Amnesty International, 2013)
In the 2013 annual report, Amnesty International noted that repression of independent journalists, opposition leaders, and human rights activists in Cuba had increased. There were reports of an average of 400 short-term arrests each month and activists travelling from the provinces to Havana were frequently detained. Prisoners of conscience continued to be sentenced on trumped-up charges or held in pre-trial detention. Separately, the U.S. embargo had a negative impact on the health and wellbeing of Cubans and in particular on marginalized groups.
Link to the full text via Amnesty International
HIV/AIDS in Cuba: A rights-based analysis
By Tim Anderson (Health and Human Rights in Practice, 2009)
The common assertion that Cuba's achievements in HIV/AIDS control have come at a cost in human rights is challenged by this article. Using the United Nation's Guidelines on HIV/AIDS and Human Rights as a reference, this paper examines the Cuban experience as it relates to the themes of quarantine and personal freedom; privacy in testing and tracing; education, participation, and non-discrimination; and the availability of AIDS treatment.
Comisión Cubana de Derechos Humanos y Reconciliación Nacional
This site hosts the official page of the Cuban Commission for Human Rights and National Reconciliation, which contains monthly updates on political repression and detentions in Cuba starting from October 2010 until the present day.
LGBT Rights
Cuban LGBT advocate challenges Mariela Castro
By Michael K. Lavers (Washington Blade, May 23, 2015)
In this Juana Mora Cedeño of Proyecto Arcoiris (a Cuban LGBT rights organization that works independently of the country's Communist government) questions the government's efforts in support of LGBT rights. In particular, she notes that there are few spaces for LGBT Cubans to gather freely openly, and opines that the government-run group CENESEX-led by Mariela Castro-is not really representative of LGBT Cubans.
Link to full text via the Washington Blade
Cuba's Emerging LGBT Nightlife Comes into Focus
By Johnny Simon and Rebecca Sanchez (MSNBC.com, April 8, 2015)
This article discusses the multifaceted nature of Cuba's LGBT community, as well as changes in the political landscape in terms of the country's anti-gay laws. Simon and Sanchez describe life for LGBT people under Fidel Castro, whose experiences ranged from imprisonment and forced labor during the early years of the revolution to a gain in rights following the decriminalization of homosexuality in 1979 and Castro's public disavowal of his anti-gay stance in 1993.
Link to full text via MSNBC.com
Cuba's Gay Rights Evolution
By the Editorial Board ( New York Times, December 20, 2014)
Long before the Obama administration announced a dramatic shift in Cuba policy in December 2014, Havana had begun a remarkable evolution of gay rights in a region where hostile attitudes toward sexual minorities remain the norm. Fidel Castro's government ostracized sexual minorities during the 1960s and 1970s, but Mariela Castro, the daughter of the current president, Raúl Castro, has led the charge on legislative and societal changes that have given rise to an increasingly visible and empowered community. While widely admired, Ms. Castro and her state-run organization are not without critics in Cuba's gay community, and in 2011 a new group Proyecto Arco Iris, or Rainbow, was started to have a platform for other voices and ideas.
Link to full text via the New York Times
Cuba has 'come a long way' on LGBT rights
By Michael K. Lavers (Washington Blade, November 25, 2014)
This article chronicles how many feel Cuba has made progress in extending rights to its LGBT citizens over the last decade, and some have praised Mariela Castro as a champion of LGBT rights. However, LGBT rights advocates who oppose the government-and Mariela Castro in particular-insist authorities continue to face harassment under public assembly laws and the government does not respect the "diversity of thought" and of the human being. Activists also mention how the U.S. embargo has adversely affected the island's LGBT residents.
Link to full text via the Washington Blade
Cuba Wants You To Think It's a Gay Paradise. It's Not.
By Justin Rohrlich ( Foreign Policy, July 3, 2014)
LGBT rights have undeniably improved in Cuba over the past 50-odd years. But while there have been some gains, many problems remain, such as social stigma, government surveillance, an official, state-run LGBT movement that discourages other groups from forming, and the "manipulation" of the LGBT community for political purposes.
Link to full text via Foreign Policy
From Persecution to Acceptance? The History of LGBT Rights in Cuba
By Justin Halatyn (Council on Hemispheric Affairs, October 24, 2012)
Since the Cuban Revolution of 1959, the island nation has received low scores in many human rights indices for reported assaults on freedom of speech, expression, religion, and basic due process. Historians regard the 1960s as an especially repressive decade for one Cuban community in particular: the country's homosexual population. Indeed this group has only recently witnessed greater personal freedom and acceptance. While the record of their treatment today is certainly not perfect, there are clear signs of a gradual but serious shift from Cuba's previously anti-LGBT policies to a modern tendency of equal treatment and respect for all sexual orientations.
Link to full text via the Council on Hemispheric Affairs
Cuba Gay Rights Collection
Huffington Post
As part of the "Gay Voices" series, The Huffington Post reports on stories related to the Cuban gay community, including updates on marriage statutes, human rights advances and setbacks, and the actions of influential decision makers, such as Mariela Castro.
Link to full text via the Huffington Post
LGBT rights in Cuba
(Wikipedia page)
This Wikipedia article reflects on the current status of LGBT residents in Cuba, asserting that public antipathy towards LGBT people is high, but has eased somewhat since the 1990s. It also mentions the educational campaigns on LGBT issues currently being implemented by the National Center for Sex Education (CENESEX), which is headed by President Raúl Castro's daughter, Mariela Castro.