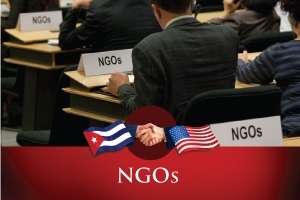 Over the last several years, Brookings has produced a number of expert research papers and commentaries about Cuba. The Cuba topic page brings together information about Cuba's foreign direct investment law, its currency unification options, its emerging middle classes and its relations with Venezuela, among other issues.
Capitol Hill Cubans blog
The Capitol Hill Cubans blog is edited by Mauricio Claver-Carone, the Executive Director of Cuba Democracy Advocates in Washington, D.C., a non-partisan organization dedicated to the promotion of human rights, democracy and the rule of law in Cuba. In an independent capacity, Claver-Carone is a co-founder and Director of the U.S.-Cuba Democracy PAC, the largest, single foreign-policy political committee in the United States.
Link to the Capitol Hill Cubans blog
Cuba Page
(Center for Democracy in the Americas)
The Center for Democracy in the Americas (CDA) supports a U.S. policy of engagement toward Cuba and an end to U.S. economic sanctions. CDA has testified before the U.S. Congress on proposals for engagement with Cuba, and published commentaries on Cuba in the Washington Post, the Washington Times, and other traditional and new media publications. Their site contains news, blog posts, Cuba Trip Reports, Cuba Central News Blast, and other resources.
Cuba Project Page
(Center for International Policy)
The Cuba Project seeks to bring an end to the futile fifty-year effort to isolate Cuba, and to bring the U.S. a few steps closer to the day when these two neighbors, united by history and geography, can have normal relations. Among the areas the Cuba Project has identified where the United States and Cuba can cooperate to the benefit of both are defending against hurricanes and protecting the Gulf of Mexico. In addition, the project strongly supports liberalized travel to Cuba as another significant avenue for engagement. Their site includes publications, commentary, and blogs.
U.S.-Cuban Relations
(Council on Foreign Relations)
The U.S.-Cuban Relations page contains resources from the Council on Foreign Relations on the historical background between the two countries, obstacles to U.S.-Cuba diplomacy, interactive timeline of U.S.-Cuba relations, U.S.-Cuba rapprochement, public opinion about the matter, domestic reform in Cuba, and prospects for U.S.-Cuba ties.
#CubaNow (website link)
#CubaNow's mission is to inform, connect and inspire a new conversation around the realities taking hold on both sides of the Florida straits and advocate for practical and effective policy actions that empower individuals to serve as catalysts for meaningful change in Cuba. Their site includes find information on the changes currently taking place in Cuba, as well as highlights from the voices of change on the island. It also digs deep on the changes taking place in America, including within the Cuban American community, which is "leading the way in shaping a new approach and inspiring a conversation on how to best help empower the Cuban people."
Cuban American National Foundation
CANF seeks to engage, support, and empower Cubans on the island and promote a "bottom-up" change by the people of Cuba. This organization advocates for a non- violent transition to a democratic Cuba, and emphasizes their support for rule of law, social, economic, and political rights of all people. The site includes policy positions, proposed objectives, and specific recommendations and methods of implementation for U.S. policy-makers and NGOs.
Cuba Posible website
Cuba Posible is a platform for analysis and dialogue created by Roberto Veiga and Lenier González, former editors of the Cuban magazine Espacio Laical. Their goal is promote a development-oriented economy and initiatives for a fuller democracy in Cuba, while maintaining traditional Cuban values, such as national sovereignty and citizenship, responsible freedom, social justice, hope, and solidarity.
Cuba Study Group website
The Cuba Study Group strives to facilitate peaceful change leading to a free and open society, respect for human rights and the rule of law, a productive, market-based economy, and the reunification of the Cuban nation. They advocate for constructive policies that focus on helping the Cuban people be the protagonists of their own future, remove obstacles to change, promote engagement over isolation, facilitate peaceful change, and promote processes of reconciliation among all Cubans.
Link to Cuba Study Group website
Engage Cuba website
Engage Cuba is a bipartisan 501(c)(4) public policy organization dedicated to coalescing and mobilizing American businesses, non-profit groups and concerned citizens for the purpose of supporting the ongoing U.S.‐Cuba normalization process and enacting legislation to reform U.S. travel and trade restrictions with Cuba. It coordinates legislative advocacy, public affairs and grassroots activities in a way that creates coherent messaging, distributes pressure where it is most needed, and advances pragmatic policy outcomes.
Research & Offerings on Cuba Page
(Heritage Foundation)
The Heritage Foundation is a research and educational institution whose mission is to formulate and promote conservative public policies based on the principles of free enterprise, limited government, individual freedom, traditional American values, and a strong national defense. The Heritage Foundation opposes Obama's decision to normalize relations with Cuba. To this end, they publish a variety of commentary, reports, blog posts, and issue briefs on U.S.-Cuban relations.
Cuba Content Page
(Washington Office on Latin America)
WOLA is a leading research and advocacy organization advancing human rights in the Americas. They support broader engagement with Cuba, and their Cuba page offers analysis and commentary, media, and other publications on issues ranging from legislation and foreign policy to business and human rights.
Cuba Reset
World Policy Institute
The World Policy Institute's Cuban Reset blog is a new, weekly online column that aims to capture the restoration of U.S.-Cuban diplomacy as it unfolds, and to assess its broader consequences in regional and international perspective.
Pre-D17 Recommendations
OPEN LETTER TO PRESIDENT OBAMA: SUPPORT CIVIL SOCIETY IN CUBA
(SUPPORT CUBAN CIVIL SOCIETY, MAY 2014)
In this letter, an ideologically diverse group of former U.S. government officials from both Republican and Democratic administrations acknowledge the actions that President Obama has taken to support the Cuban people, while urgently requesting that he use his executive authority to further advance U.S. policy reforms in four specific areas: expanding and safeguarding travel to Cuba for all Americans; increasing support for Cuban civil society; prioritizing principled engagement in areas of mutual interest; and taking steps to assure financial institutions that they are authorized to process all financial transactions necessary and incident to all licensed activities.
Opportunities for U.S. - Cuban Relations: Proposals for Cooperation in Areas of Mutual Interest
(Cuba-United States Academic Workshop (TACE) Working Paper, May 2012)
A group of Cuban and American scholars have engaged in a series of discussions to identify joint recommendations to ease the tensions between the two countries. This report outlines their conclusions on the topics of academic, scientific, and cultural engagement; freedom to travel; international commerce and development; terrorism and security issues; and the environment.
CUBA: A NEW POLICY OF CRITICAL AND CONSTRUCTIVE ENGAGEMENT
(BROOKINGS INSTITUTION, APRIL 2009)
Brookings has administered surveys for several years to gauge Cuban-American's perceptions of U.S. policy toward Cuba. For the first time since this survey began in 2004, the results indicate that this population is now in favor of reform. The authors also present a detailed plan to normalize relations with Cuba through short-, medium-, and long-term changes.
OPTIONS FOR ENGAGEMENT: A RESOURCE GUIDE FOR REFORMING U.S. POLICY TOWARD CUBA
BY ANYA LANDAU FRENCH (LEXINGTON INSTITUTE, APRIL 2009)
This article emphasizes the failure of the current U.S. policy toward Cuba and suggests numerous possible reforms that could improve relations between the two countries. Laundau French emphasizes that any reform that is adopted by a U.S. administration should not be tied to political change in the nation, but should be constructed to maximize U.S. domestic and international interests, and enable the U.S. to broadly contribute to change within Cuba.
A SECOND CHANCE - U.S. POLICY IN THE AMERICAS
(INTER-AMERICAN DIALOGUE, MARCH 2009)
This report from a non-partisan, international group of scholars considers the various roles and relationships that could emerge from a restored relationship with Latin America. It emphasizes the contemporary value of this region for economic, social, and political reasons. While encouraging the United States to reverse its historically pervasive and overbearing role within the region, the scholars urge the U.S. to cooperate with Latin American nations for the benefit of the Hemisphere.
LATIN AMERICA AND THE U.S.: BUILDING A PARTNERSHIP FOR THE WESTERN HEMISPHERE
BY RAY WALSER (HERITAGE FOUNDATION, FEBRUARY 2009)
Considering the economic, cultural, and geographic ties between the United States and Latin America, this article looks to the Obama administration to create a new approach to the region that will be economically beneficial while protecting economic and security interests. It gives the President a list of recommendations for opening relations with Latin America to achieve comprehensive and realistic policy reform.
Link to the full text via Heritage Foundation
Expand Trade - Even with Cuba
By Andrónico Luksic Craig (Americas Quarterly; Council of the Americas, Fall 2008)
This open letter to then President-elect Obama calls for the newly elected leader to consider global changes that would impact economies around the world. In particular, the author suggests a modern foreign policy toward Cuba in order to expand economic opportunity and increase trade possibilities.
RETHINKING U.S.-LATIN AMERICAN RELATIONS: A HEMISPHERIC PARTNERSHIP FOR A TURBULENT WORLD
(BROOKINGS INSTITUTION, NOVEMBER 2008)
This report is a result of the meetings of the Partnership for the Americas Commission, a group of 20 high-ranking officials and decision makers that met to discuss areas in which the U.S. and Latin America share interests and goals on issues that effect the entire region. In addition to the four priority areas identified by the Commission of combatting climate change, migration, economic integration, and protection from drug and organized crime, the report identified U.S. relations with Cuba as an issue that has hindered effective U.S. bilateral relations with other countries in the region. It concludes with a sequential set of recommendations to reform current U.S. policy.
OPTING FOR ENGAGEMENT
(WASHINGTON OFFICE ON LATIN AMERICA, APRIL 2008)
U.S. foreign policy towards Cuba has failed to produce greater respect for human rights or a democratic opening within the country. This collection of essays examines Canadian, Mexican, and EU foreign policies towards Cuba, what factors have influenced them and concludes with a set of recommendations for the U.S. The authors believe that engaging with Cuba is in the U.S.' best interest both domestically and in terms of its international reputation. Engagement will allow the U.S. to play a more constructive role in Cuba's future.
U.S.-CUBAN RELATIONS IN THE 21ST CENTURY: A FOLLOW-ON REPORT
(COUNCIL ON FOREIGN RELATIONS, 2001)
While this report does not consider whether or not to lift the U.S. embargo on Cuba, it details the ideal terms for American investment in Cuba and recommends terms of settlement for Cuban expropriation claims. It further explores the possibilities of family reunification, open channels for academic information, security proposals to enhance trust and counter-narcotics operations, and trade and property rights.
INDEPENDENT TASK FORCE REPORT ON U.S.-CUBAN RELATIONS IN THE 21ST CENTURY
(COUNCIL ON FOREIGN RELATIONS, 1999)
This meeting of major experts and scholars of U.S.-Cuban relations aimed to reach a bipartisan consensus on building a relationship with Cuba. The panel encouraged an open dialogue among those hoping to create a modern and dynamic foreign policy between the United States and Cuba.