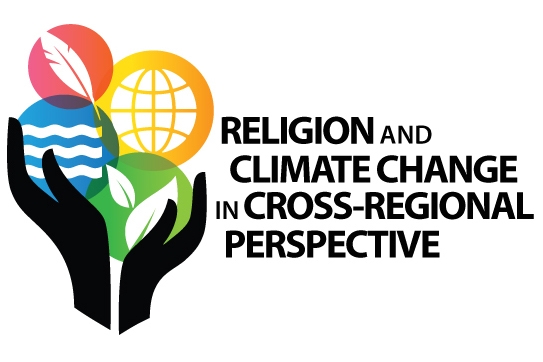 Climate change is dramatically altering the planet and affecting human livelihood in ways eliciting religious response. This two-year project seeks to deepen our understanding of the relationship between religion and climate change across multiple regions of the world. It builds upon a previous research project focused on forms of religious engagement with environmental conflict in contemporary Latin American democracies. The present project advances previous work by incorporating a comparative perspective across regions and religions beyond just Latin America, in order to enhance understanding of religious responses to the transboundary effects of climate change. In so doing this project gives sustained attention to the interactions between transnational religious influences and local cultural contexts, and the ways religion mediates the global and the local, as a source for the varieties of religious response to the planet-wide challenges of climate change.
At once building upon existing research and stimulating new inquiry into the similarities and differences of religious engagement with climate change across regions of the world, this project attends to three distinct if interrelated levels of analysis: the role of religion as a key part of ongoing public discourse on climate change; specifically religious sources of environmental knowledge, as this knowledge informs community responses to climate change; and the ways that climate change is also driving religious change. These comparisons across regions and religions are, in turn, developed with attention to three features of climate change concerned with water: the effects of glacial melt in the Andes and Himalayas, climate-related stress upon urban water systems in South America and South Asia, and the vulnerabilities of small island archipelagos in the Caribbean and the South Pacific respectively.
With generous support from the Henry Luce Foundation, this project is led by Evan Berry, an Associate Professor in American University's Department of Philosophy and Religion. Project co-principal investigators include CLALS Director Eric Hershberg and CLALS Research Associate Professor Robert Albro. A basic project goal is to enhance inter-regional collaboration among academic and practitioner networks. Findings will circulate as scholarly publications, through presentations at academic conferences, and also in formats and forums designed to inform policy decision makers and stakeholders in Latin America, the Caribbean, South Asia, and Oceania. In addition, the project will incorporate features of print and video journalism and social media dimensions. As work advances, this project page will be regularly updated.
Workshops and Public Fora
Workshop on Religion and Climate-Induced Displacement
June 1, 2018 | American University
This day-long meeting will bring together a small group of scholars, researchers and practitioners in order to identify the critical dimensions, and ramifications, of the relationship of climate change to population displacement and migration in Latin America, an issue we anticipate will be of enormous importance during the coming decades. While considerable evidence indicates that climate change increasingly will shape migration in the Americas, we note surprisingly little consideration of the challenges this will pose. This meeting, therefore, will explore how faith-based actors and organizations are thinking about, and responding to, the problem of climate-induced displacement at present across the region.
Diplomacy, Religion and Resilience in Small Island Developing States
May 22, 2018 | 12:00- 2:00 p.m.| Hogan Lovells, Washington, DC
Researchers from this project will convene a public event on climate diplomacy, co-sponsored by Sister Cities International. This public forum will address address forms of collaboration around climate change, primarily among countries in the Caribbean. It will address the role of religious traditions and actors, as often overlooked stakeholders in shaping public perceptions and priorities regarding climate change in small island development states (SIDS), including the ways in which climate concerns are connected to other issues such as development, sustainability, and migration. It will also consider the roles of faith leaders, and other religious actors, as they participate in often transnational climate advocacy networks, and contribute to established and new forms of climate diplomacy among SIDS nations. Using a round table format, participants from the religion and climate change project will report on project outcomes, with select ambassadors from SIDS nations and concerned with climate change, to discuss implications of this work.
Capstone Workshop
May 11, 2018 | American University
This day-long meeting will convene a select group of previous workshop participants, and other scholars already familiar with the project, for a set of presentations and discussion with the goal of thinking synthetically about the project's key findings. The workshop will be dedicated to identifying, in cross-regional terms, how cases and topics featured in anticipated project outcomes advance its goals of understanding: 1. religion as a part of the politics and public discourse on climate change; 2. religious sources of environmental knowledge, as these inform community responses to climate change; 3. and ways that climate change is currently driving forms of religious change. This workshop will support the preparation of project findings and outcomes, as major contributions to now emerging scholarship at the intersection of religion and climate change.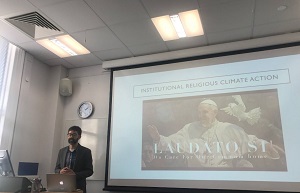 Religion and Climate Change Adaptation: Resilience or Resistance?
April 19, 2018 | University of Leeds (UK)
The role of religions in shaping public understanding and action in response to climate change today should be taken seriously by civil society and policymakers. CLALS Affiliate and AU Professor Evan Berry spoke about religion and climate change at the University of Leeds. The presentation showcased diverse case studies to highlight how religious commitments can run at cross purposes to ecological sustainability.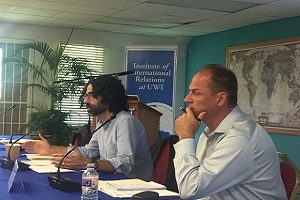 Trinidad Workshop
October 2-3, 2017 | The University of the West Indies-St. Augustine
CLALS organized and co-sponsored a two-day workshop in Trinidad, focused on "Small Island Vulnerabilities in the Pacific and Caribbean," hosted by the Institute of International Relations at The University of the West Indies-St. Augustine, and co-sponsored by The Wilson Center's program on Environmental Change and Security, led by Roger-Mark De Souza. Together with our co-sponsors, CLALS also organized a public forum, also held at the Institute and featuring workshop participants, faith leaders, and the Director of the Caribbean's Disaster Emergency Management Agency, which addressed the question: "How is Climate Change Affecting Islands and What Can We Do About It?" Concerned with adaptation and resilience in the face of sea level rise, coastal erosion, and unprecedented weather events, the forum addressed what shared policy goals island states should embrace, giving particular attention to civil society - including religious actors - as a crucial catalyst for community responses to climate change.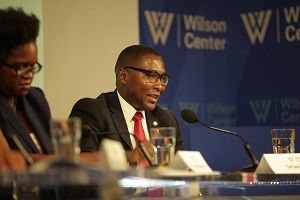 Religion and Climate Diplomacy in Small Island Developing States
July 10, 2017 | The Wilson Center
In July 2017 we co-sponsored a public panel discussion on "Religion and Climate Diplomacy in Small Island Developing States," hosted by the Wilson Center's program on Environmental Change and Security, which compared perspectives from the Pacific and Caribbean. With attention to religious leaders and faith-based civil society actors, this public forum focused on religion's role in addressing island vulnerabilities, and in facilitating constructive engagements between local or community stakeholders and national policy makers, amid concerns for economic livelihoods and sustainability in the adaptation to climate change. The forum addressed how religious actors identify climate as a basis of outreach and collaboration, other issues connected to climate in the course of such efforts, and the potential added value of religious voices as part of mitigation and adaptation efforts. Please click here for a full video recording, and here for an article summarizing the event.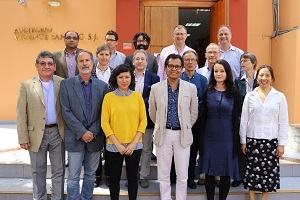 Lima Workshop
May 2-3, 2017 | Universidad Antonio Ruiz de Montoya
CLALS organized and co-sponsored a two-day workshop in Lima, Peru, focused on "Mountains and Implications of Glacial Melt in the Himalaya and Andes," hosted by the Universidad Antonio Ruiz de Montoya. Together with our co-sponsor, CLALS also organized a public forum, held at the university and which addressed "Latin America's Current Contributions to International Climate Change Negotiations," which featured multiple workshop participants together with Peru's top climate negotiator. This forum considered the range and impact of the region's contributions to moving forward international dialogue and cooperation around climate change over the previous decade.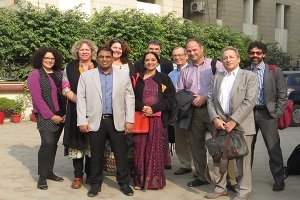 Delhi Workshop
December 8-9, 2016 | Observer Research Foundation
Observer Research Foundation, one of India's premier think tanks. This workshop convened researchers from India, Latin America, the US, and Europe, to address the role of religion and religious actors in the response and adaptation to emerging water-related challenges made worse by climate change. Topics encompassed glacial melt and river health, emerging agricultural challenges, connections between climate change and the increase of rural-to-urban migration, conservation efforts and stresses upon urban water systems in the global South, including freshwater and wastewater management, for which India offers important material for study. The first of a projected three regional workshops, this meeting convened researchers working on related problems of religion and climate in South Asia and Latin America to identify and refine case studies and analytic approaches to climate change, as a transboundary problem eliciting religious response.
Together with the American Center in New Delhi, CLALS also organized a public policy forum entitled "Civil Society's Role in Combating Climate Change," which followed the workshop and featured AU professors Ken Conca and Evan Berry, together with a US Embassy representative and Indian officials experienced with climate change policy. This forum considered the role of civil society in shaping policy responses to climate change, as a moral call to action, and compared the US with India, while considering how civil society might serve as a catalyst for bilateral cooperation around present and future climate challenges.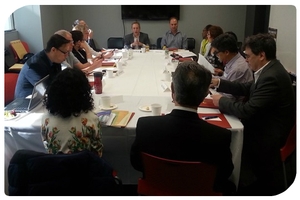 DC Planning Meeting
March 31-April 1, 2016 | American University
In the spring of 2016, CLALS held an initial planning meeting, which included scholars from around the globe. Participants compared the role of religion in environmental mobilizations at the international and local levels, as well as religious responses to shared environmental changes across different geographical regions (including Latin America, the Caribbean, Oceania, and South Asia).