Welcome back to campus! I hope you had a relaxing break with loved ones.
The Burwells hosted house guests for 16 days. We love our family and friends dearly, and it made for a wonderful holiday, but I'll be the first to tell you that dishwashers are now at the top of my list of things to be thankful for.
My brother-in-law and sister-in-law had never visited DC, so seeing our world-class museums was a must. I remember my first trip to DC, and the exhibits since have changed drastically–for the better. The museums better reflect our world from the suffragist display at the Library of Congress to the Asian artworks exhibit at the National Portrait Gallery to the jazz instruments at the National Museum of American History. You could see that changing the collections is part of each museum's journey to incorporate inclusive excellence. While they each have a strategy they are implementing, there is still more to do.
Recognizing this forward trajectory reminds me of the importance of strategy and execution. AU has been hard at work during the first year of our five-year strategic plan, Changemakers for a Changing World. You might remember how we started with mission, vision, and values as a foundation for the strategy. We expanded it to three pillars: scholarship, learning, and community. When I say 'we', I'm referring to the more than 1,000 students, faculty, staff, and alumni who provided input into the plan.
Today, more than 160 faculty and staff, under the direction of the strategic implementation directors, are leading the efforts to advance the strategies. Strategic implementation team members like Corbin Campbell and Gihan Fernando. Corbin, associate dean of academic affairs and associate professor in the School of Education, is working with DC Public Schools (DCPS) on IMPACT, an evaluation system to identify areas of improvement and ensure that DCPS teachers get the support they need. Gihan, executive director of the AU Career Center, is working to strengthen experiential education.
You will see that this plan is a community-wide effort. So, as we start this new year, let's all pause, reflect, and celebrate our progress and focus on our next steps. Let me be the first: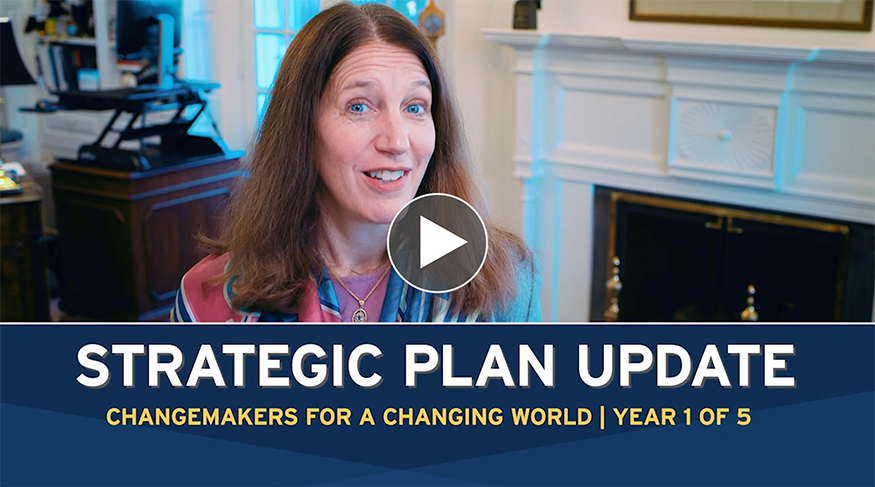 VIDEO: President Burwell celebrates AU's progress during the first year of the Changemakers for a Changing World five-year strategic plan. 
---
Scholarship, Learning, and Community
I want to give you a few more examples of our progress and encourage you to take a look at the plan and please let us know what you think.  
As we move forward, we will continue building a sense of community and making sure American University works to achieve inclusive excellence. We've focused on improving faculty hiring, and in fall 2019, 56 percent of new tenure-line hires and 31 percent of new term faculty identify as faculty of color. Our inclusive pedagogy faculty fellows will serve as resources to their fellow faculty members as they consider how to navigate challenging issues in the classroom. Remember, we want to hear your ideas on how to make AU a more inclusive community. Applications are still being accepted for the President's Council on Diversity and Inclusion (PCDI) Mini-Grants.
Another way we're moving the strategic plan forward is by growing our research and scholarship. As part of our goals for strategic focus, we will open two to three new centers across the university. We are also celebrating a record year for the most externally funded research grants in the university's history. As part of that record, the Center for Media and Social Impact (CMSI), the first university-based center to launch both research and creative initiatives in comedy and social justice, recently received more than $1 million in grants to build on its creative work to foster diversity and inclusion within storytelling and comedy.
Changemakers for a Changing World provides AU with our unique strengths and unique opportunities to differentiate our university from our peer institutions. Opportunities like lifelong learning. In a world of immediacy (I'm looking at you, Amazon Prime), we are prepared and poised to meet the needs and wants of learners in various stages of their careers and lives with the launch of new programs including a cybersecurity bootcamp and a new professional education partnership with a leading healthcare company.
We also set ourselves apart with our work with Washington. We are committed to partnering and engaging with DC and the broader region to positively and measurably impact this community in areas like education, the arts, and economic development, whether it's the School of Education's Dual Enrollment program with DCPS to provide local DC students the opportunity to earn early college credits or the $29 million gift of 9,000 works of art from the Corcoran Art Collection that our graduate students curated at the Katzen.

Finally, making a difference is why we are all at AU and that includes improving how AU works. We are working to improve our culture and processes by encouraging collaboration and transparency across units and by setting performance goals that align with the strategic plan.
---
Looking Ahead
As we strive to make AU an even better place to learn, work, and grow, I hope you read and feel as inspired as I do. If you have feedback or would like to get involved, visit the strategic plan website.
Writing AU's next chapter together is at the top of my gratitude list–right above dishwashers.
Best,