There will be four different leagues for Fall 2023. Signup on IMleagues.com. Registration will open August 1st. 
Download our IMleagues App in the store "American Rec Fit" to registrer for all events.
The Intramural Sport program provides a range of different sport opportunities in which participants may compete against themselves or others. Our mission is to increase the quality of life for the AU Community through the promotion of social, emotional, and physical well-being within an environment that promotes respect, integrity, character, and pride.
Intramurals offers league and event programming to students, staff and faculty of American University. Participants will have the opportunity to select their competition level and the day of the week in which their games will be scheduled when creating their team.
Leagues: Create or join a team in one of our league offerings. League sports are scheduled for a minimum of four (4) games and have a registration fee of $50 per team.
Events: There are tournaments that participants can register for online, or competitions that accommodate drop in participation. All events are free to students, faculty, and staff though space may be limited.
Leagues Spring 2023 Intramural Offerings
Signup on Imleagues.com! Each league is first come first serve.
Registration for Softball, Flag Football, Indoor Volleyball will open on 8/1/23! Futsal registration will open 9/18/23.
Scheduled dates for each league.
Softballs 
Sunday's Regular Season Games: 9/10, 9/17, 9/24, 10/1, 10/8 (NO GAME), 10/15 Playoffs 
Flag Football 
Monday League: Regular Season Games: 9/18, 9/25, 10/2, 10/9 Playoffs 10/16.
Wednesday League: Regular Season Games: 9/20, 9/27, 10/4, 10/11. Playoffs 10/18
Indoor Volleyball 
Tuesday Game Days: 9/19, 9/26, 10/3, 10/10. Playoffs 10/17.
Thursday Game Days: 9/21, 9/28, 10/5, Wednesday 10/11 Playoffs 10/19
Futsal 
Open Pro - Tuesday Oct 31, Tuesday Nov 7, MONDAY Nov 13, Tuesday Nov 28th Post Season - Dec 4th, Dec 5th, Dec 7th
Open and CoRec - Thursday Nov 3rd, MONDAY Nov 7th, Thursday Nov 10th, Thursday Dec 1st. Post Season - Dec 5th, Dec 6th, Dec 8th
Tournaments and One Day Events
Signup on Imleagues.com! Each Tournament is a one day event. 
Check back for one day events for the Fall
Check back at the start of the Spring semester to see when each league will start
Basketball
Innertube Water Polo 
Beach Volleyball 
Outdoor Soccer 
Tournaments and One Day Events
Signup on Imleagues.com! Each Tournament is a one day event. 
Check back for Spring and Summer tournaments!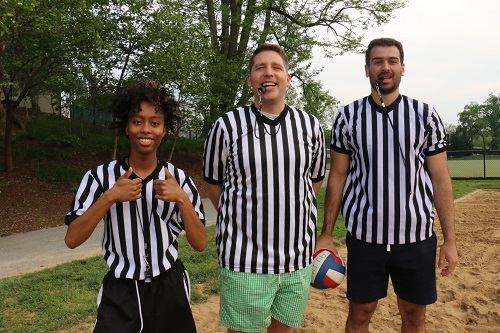 With flexible hours, both federal work study and non-federal work study available, and no prior experience needed, everyone can join our team!

There was an issue with the embedded post.