Classroom-in-the-Wild Test your skills in the field!
Classroom-in-the-Wild is an experiential field-based workshop open to all students and the public. The workshop provides participants the opportunity to expand and improve their photography and filmmaking skills. Whether a week-long spring break workshop in the Chesapeake Bay or West Virginia, a ten-day summer experience in Alaska, a two-week kayak adventure in Maine, or trips to Cuba, the Galapagos, and Costa Rica, the non-credit course challenges students to thrive in difficult conditions and to succeed in filming in the wild. At its core, Classroom-in-the-Wild has a strong focus on environmental photography and filmmaking. CitW is open to first-time and experienced filmmakers, as well as photographers who want to push their boundaries, experience nature, and learn more about environmental, wildlife, and natural history communication. Students may add academic credit through independent study. All equipment is provided by the Center for Environmental Filmmaking and the Film and Media Arts division of the School of Communication.
Classroom in the Wild 2020
2:59
Filmed and Edited by Sophia Nelson Sound by Daniel Sohn
This course is intended for students to gain hands-on experience making environmental and wildlife documentaries while being surrounded and inspired by the nature of the Shenandoah.

Classroom in the Wild is planned for spring break, March 06 to 12. It is open to students, the American University community, and the public! We've changed the venue to the Shenandoah Valley in West Virginia. Prof. Larry Engel received confirmation that Sony will supply SLR cameras and telephoto lenses to supplement our equipment! We'll work on land, in the air (drones), surface, and underwater (with GoPros and perhaps an underwater housing for smartphones). Canoeing and kayaking are also available.

The course is open to American University and the general public. All levels of experience are welcome and encouraged to apply.

$950, includes meals, lodging and equipment

Questions, please contact Professor Larry Engel (engel@american.edu)
The Center for Environmental Filmmaking is offering students a one-week alternative spring break program in the Chesapeake Bay to introduce them to the challenges and fun of environmental filmmaking. This non-credit course is for both first-time and experienced filmmakers and photographers who have an interest in the outdoors and in communicating environmental, wildlife, and natural history subjects.
Class code: COMM 08-001
Cost: $950, includes housing.
For more information, contact Classroom in the Wild Director, Professor Larry Engel at: engel@american.edu.
SOC's Center for Environmental Filmmaking is pleased to announce the experienctial video and photography course to Isla de Mona, Puerto Rico May 29- June 5.
This course will be led by Professor Maggie Burnette Stogner, the Executive Director of the Center for Environmental Filmmaking, and supported by further instruction from our local partner, Discover Puerto Rico. There are no prerequisites for this course and you do not need to be an American University student to join in on this incredible program! 
The class has a $1650 program fee. This fee covers travel and lodging once students reach Puerto Rico. Food will be provided on Isla de La Mona, but students are respobsible for meals in Puerto Rico. 
Air fare to and from Puerto Rico will have to be purchased by each student personally however; don't purchase your flight until we confirm that enrollment has been met.
All equipment will be provided by the American University Equipment Room and students will have hands on training with this state-of-the-art equipment for environmental and wildlife filmmaking.
About Puerto Rico:
Puerto Rico, New York Times 2019 #1 place to travel to, has a hidden secret.
Isla de Mona is an uninhabited island/natural reserve 40 miles west of Puerto Rico.Classroom in the Wild 2019 takes you on a journey to a place many have called the Galapagos of the Caribbean.
The 12 mile long island is home to 17 endemic species, an intricate cave system with Taino Indian carvings and historical colonial Spanish remains, and pristine coastlines and coral reef systems. Together with local park rangers, experts and filmmakers, students will have a chance to tell unique stories of this magnificent island.
Spend four magical nights camping under the Caribbean stars while telling stories of a unique ecosystem.
For more stories about CEF students, events and resources, check out our newsletter!
Nine participants, including first-year MFA graduate student Samantha Noland, headed to the Shenandoah Valley in March of 2023 for Classroom in the Wild, an experiential field-based workshop open to all students and the public.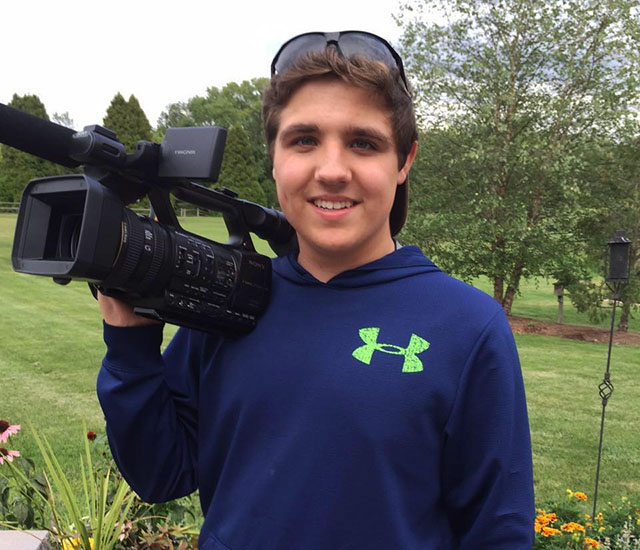 Michael Rice, SOC/BA '20
Film and Media Arts
I felt I got four years of experience in a week's time.
Michael Rice endured blustery winds and bitter cold on the Chesapeake Bay to create a video about the harsh beauty of the landscape and the harm wildlife faces today. The mentors he found through Classroom in the Wild not only coached him in camera techniques, but gave him life tips on time management, marketing, and careers. The experience taught him to collaborate, problem solve, be persistent, and never give up. Michael learned the importance of creating art that makes a difference. For him, that's what makes a filmmaker.