Center for Environmental Filmmaking
4400 Massachusetts Avenue NW
Washington
,
DC
20016
United States
2017 Scholarship Recipients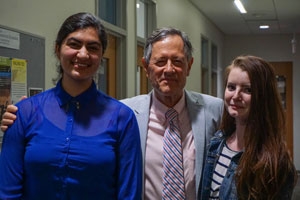 This year's recipients of the Mavis and Sidney John Palmer Scholarships: Sirjaut Kaur Dhariwal and Crystal Solberg. Both of these award winners are about to begin the second year of their MFA.
Sirjaut Kaur Dhariwal is a zoologist and is pursuing her MFA in Wildlife and Environmental Filmmaking in order to bring science and conservation to the forefront of conversations and everyday life. She is interested depicting stories in order for human and wildlife interactions to be environmentally sustainable for future generations. Her past work has included filming bird migrations with field researchers, a short for the Wildlife In Need Center, and is currently directing and producing a film about agriculture practices in Punjab, India.
Crystal Solberg is a visual storyteller who strives to create work of environmental and social significance through creative camerawork, editing, and persistence. Over the past year, she has had the privilege of producing videos for The Humane Society of the United States; working alongside thesis students as they develop their passion projects; and interning as an assistant editor for The Investigative Reporting Workshop. Crystal plans to continue to collaborate on purpose-driven environmental films and greatly expand her own body of work in the years to come.
Congratulations to Sirjaut and Crystal for earning the Mavis and Sidney John Palmer Scholarships for this year.
2016 Recipients

Ashley Holmes, Megan King, Kent Wagner and Elizabeth Herzfeldt-Kamprath

2015 Recipients

Shayna Muller and Sam Sheline

2014 Recipients

Vanina Harel, Marilyn Stone, Jamey Warner, and Nick Zachar

2013 Recipients

Sarah Gulick and Erin Finicane