On Campus
Incoming Leadership Class of Fall 2016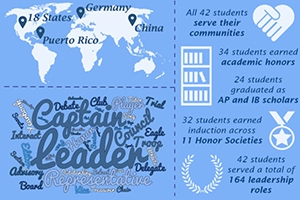 The School of Public Affairs Leadership Program is very pleased to announce the fall 2016 incoming leadership class!
Representing 18 states, Puerto Rico, Germany, and China, these 42 students have distinguished themselves as leaders in their areas of interest and have exemplified a desire to continue growing as a leader.
Of our incoming students, many have served as class presidents, theater directors, high school publication editors, choir and chamber leaders, mock trial and debate team competitors, and sports team captains. Many have graduated in the top of their class, have been inducted into academic honor societies, and have earned International Baccalaureate and Advanced Placement distinctions. Collectively, these students have devoted thousands of hours in service to their schools, their communities, and even, internationally.
These 42 students share a common desire, with each other and the student leadership community that they are joining, to make the world a better place. Upon completion of this 6-semester program, these students will earn a Certificate in Advanced Leadership Studies. The program is structured to help students learn leadership theories, strategies, and skills, followed by opportunities to put those into practice.
Throughout their time in the program, students will execute two social action leadership projects, complete an internship focused on organizational behavior, and complete a senior capstone. The goal of the program is to empower students with knowledge, skills and experiences needed to lead generous lives in public affairs and make the world a better place.
Congratulations to the incoming class of 2020! All of us in the program look forward to helping you develop your leadership knowledge and skills over the next few years.
Fall 2016 Incoming Class

Alana Persson - NH
Aliana Bigio - Puerto Rico
Amanda Carty - MI
Anthony Kuykendall - CA
Astonique Robinson - CT
Barbara Abreu - MA
Brian McDermott - MA
Britt Jacovich - CT
Colleen Wachenfeld - NJ
Cordelia Bell - VT
Danielle Little - NY
Erica Scott - NC
Giovanna Calderon - NY
Grace Strong - MA
Grant Weinreich - MD
Heather Hardee - IL
Izabella Lopez - AZ
Jacob Laves - TX
Jacob Tubis - MD
James Zanghi - MA
John Maxey - PA
Jonathan Santoro - MA
Juliet Henry - MA
Katie Wood - VA
Mackenzie Elliott - CT
Madeline Hull - MD
Marwah Adhoob - VA
Mica Jordan - OH
Micaela Annis - OR
Mitchel Traer - NH
Neco Milillo - CT
Noelle Burke - OH
Rachel Ferrari - PA
Samantha Frank – APO, AE
Sofia Mucha - FL
Stephen Taylor - CA
Taylor Sabol - MD
Timothy Gear - NJ
Vincent Maddiona - NY
Xiangrong Kong - China
Yasmina Thomure - MO
Zachary Hyvarinen - MA