In the Community
Leadership Students Bring Talents to the White House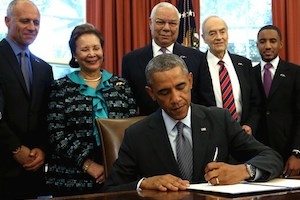 Eesha Bhave remembers seeing the White House for the first tie during her 8th grade class trip to Washington, D.C. Six short years later, Bhave spends forty hours per week interning with the White House Initiative on Asian American and Pacific Islanders.
Bhave is joined by senior Lori Interlicchio, who currently interns in the White House Office of Legislative Affairs. Together Bhave and Interlicchio join a growing legion of Leadership students to intern for White House.
Since 2011, ten Leadership students have brought their talents to the White House Visitors Office, Office of Legislative Affairs, Council of Economic Advisors, Domestic Policy Council, Council on Environmental Quality, Office of Management and Administration, Office of Public Engagement and Office of the Vice President.
In her internship, Bhave is afforded the opportunity to have an impact on policies affecting Asian American and Pacific Islanders, "I am working on issues such as civil rights, language access, and youth engagement."
The sophomore year of the Leadership program allowed Bhave and Interlicchio to be competitive applicants for this semester's White House internship. Bhave explained, "The work I completed in the sophomore class for leadership opened my eyes to this particular office and the work that it does, and gave me the confidence and experience to apply."
Senior Cj Murphy returned to classes this fall after taking a semester off to intern in the president's humble abode. Spending a semester in the Office of Management and Administration deepened Murphy's understanding of being committed to one's work: "Each person there, from the cleaning staff to the Chief of Staff, is so passionate about what they do and inspired me to work hard and take pride in everything I did there, no matter how big or small."
In addition to interning in the White House, Leadership students frequent the White House for the debut of initiatives, legislative signings, and even to introduce the President himself. Sophomore Wes Young's involvement with sexual assault prevention on college campuses led to an invitation to discuss the "It's On Us" campaign with other student leaders in the West Wing.
Alumnus Deon Jones ('14) joined President Obama and General Colin Powell for the signing of the Declaration to Fulfill America's Promise in the Oval Office. Alumnus Andy MacCracken ('12) was recognized for leading the college affordability charge in the nation's capital with an invitation to introduce President Obama before delivering remarks on student loan debt.
Leadership students are afforded the unique opportunity to use their "strengths and skills to help in the administration's efforts to serve the country," Murphy observed.