Government & Politics
SPA Students Work the Floor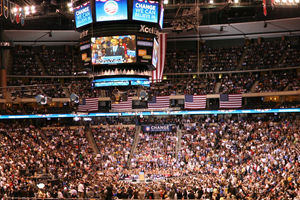 True to the name of their program, several School of Public Affairs Leadership students spent their first week of a new school year not in a classroom, but working on the floors of the Republican and Democratic national conventions.

Freshman Michael Monrroy spent last week reporting from the floor of the Xcel Energy Center in St. Paul. The Sterling, Va., native earned his ticket to the convention by winning Crash the Party '08, a national contest sponsored by Voto Latino and Si TV, an English-language network geared toward young Latinos.

"I wanted to enter the contest because I am Hispanic, and I don't lose sight of my culture, which has shaped me and made me interested in politics in the first place," said Monrroy, a Sterling, Va., native whose ethnicity is Colombian and Bolivian American. "A young Hispanic Republican is more underrepresented than ever on TV. I'm able to report from the Republican National Convention as one of them. I come from their community, interview key figures, and educate and inform, and do it all in a youthful way."

Monrroy, 18, won the contest by submitting a video that out-polled 148 other applicants. He spent his time at the convention interviewing politicians, such as former Rep. Henry Bonilla, about immigration, the economy, and other issues pertaining to the Latino community and Republican Party. His reports can be seen on SiTV.com.

Kristian Hoysradt earned his ticket to Denver in a more, well, conventional manner. This summer the 21-year-old SPA and SOC double major served as a staff assistant to the National Conference of Democratic Mayors (NCDM). When the group headed to Colorado, they took Hoysradt along.

"It definitely reinvigorated my love for the Democratic Party and my commitment to it," he said of the convention, at which he provided logistical support at NCDM events, such as its Taste of America's Cities. "The speeches were absolutely incredible. To be in the venues for such historic events, whether it was Hillary Clinton's speech or Barack Obama's speech, was amazing."

Hoysradt is no political novice. He ran Carolyn Kirk's 2006 winning campaign for mayor of Gloucester, Mass., and says he very well could get into politics after he graduates.

"Even if you're not necessarily into the whole political realm, it's important that every[one] at one time in their life really see the democratic process," he said. "I think the conventions are a great display of our democracy in action."

Other SPA Leadership Program students who attended a convention included Jon Kohan (Republican), an AU student on leave who's working for Dick Zimmer's U.S. Senate campaign in New Jersey.