Achievements
An Award-Winning Year for the SPA Leadership Program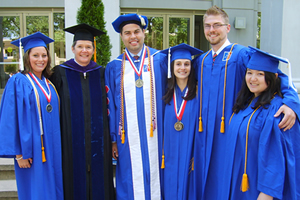 The SPA Leadership Program shined again at commencement this year with program students receiving many of the university's top honors, including an unprecedented two President's Award winners. "It is deeply rewarding to see so many of our students recognized for their impressive servant leadership both at AU and in the greater community," said Program Director Margaret Marr.

AU's highest recognition for an undergraduate – the President's Award – is traditionally given to one graduating senior whose accomplishments reflect the highest ideals of the university. This year, for the first time, two individuals were named to receive the award: Allison Gold and Seth Cutter, both SPA Leadership Program students. 

Cutter, who served as Student Government President in 2008-09 and Student Trustee in 2009-10, not only won the President's Award but also both the University's Outstanding Service Award and the Cathryn Seckler-Hudson Award for dedicated service to the University community.

"I do not think I would be the person who I am today had I not been a part of the SPA Leadership Program at American University," said Cutter. "The opportunities I've had, the friendships I've developed, and the lessons I've learned have made me successful in college and will serve me well in the years to come." He will pursue a master's degree in Public Administration at the University of North Carolina at Chapel Hill in the fall.

Gold echoed the sentiments, "It was a great honor to receive this award; I believe that the Leadership Program was an integral part of my personal and professional development at AU." Gold will launch her career at the Environmental Protection Agency.

Cutter and Gold were joined on the AU awards stage by three of their Leadership Program peers: Jenna Sablan, Georgette Spanjich, and David Simnick.

Jenna Sablan earned the Harold Johnson Award for her work promoting understanding and acceptance of cultural and racial diversity within the university community. Sablan will pursue a doctorate at the University of Southern California in Urban Education Policy with a concentration in higher education.

Georgette Spanjich's significant contributions to the university while serving in the student government earned her the Kinsman-Hurst award. Spanjich has accepted a position with a government relations consulting firm.

David Simnick, Leadership Program Student Director in 2008-09, won the Charles W. Van Way award, given to the student who has contributed the most to building community at the university. Simnick plans to complete a masters degree at the University of Pennsylvania while teaching in the Philadelphia public schools as a Teach for America corps member.

This is the second year in a row that a Leadership Student has won the Charles W. Van Way award, following Bill DeBaun's recognition last year. Also in 2009, Leadership student Justin Bibb won the Bruce Hughes award for his community service and leadership abilities. Their classmate, Molly Kenney, won the Harry S. Truman Scholarship, a nationwide honor earning her $30,000 toward her graduate studies.

The 22 members of this year's Leadership class of 2010 not only earned six of the university's 14 commencement awards, but also:
completed more than 3,500 hours in community service during their college careers;
raised more than $2,300 to support leadership development among DC's high school students;
appeared more than 95 times on the Dean's List;
graduated in great numbers with Latin Honors (five students summa cum laude and five more magna cum laude); and
had five students admitted to the honor society Phi Beta Kappa.
"I'm extremely proud of the accomplishments of these students, individually and collectively," said Marr. "Their enthusiasm and commitment is inspiring."