Message from the Executive Director Year-End Update
As we close out 2020, here's a snapshot of what the great team at WPI has been working on this year.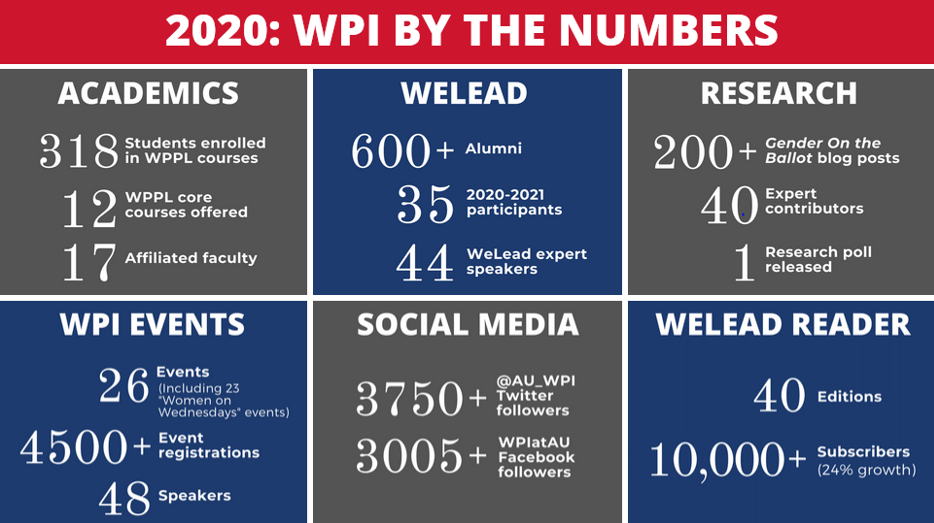 ACADEMICS
We offered 24 core Women, Policy and Political Leadership certificate courses, enrolling over 450 undergraduate and graduate students. Our dedicated faculty include top academics and practitioners:
Dr. Karen O'Connor, Jonathan N. Helfat Distinguished Professor of Political Science
Dr. Sarah Brewer, Adjunct Professorial Lecturer
Lucy Gettman, Adjunct Professorial Lecturer
Laura Cox Kaplan, Adjunct Professorial Lecturer
Amanda Fuchs Miller, J.D., Adjunct Professorial Lecturer
Hon. Connie Morella, Ambassador in Residence
Shilpa Phadke, Adjunct Professorial Lecturer
Susannah Wellford, Adjunct Professorial Lecturer
Dr. Vicky Wilkins, Dean, School of Public Affairs
WELEAD CAMPAIGN TRAINING
Now in its 16th year, our non-partisan WeLead program successfully positions young professional women to run for office or lead a political campaign. Our 600 alums work in the halls of Congress, campaign war rooms, K Street offices, state legislatures, city councils and corporate boardrooms across the country.
Like most institutions and organizations, we adjusted WeLead 2020-2021 in light of the global health pandemic. Meeting virtually, our current class of 35 talented young women are looking to expand their influence in a political or professional leadership role. The class has already worked with top political practitioners, expert speakers, and leadership coaches on how, why and when to run for office, as well as campaign management, communications, and media. Early next year, the class will work in teams to develop and execute a fund-raising campaign.
Through the support of your generous contributions, we are proud to be able to offer this program at no cost to the participants. We are also most grateful for the WeLead alum network that continues to mentor and inspire each new class to close the gender gap in political leadership.  
RESEARCH
Gender on the Ballot
In collaboration with the Barbara Lee Family Foundation, we launched Gender on the Ballot, a nonpartisan project to examine and contextualize gender dynamics in the 2020 election cycle. Leading up to the election, our 52 expert contributors have written 200+ blog posts, sharing their insights and analysis on topics such as the Democratic primary debates, intersectionality, women's political leadership, and the Women's Suffrage Centennial.
Poll Release
"Stepping Up and Standing Out." With our Gender on the Ballot initiative and polling team at Benenson Strategy Group (BSG) we explored women's political participation in 2020. 
WeLead Reader
Launched in fall 2018, the WeLead Reader is a carefully curated newsletter packed with news and research about women in politics. Delivered to inboxes on Saturday morning, readers can catch up on a week's worth of important new developments about women running for office, serving as leaders, and engaging in the political arena. We are proud to have over 10,000 subscribers.
EVENTS
In early 2020 (pre-COVID), we hosted three on-campus events that complemented our courses, academic work, and research.
To celebrate International Women's Day in March, we hosted our second annual panel discussion about women's political participation around the world with an esteemed panel of female ambassadors to the United States. The panelists included Ambassador Hunaina Sultan Al Mughairy of Oman, Ambassador Mathilde Mukantabana of Rwanda, Ambassador Roya Rahmani of Afghanistan, and Ambassador Bergdís Ellertsdóttir of Iceland.
Experts gathered for a panel discussion about Gender on the Ballot's latest research: Stepping Up and Standing Out, which explored barriers to female political participation and the way in which women are "stepping up and standing out" to make a change in the political process. WPI Executive Director Betsy Fischer Martin led the panel discussion with Alexi McCammond, a political reporter with Axios, Amanda Hunter, Research and Communications Director of The Barbara Lee Family Foundation, and Kate Jeffers, a director with the Benenson Strategy group. 
In January, we hosted three dynamic female mayors from across the U.S. to discuss women's political leadership at the executive level. The bi-partisan panel included Mayor Nan Whaley of Dayton, Ohio, Mayor Yvonne Spicer of Framingham, Massachusetts, and Mayor Betsy Price, of Ft. Worth, Texas.
WOMEN ON WEDNESDAYS
After AU's campus went virtual late last spring, we launched an online regular weekly series, "Women on Wednesdays," to bring our WPI community together with dynamic and thought-provoking women leaders, authors, scholars, journalists, and activists. We continued the conversation this fall, gathering online to discuss timely topics about empowering women in the political arena. 
In total, we hosted 23 discussions featuring 48 guest speakers including:
Award-winning political journalist Molly Ball
Rep. Susan Brooks (R-IN), National Republican Congressional Committee Recruitment Chair
Rep. Cheri Bustos (D-IL), Democratic Congressional Campaign Committee Chairwoman
Candy Crowley, former CNN Anchor & Presidential Debate Moderator
Sen. Joni Ernst (R-IA)
Nikki Haley, former U.S. Ambassador to the U.N. and Gov. of South Carolina
Valerie Jarrett, Senior Advisor to President Barack Obama
Rep. Pramila Jayapal (D-WA)
Dr. Martha S. Jones, Society of Black Alumni Presidential Professor at Johns Hopkins University
Ambassador Capricia Marshall, former Chief of Protocol of the U.S.
AU Alumna Jennifer Palmieri, former Communications Director for President Obama
Symone Sanders, Senior Advisor to President-Elect Joe Biden
Award-winning journalists Lynn Sherr and Ellen Goodman
As we approach the transition to a new administration in the White House and a record number of women serving in Congress, we eagerly anticipate a busy and energetic year ahead. 
Only with your help can we offer more courses, enroll more students, train more young women to run for office, conduct more research, convene more special events, and ensure that women have a seat at all of the tables where the most important decisions are made.
And please consider supporting our work in 2021 with a $1,000, $500, $250, or $100 tax deductible contribution.
Together, we will change the face of politics!