Message from the Executive Director Year-End Update
As we close out 2019, here's a snapshot of what the great team at WPI has been working on the last three semesters.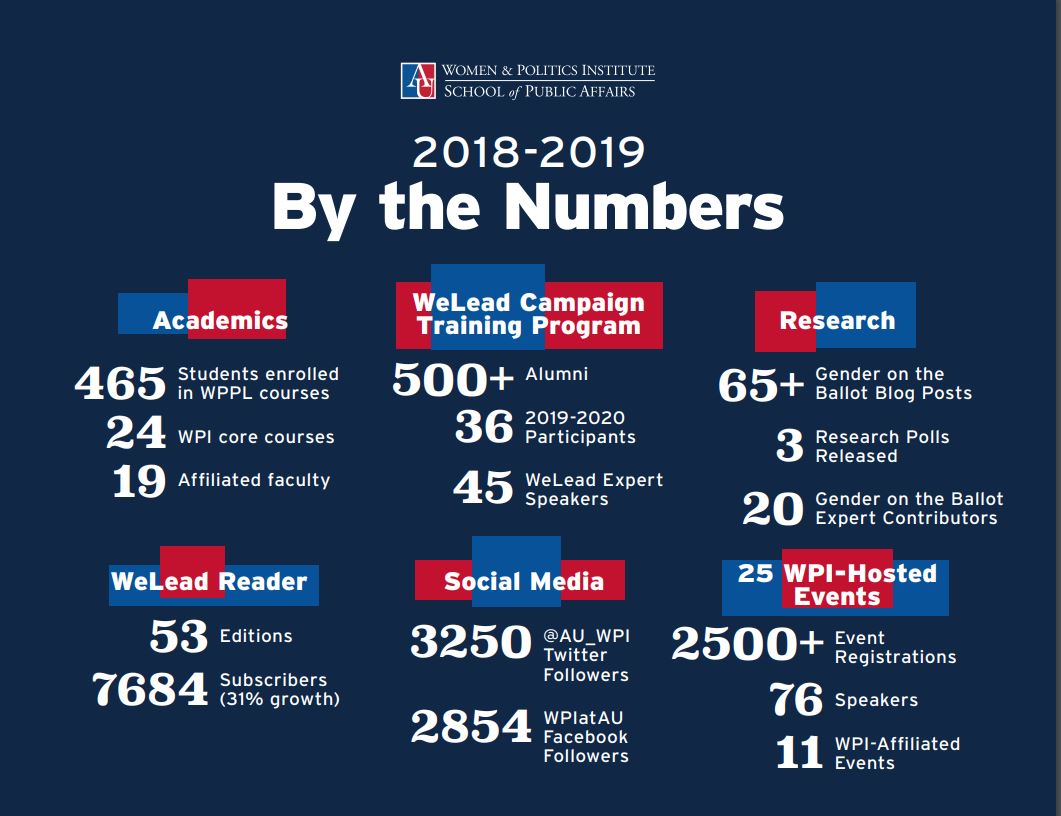 ACADEMICS
We offered 24 core Women, Policy and Political Leadership certificate courses, enrolling over 450 undergraduate and graduate students. Our dedicated faculty include top academics and practitioners:
Dr. Karen O'Connor, Jonathan N. Helfat Distinguished Professor of Political Science
Dr. Sarah Brewer, Adjunct Professorial Lecturer
Lucy Gettman, Adjunct Professorial Lecturer
Laura Cox Kaplan, Adjunct Professorial Lecturer
Amanda Fuchs Miller, J.D., Adjunct Professorial Lecturer
Hon. Connie Morella, Ambassador in Residence
Shilpa Phadke, Adjunct Professorial Lecturer
Dr. Elizabeth Sherman, Assistant Professor of Government
WELEAD CAMPAIGN TRAINING
Now in its 15th year, our non-partisan WeLead program successfully positions young professional women to run for office or lead a political campaign. Our 500+ alums work in the halls of Congress, campaign war rooms, K Street offices, state legislatures, city councils and corporate boardrooms across the country. Because of your continued support we are able to offer this program at no charge to participants.
Our current WeLead class is already in full swing with 36 talented young women – all of whom have indicated a desire to run for office or run a political campaign one day. Last year's program ended on a high note when 2012 WeLead graduate and freshman Member of Congress Lauren Underwood (D-IL) spoke at our graduation event in May. In her historic 2018 win, Rep. Underwood became the youngest black woman to serve in U.S. Congress.
NEW RESEARCH INITIATIVES
In collaboration with the Barbara Lee Family Foundation, we launched Gender on the Ballot, a nonpartisan project that examines and contextualizes gender dynamics in the 2020 election cycle. Our 20 expert contributors have posted 65+ blogs, commenting on topics such as the Democratic primary debates, intersectionality, and women's political leadership.
Launched in fall 2018, the WeLead Reader is a carefully curated newsletter packed with news and research about women in politics. Delivered to inboxes on Saturday morning, readers can catch up on a week's worth of important new developments about women running for office, serving as leaders, and engaging in the political arena. We are proud to have over 8000 subscribers.
RESEARCH
"She Votes. She Leads."  We partnered with Benenson Strategy Group (BSG) for an in-depth poll of women voters that explored what mattered to women in the 2018-midterm elections.
"Electability in 2020." With our Gender on the Ballot initiative and polling team at BSG we took a closer look at what "electability" means to voters. We found that voters may be looking for "electable" candidates – but not in the way the media defines electability.
And we are in the field now with a soon-to-be-released poll exploring women's political participation.
EVENTS
We hosted over 25 on-campus events that included book talks, paper presentations, panel discussions and film screenings to complement our courses, academic work, and research. A few particularly memorable examples include:
In October 2018, we co-hosted a special screening of the acclaimed 2018 documentary, RBG. Panelists included Washington Post Supreme Court Reporter Robert Barnes and RBG co-director Julie Cohen.
To celebrate International Women's Day in March, we hosted a panel discussion about women's political participation around with world with an esteemed panel of female ambassadors to the United States.  Panelists included Ambassadors Floreta Faber of Albania, Vlora Çitaku of Kosovo, Kirsti Kauppi of Finland, Claudia Ivette Canjura de Contento of El Salvador, Karin Olofsdotter of Sweden, and Rosemary Banks of New Zealand.
In October, WPI hosted a book talk featuring top political strategists Donna Brazile, Minyon Moore, and Yolanda Caraway, co-authors of For Colored Girls Who Have Considered Politics, a book that details the careers and friendships of four powerful African-American women in the political world.
This list, of course, represents only the highlights and there is no doubt it's been an exciting time to be at the center of a national conversation about the importance of having more women in political leadership.
As we approach a presidential election year as well as the centennial commemoration of women's suffrage, we eagerly anticipate a busy and energetic year ahead.  We are also looking forward to celebrating the 20th anniversary of WPI, founded by Dr. Karen O'Connor, Jonathan N. Helfat Distinguished Professor of Political Science.
Only with your help can we offer more courses, enroll more students, train more young women to run for office, conduct more research, convene more special events, and ensure that women have a seat at all of the tables where the most important decisions are made.
And please consider supporting our work in 2020 with a $1,000, $500, $250, or $100 tax deductible contribution.
Together, we will change the face of politics!