AUSG Women's Initiative Presents: Winona LaDuke November 10, 2020
In partnership with AUSG's Women's Initiative, WPI co-sponsored a virtual conversation with Native American activist, environmentalist, and former Green Party VP candidate Winona LaDuke. Topics discussed included issues of cultural-based sustainable development strategies, renewable energy, and sustainable food systems. "There's not a social change fairy, there's all of us... Have faith," says LaDuke.
Inside American Politics 2020 November 9, 2020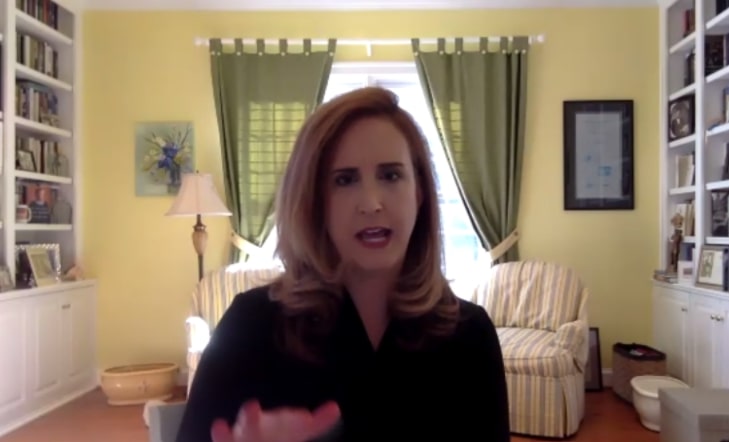 Betsy Fischer Martin, Joel Benenson, Jonathan Capeheart, Stephanie Cutter, and Todd Harris discussed why the election turned out the way it did and President-Elect Joe Biden's path to the White House. Steve McMahon moderated the panel. The event was co-produced by the John Brademas Center and NYU DC Dialogues. Fischer Martin mentioned that "Black women in particular supported Biden at the highest rates... coming into play in terms of organizing and supporting [the Democratic party]." Watch the full replay here
Election 2020: What We Know, What We Don't, and What's Coming November 6, 2020

Sine Institute Executive Director and former CEO of the Democratic National Committee Amy K. Dacy and WPI's Executive Director Betsy Fischer Martin discussed what's happening and what's next following the election.
You can watch the full replay here
AU Ed Talk: 2020 Election Countdown October 6, 2020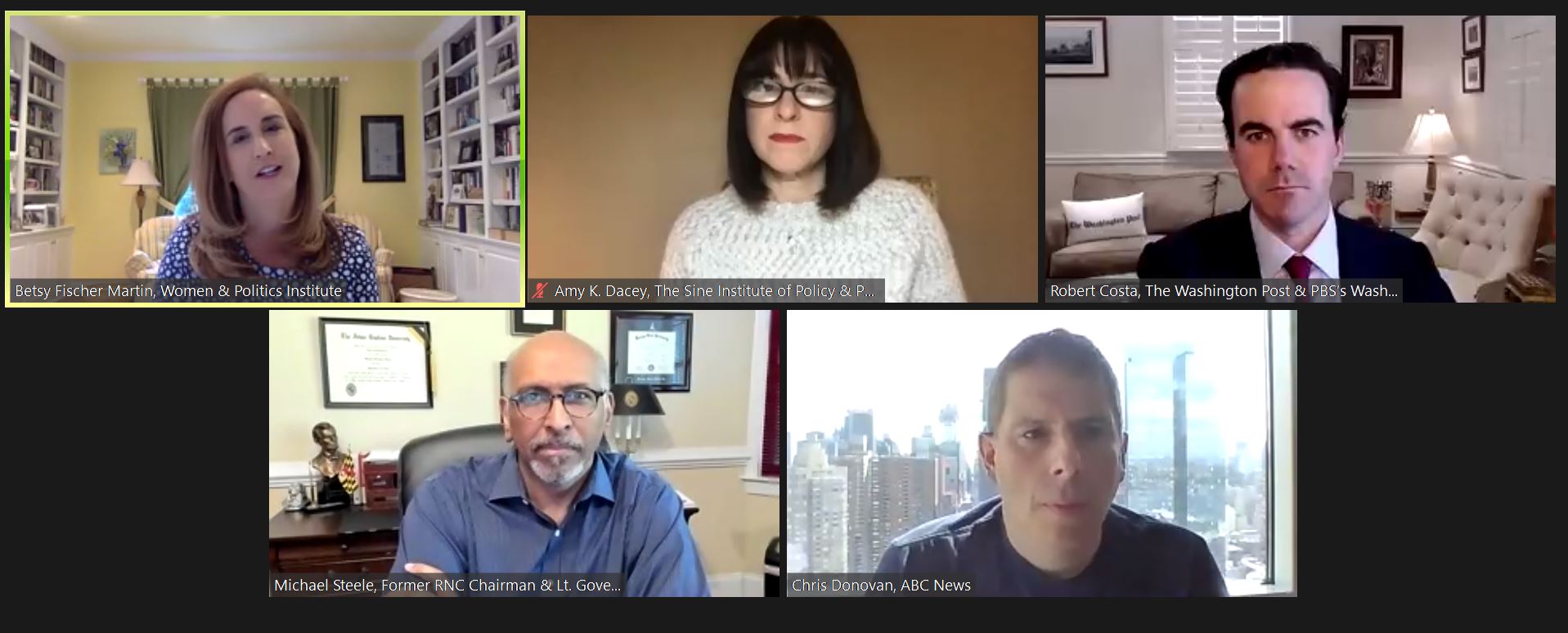 A year after An Inside Look at the 2020 Election, the Sine Institute and WPI's Betsy Fischer Martin were once again joined by Sine Institute Executive Director and former CEO of the Democratic National Committee Amy K. Dacy, former RNC Chair Michael Steele, Washington Post reporter Robert Costa, and executive editorial producer at ABC News Chris Donovan. This year's conversation happened with less than thirty days to go before the 2020 election and focused heavily on the impact that COVID-19 is having on President Trump and former Vice President Joe Biden's campaigning in the home stretch of their race. 
The panelists discussed the impact of President Trump's positive COVID-19 diagnosis along with the impact of broader racial tensions and the "political hurricane" of the GOP's campaign, in the words of Costa. Though Republicans typically succeed at driving voter turnout "Covid and racial issues tend to flip the script, because they tend to be more personal. That personalization breaks down that 'strong man narrative,'" according to Steele.
Dacey also commented on what Democrats would need to do moving forward in light of the catastrophic events of 2020, pointing out that "primaries are about contrast," but now, there's an expectation to put forward more progressive policies and to make the general campaign more about democratic values in action.
The pandemic is also shifting the nature of voter participation in that more than four million people have already early voted, including some in states that count votes that come in prior to November 3rd. Due to increased early and mail-in voting, the election isn't 28 days away - it's already started. As Donovan pointed out, not much can sway voters at this point and, "the number of people who could still change their minds is very small."
This event was co-produced by: AU School of Public Affairs and The Sine Institute. Watch the full replay here
Citizenship and Suffrage October 6, 2020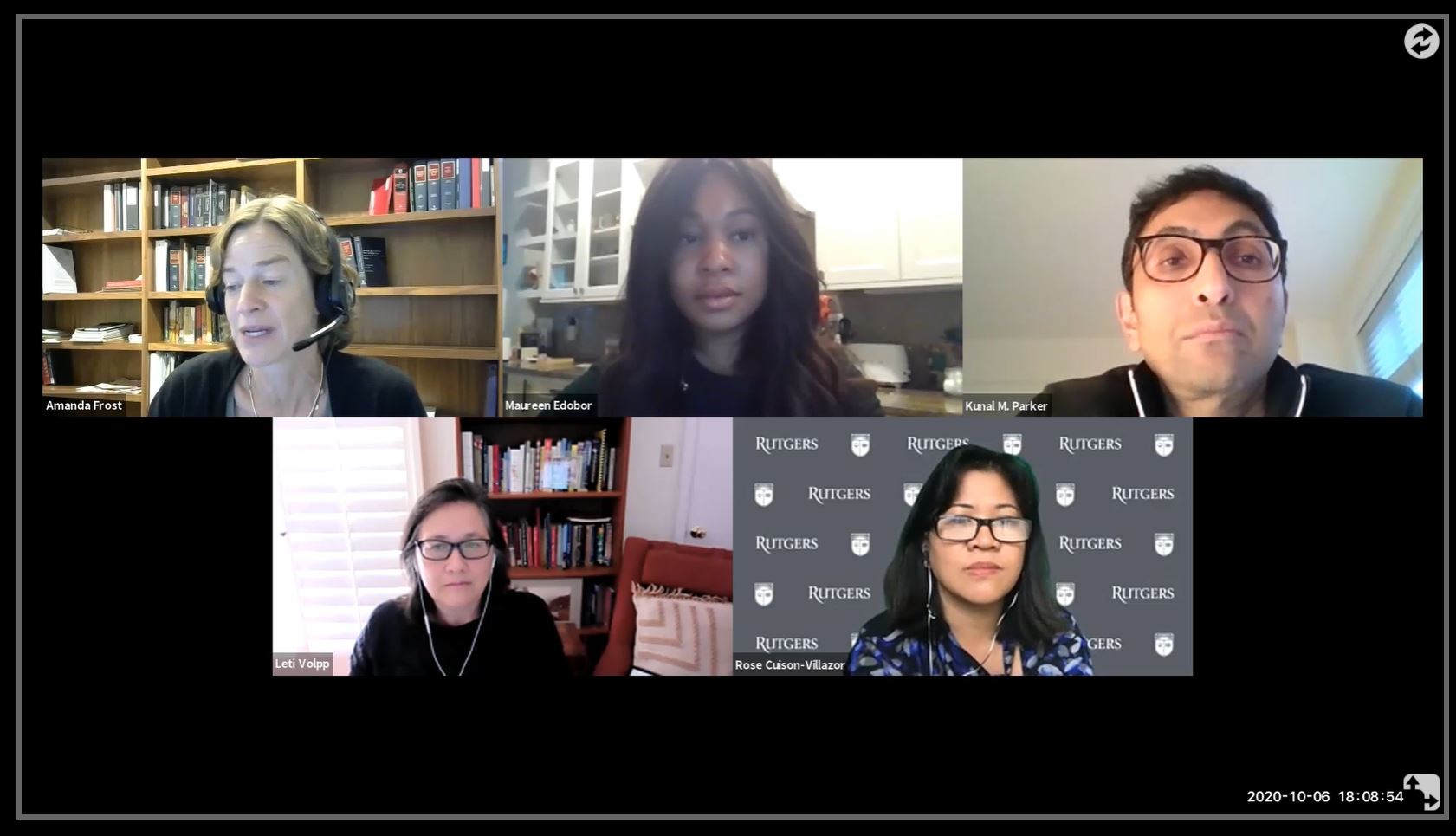 In partnership with the Program on Law & Government, Sine Institute, Women and the Law Program, Asian Pacific American Law Student Association, and the Women Law Students Association, WPI co-hosted a panel discussion that examined the relationship between race, citizenship, and women's right to vote on the Nineteenth Amendment's Centennial.

Participants included: Professor Rose Cuison-Villazor (Rutgers Law School and WCL alum); Professor Kunal Parker (Miami Law School); Celina Stewart (League of Women Voters); Professor Leti Volpp (Berkeley Law School); and Professor Amanda Frost (American University WCL) moderated the discussion.

You can watch the full replay here
HCAU's Womxn in Politics Discussion October 4, 2020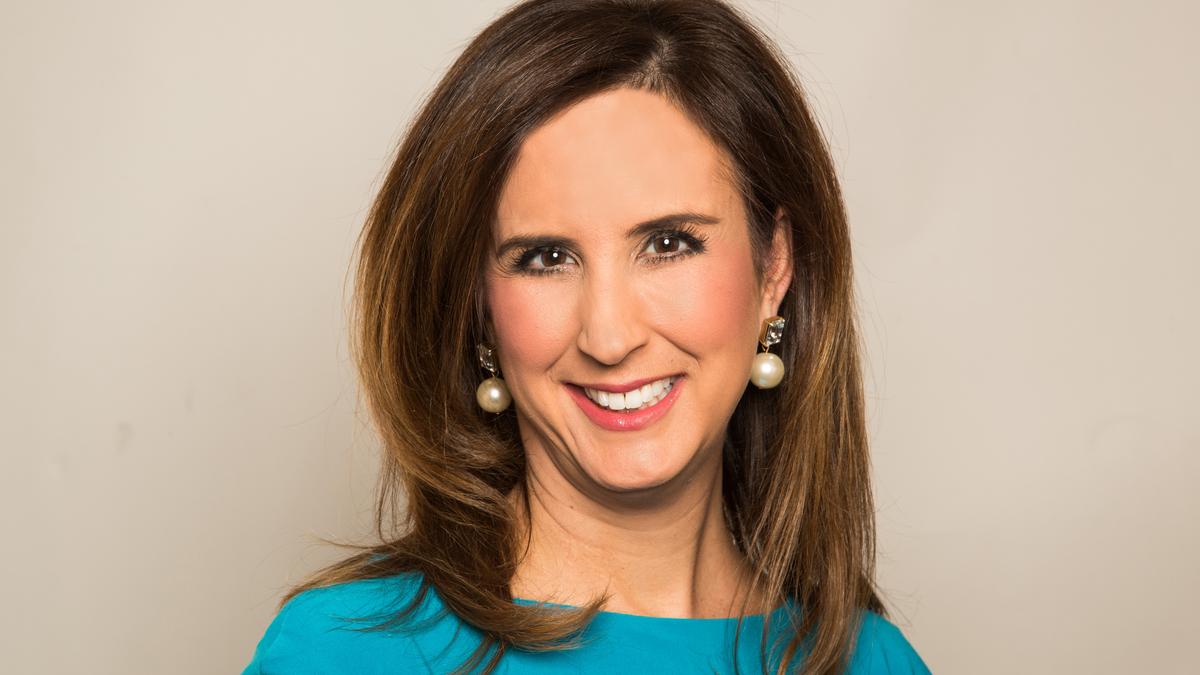 WPI Executive Director Betsy Fischer Martin joined Editor-In-Chief Hannah Andress with the online publication Her Campus American University (HCAU) to discuss her experience as an accomplished woman in media and the discuss women in politics. The conversation opened up to the attendees of Her Campus' general meeting, allowing for a Q & A between students and Fischer Martin. "It is really important to understand that every rejection means you're one step closer to a good idea or a good pitch. It is important to stay motivated and never give up," says Fischer Martin.

This event was produced by: Her Campus American University (HCAU).
Read the full story here.
Women Vote: Black and Latinx Women Changing the Dynamics of American Politics October 1, 2020
Women of color—a diverse and increasingly active voting bloc—are a significant force in American politics. 
Betsy Fischer Martin (Executive Director of the Women & Politics Institute) and Claudia Cereceda (graduate of NYU, Liberal Studies) discussed these voting blocs with Atima Omara (political strategist) and Francela Chi de Chinchilla (Vice President of Partnerships, Equis Labs). The panelists discussed the barriers women of color face in having the confidence and resources to vote, as well as how the Democratic party is working to include Black and Latinx women in the political process. Watch the full replay here
Some of our favorite quotes: 
"Black women are very motivated, and if you're a Black woman voting, the three things you're most concerned about are: COVID-19, healthcare, and racial justice." - Atima Omara
"We haven't had the level of Latina leadership that we deserve. We have to see ourselves in the [Democratic] party, we have to see ourselves elevated." - Francela Chi de Chinchilla
This event was co-produced by: NYU Womxn100, NYU Votes, NYU Office of Global Inclusion, Diversity, and Strategic Innovation, the John Brademas Center, Center for Black Visual Culture & Institute of African American Affairs, Federal Hall: Debate Defends Democracy, and The 370J Project.
Women Vote: The Impact Women May Have on the 2020 Election September 15, 2020
Dubbed the "Year of the Woman," the 2018 election results saw 102 women elected into the House of Representatives and 14 women into the Senate. On the heels of the centennial celebration of women's suffrage, this virtual panel discussed health, gender-based violence, workplace equity, and racial justice as important priorities for women across party lines. 
The panelists included Charlotte Alter (National Correspondent at Time Magazine), Brianna Cea (CEO and co-founder of Generation Vote), Claudia Cereceda (2016 graduate of NYU, Liberal Studies; current NYU Wagner student), and WPI Executive Director Betsy Fischer Martin. Watch the replay here.
Women in Leadership: How Through Crisis and Uprising Women Stand Tall July 16, 2020
Women may be at the forefront of the global fight against the coronavirus pandemic and of the national fight against racism, but they are not always recognized nor acknowledged for their leadership. Women still have yet to be treated, seen, and portrayed as equals to men, with women of color facing even more barriers to equality due to intersectionality. The discussion focused on the importance of women and of women of color in leadership, and what the future holds for all women leaders nationwide and globally. 
Some of our favorite quotes: 

"It's critical for women to lead with their qualifications." - Amanda Hunter
"We are all in this together and when we all participate in our American democracy we will be a stronger union." - Glynda C. Carr
"It's so important for individuals to share their experiences and lift up their communities." - Brianna Carmen
NYU DC Dialogues Executive Board Member, Gabriel Avalos created this dialogue, and provided a welcome and introduction. Panelists included Brianna Carmen (Vote Latino), Amanda Hunter (Barbara Lee Family Foundation), and Glynda C. Carr (Higher Heights for America). WPI Executive Director Betsy Fischer Martin moderated the discussion. 
Read the full research memo published by Barbara Lee Family Foundation here
2020 Vision: Inside the Presidential Campaign January 24, 2020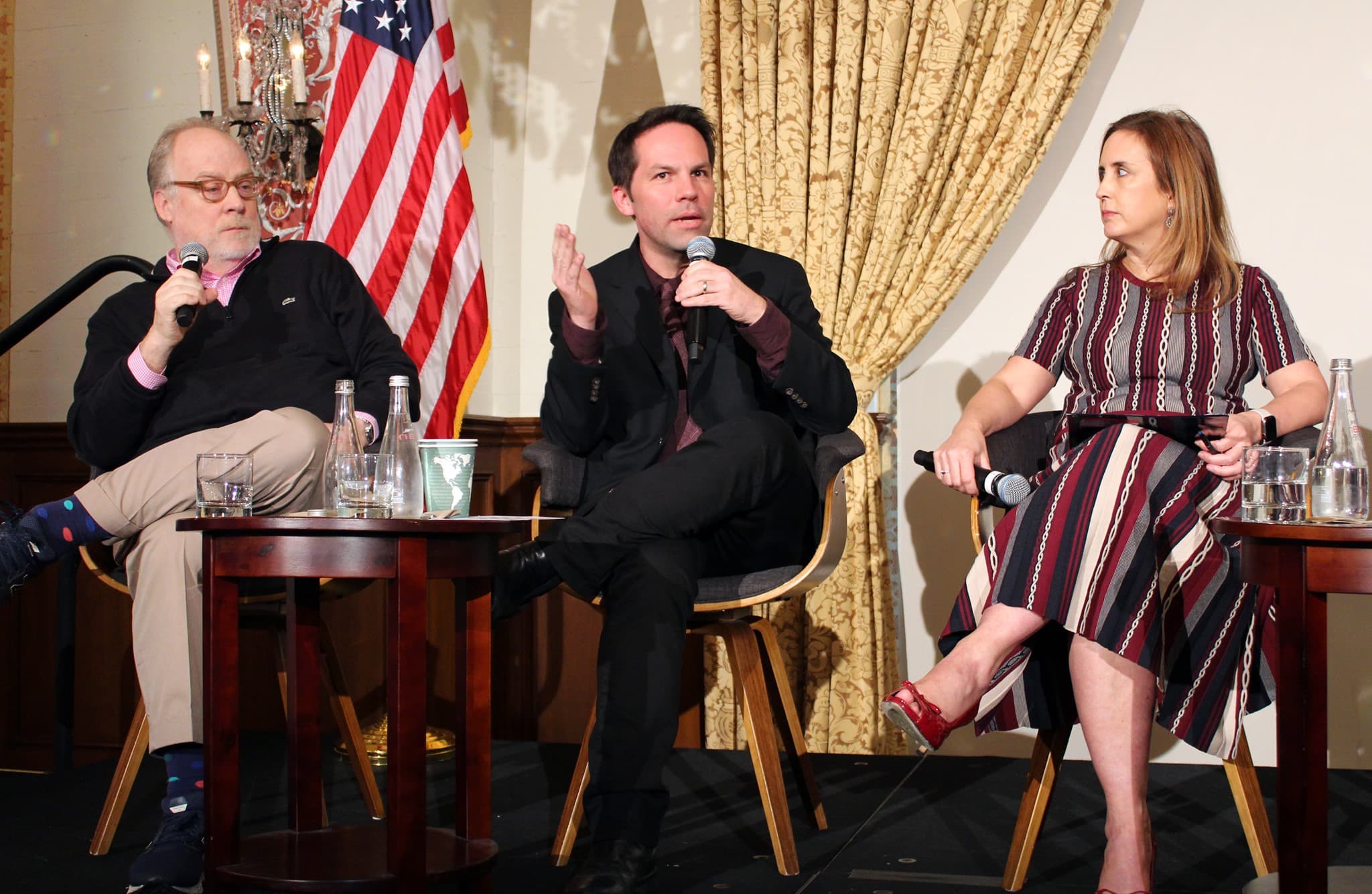 The University of Southern California Dornsife Center for the Political Future hosted a conference to get an insider's look into the 2020 presidential campaign leading up to the Iowa Caucuses and New Hampshire Primary. Betsy Fischer Martin participated on an afternoon panel entitled, "On to November: What Matters and Why?" The panel explored how the primary campaigns and developments in Washington are shaping the general election landscape. Other panelists included Rob Collins, Republican Strategist, Christian Grose, Associate Professor of Political Science and Public Policy at USC Dornsife, Mike Murphy, Co-Director of Center for the Political Future, and was moderated by Robert M. Shrum, Director of USC Dornsife Center for the Political Future.  
NYU 2019 Inside American Politics: Athens October 28-29, 2019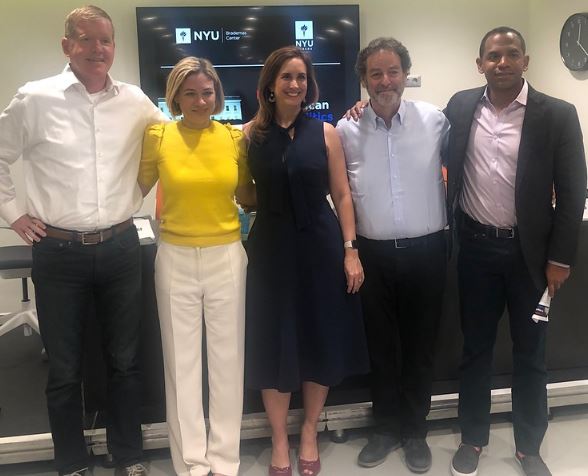 During a two-day conference held at NYU, Betsy Fischer Martin moderated a panel titled "Women in Politics: Impact on the 2020 Election."  This panel considered questions about what electability really means and what role women will play in electing the next president.  Also part of the discussion was how both parties will mobilize women voters.

This panel was one of many in a two-day conference organized by the John Brademas Center, NYU La Pietra Dialogues, NYU Global Research Institute in Athens, and NYU DC Dialogues.  This group of political insiders analyzed the current political climate as preparations commence for the 2020 presidential election. 

Watch the whole discussion here. 
Women Suffragists and the Men Who Supported Them: The Suffragents
October 17, 2019
Moderated by Betsy Fischer Martin
Betsy Fischer Martin moderated a panel discussion on the role men played in the women's suffrage movement and how they aided in the fight for the 19th Amendment at the National Archives.  The event was presented in conjunction with the National Archives' exhibition: Rightfully Hers: American Women and the Vote, and in partnership with the 2020 Women's Vote Centennial Initiative, and the One Woman, One Vote 2020 Festival.
The panelists, Brooke Kroeger, author of The Suffragents: How Women Used Men to Get the Vote; Johanna Newman, author of Gilded Suffragists; and Susan Ware, author of Why They Marched, discussed the significance of the men who involved themselves in the suffrage movement, at a time when public support for women's issues could cause men ridicule.
All American Weekend Ed Talk: An Inside Look at the 2020 Elections
October 7, 2019
Moderated by Betsy Fischer Martin
During AU's All-American Weekend, SPA alumni and experts offered an insider's look at the 2020 election. Moderated by Betsy Fischer Martin (SPA/BA '92, SOC/MA '96), panelists included: Amy Dacey (SPA/MA '95), Executive Director, The Sine Institute for Politics & Policy and former CEO, Democratic National Committee; Chris Donovan (SPA/BA '97), Executive Editorial Producer, ABC News; Michael Steele, MSNBC Political Analyst and former Chairman, Republican National Committee; and Robert Costa, national political reporter, The Washington Post, moderator, PBS's "Washington Week," and political analyst for NBC News and MSNBC.
The panel of journalists and political strategists, discussed the run up to nominations, likely approaches of the Republican and Democratic parties, and what it will take to win. Michael Steele made the following statement when asked about partisanship in the upcoming presidential election, saying "We can get caught up in the politics and we can get caught up in the partisanship, but at the end of the day it boils down to 'Are you an American?' Because the three most powerful words in our founding documents are 'We the People.'"
Women's Leadership Academy September Session September 10, 2019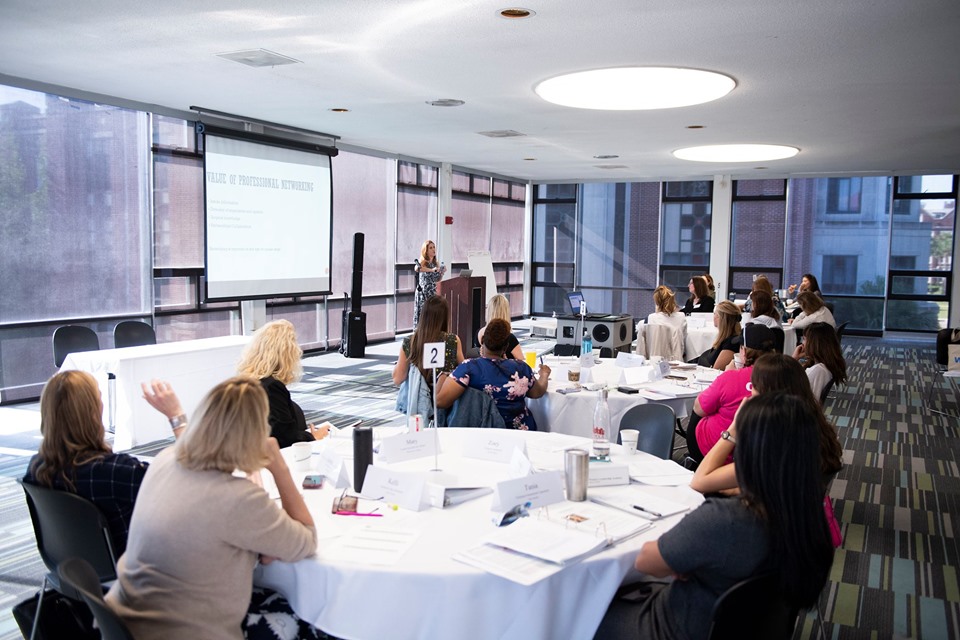 Betsy Fischer Martin spoke to program participants at Loyola University's Women's Leadership Academy during their September training event that covered the theme of "Your Communication Style." Topics discussed during the session included professional networking and creating a personal brand.
Developed by Tania Tetlow, the first female President of Loyola University, the Women's Leadership Academy works with women in the New Orleans region to promote their professional potential through leadership training, personal development, and mentorships. 
To view more photos, click here. 
Women in Government: Honoring the 19th Amendment July 24, 2019

Women's political leadership is front and center this year as we celebrate the Suffrage Centennial - 100 years since the 19th amendment was considered for ratification by states to enshrine women's right to vote in the U.S. Constitution. WPI Adjunct professor Lucy Gettman moderated one such conversation this week at the National Governors Association Summer Meeting in Salt Lake City that included Governor Laura Kelly of Kansas as well as senior executive branch, private sector and local leaders. WPI continues the conversation for students at a Weekend Intensive course "The Suffrage Centenary" in September.
Book Talk: "The Hill To Die On" June 20, 2019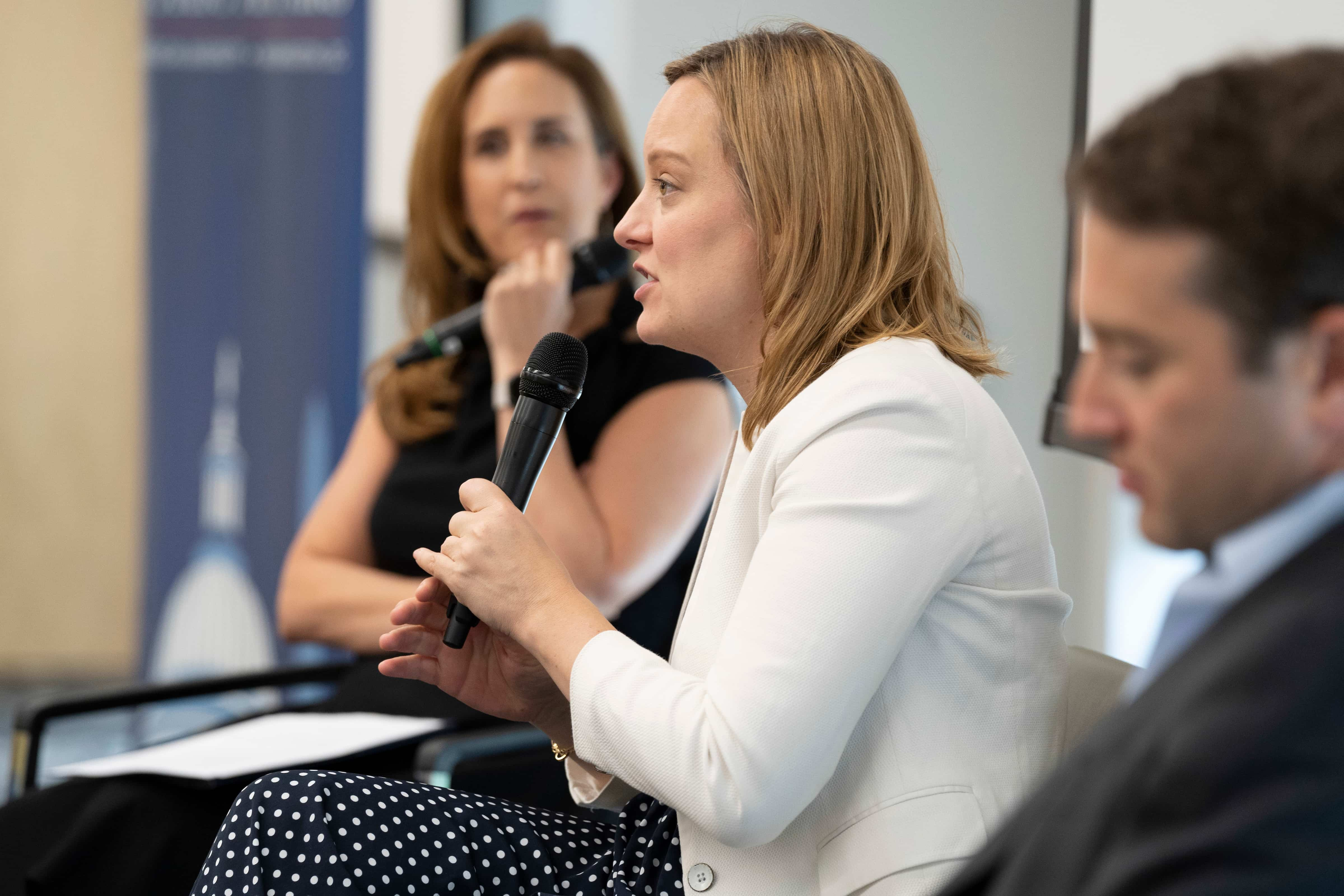 Betsy Fischer Martin spoke with Jake Sherman and Anna Palmer, senior writers for Politico and co-authors of the Politico Playbook newsletter, about their new book, "The Hill to Die On: The Battle for Congress and The Future of Trump's America," during an event held at American University School of Public Affairs (SPA). Their book details the no-holds-barred fight to control Congress early in Donald Trump's presidency.

This event was part of Jumpstart, a two-day preview of the SPA graduate program experience, which included panel discussions, tours, events, and classes.

Read More About the Event
2020 Campaign Journalism Conference April 11, 2019
WPI Executive Director Betsy Fischer Martin moderated the "Hacks & Flacks" panel at the 2020 Campaign Journalism Conference, hosted at University of Chicago. Alex Conant, former communications director for Senator Marco Rubio, and Jen Psaki, former White House communications director were featured in the discussion. They covered what you need to know about how to speak with campaign officials, who to know, how to cultivate sources, and how to deal with spin. 
WREN Advocacy Day April 2, 2019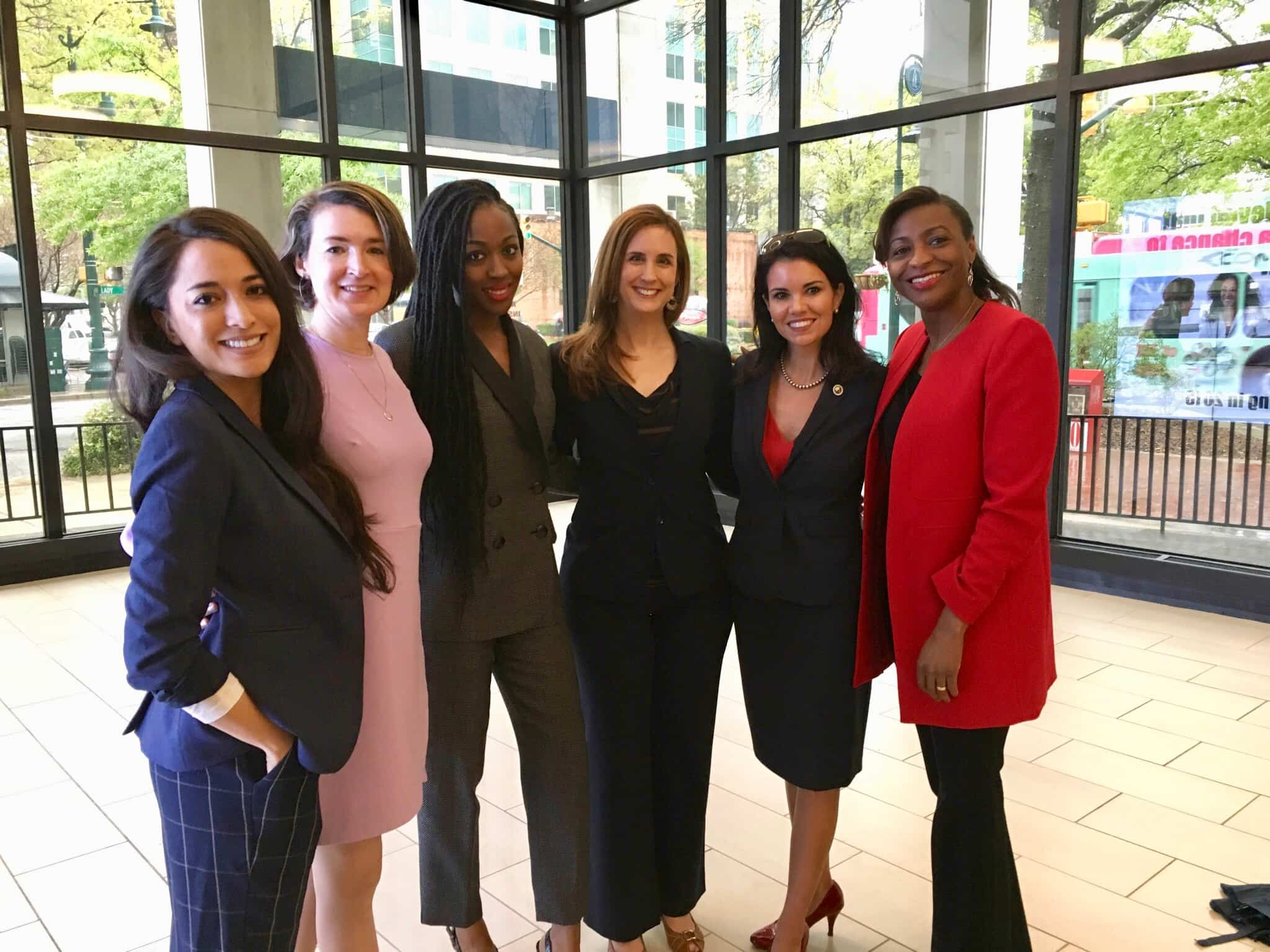 Women's Rights and Empowerment Network (WREN) held an event for Equal Pay Day, the day that represents how far into the year on average women must work to earn what their male counterparts earned the previous year.  The event focused on aligning women's political leadership for pay equity.  Betsy Fischer Martin moderated a panel discussion with speakers including Richland County Councilwoman Chakisse Newton, Richland County Councilwoman Allison Terracio, SC Women in Leadership Board Member Maressa Cuenca, Founder of LoveYourselfAlways Inc. Bianca Chardei, and Representative Mandy Powers Norrell.  
"Galentine's Day" Panel February 14, 2019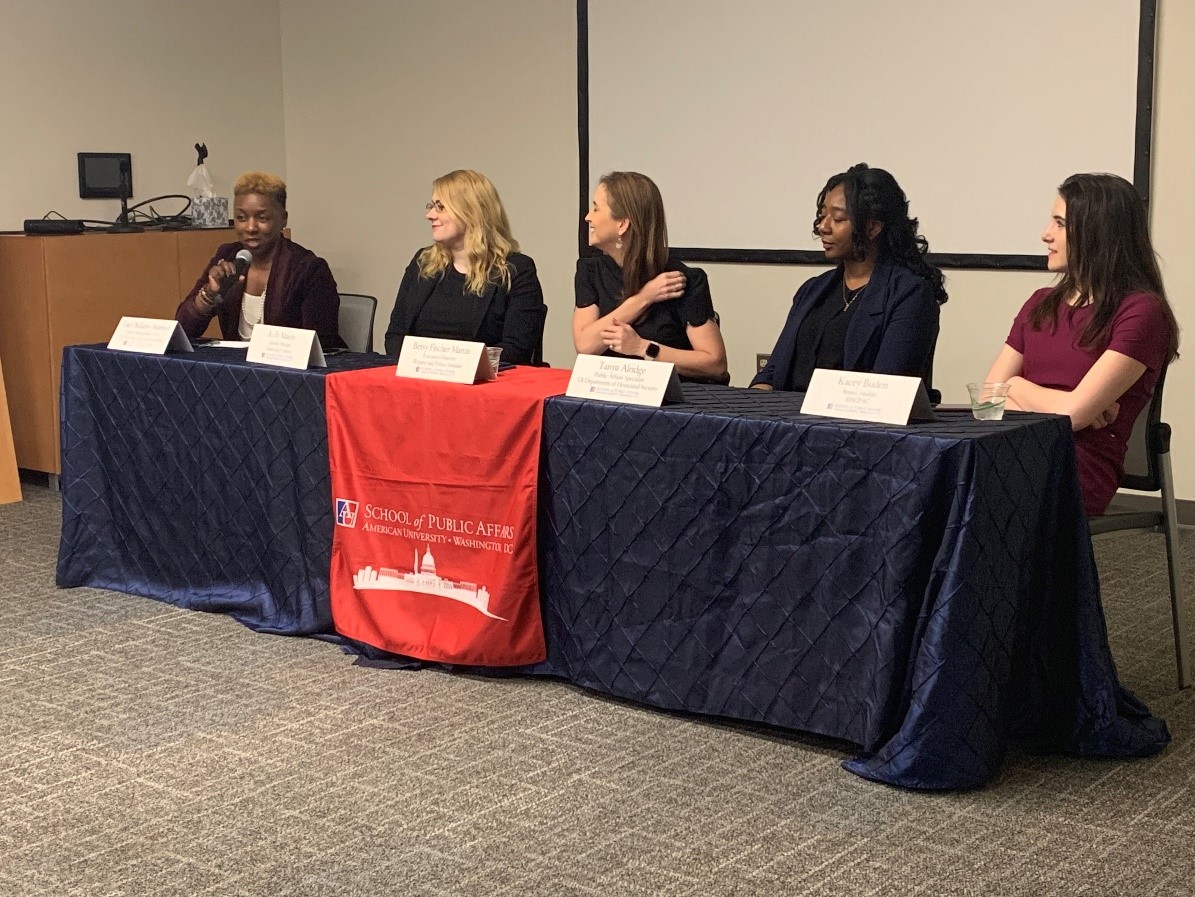 Betsy Fischer Martin moderated a "Galentine's Day" Panel featuring alumnae of SPA. The panel discussed how they landed their current positions, the importance of networking, and the (sometimes painful) lessons they learned from their very first jobs.  Panelists included: 
Tanya Aldridge, Public Affairs Specialist, Office of Public Affairs/Office of Inspector General, US DHS
Tracy Bellamy-Anderson, Senior Management Office, Office of Management at the Center for Drug Evaluation and Research, US FDA
Kacey Buderi, Senior Analyst at MACPAC - Medicaid and CHIP Payment and Access Commission 
Kelly Mason, Content Manager at Leadership Connect 
Statewide Women's Policy Conference February 7, 2019
SPA Adjunct Professor and Women In Government Executive Director Lucy Gettman presented on "Having Your Voice Heard" at the Statewide Women's Policy Conference in Chattanooga, Tennessee. Sponsored by Mayor Andy Berke's Mayor's Council for Women, the session was packed with elected officeholders & appointees, candidates, campaign leaders,  advocates & entrepreneurs - every one a political leader in her own way.
Senior Staff Symposium on Leadership February 1, 2019
Betsy Fischer Martin was recently invited to speak with author Doris Kearns Goodwin at the Ripon Society and Franklin Center's Senior Staff Symposium on Leadership. The symposium covered topics like the best ways to navigate team building, how to become a mindful leader, and tips for engaging with supervisors. 
In their conversation, Kearns Goodwin discussed her new book, Leadership in Turbulent Times, in which she explores the origins of leadership and ambition through an in-depth look at four influential presidents in history – Abraham Lincoln, Theodore Roosevelt, Franklin D. Roosevelt, and Lyndon B. Johnson. The book is now available for purchase. 
E-PAC Launch Event January 17, 2019
Betsy Fischer Martin attended the launch event for a new group created by Rep. Elise Stefanik (R-NY-21). The group, called E-PAC, is dedicated to "boosting women candidates" and will focus on fundraising and encouraging Republican women candidates to overcome sexism during a campaign. There were some key GOP members in attendance, including the new House Republican Conference Chair Liz Cheney (R-WY) and the National Republican Congressional Committee Chair Tom Emmer. E-PAC will focus its efforts on pre-primary support and fundraising for Republican women candidates. 
Speaking on a panel aimed at identifying why there are so few GOP women in office, Fischer Martin cited findings from a poll conducted by the Benenson Strategy Group, saying that, "[2020] is a presidential election year, and the top of the ticket is a big factor when people are turning out and voting." The panelists included Adele Malpass, National Political Reporter and former chair of the Manhattan Republican Party, Christine Matthews, president of Bellwether Research and Consulting, and Kristen Soltis Anderson, Republican pollster and author of "The Selfie Vote." 
Elevate Solutions Summit November 27, 2018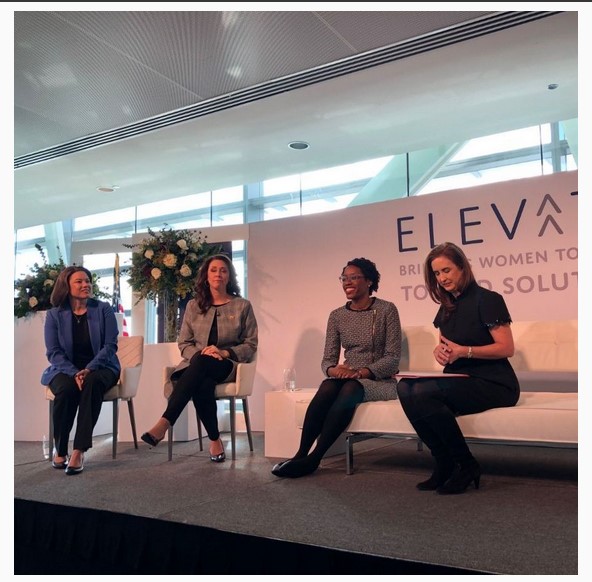 Betsy Fischer Martin moderated a panel at the Elevate Solutions Summit titled Elevate: Bringing Women Together to Find Solutions. Panelists included Congresswoman-elect Angie Craig (D-MN-2), Congresswoman Jaime Herrera Beutler (R-WA-3), and Congresswoman-elect Lauren Underwood (D-IL-14). They discussed the campaign trail, their goals for Congress, and how they can work across the aisle on issues of healthcare, paid maternity leave, and job availability.

The day-long Elevate Solutions Summit took place at the Newseum and included various panels covering women's issues in politics and the workplace. Two Democratic women and two Republican women worked together to create this bipartisan event, which aimed to find common ground for women to work together across the aisle. In addition to healthcare and women in the workplace, panels also covered retirement security and pharmaceutical drug pricing. To close her Washington Post op-ed about the summit, Kathleen Parker raised an issue that all women, regardless of party affiliation, can agree upon: the House of Representatives needs more than four restroom stalls to take care of the growing number of women on the Hill.
Inside American Politics Conference November 12-November 13, 2018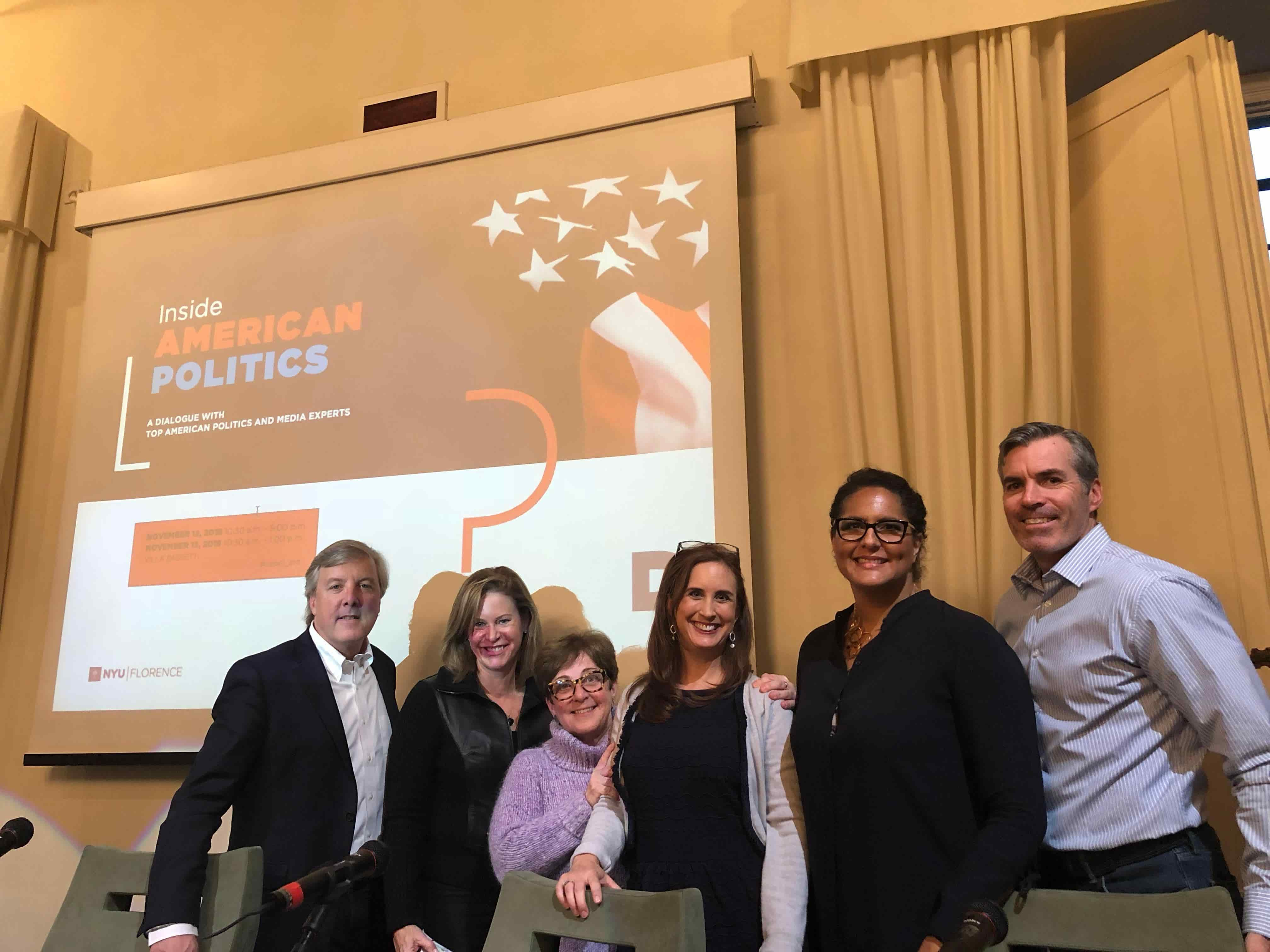 At the week-long NYU La Pietra Dialogues Political Conference, hosted in Florence, Italy, Betsy Fischer Martin moderated a panel titled 2018, The Year of the Women? The panelists included Maria Cino, Vice President for Americas, Corporate Affairs at Hewlett-Packard Enterprises, Stephanie Cutter, founding partner of Precision Strategies; Steve McMahon, co-founder of Purple Strategies LLC.; and Kevin Madden, partner at Hamilton Place Strategies. The panel discussed how more women in office might impact governing in the country, and if there would be a reduction of hyper-partisanship with a more gender-balanced Congress.
International Women's Forum Conference October 26, 2018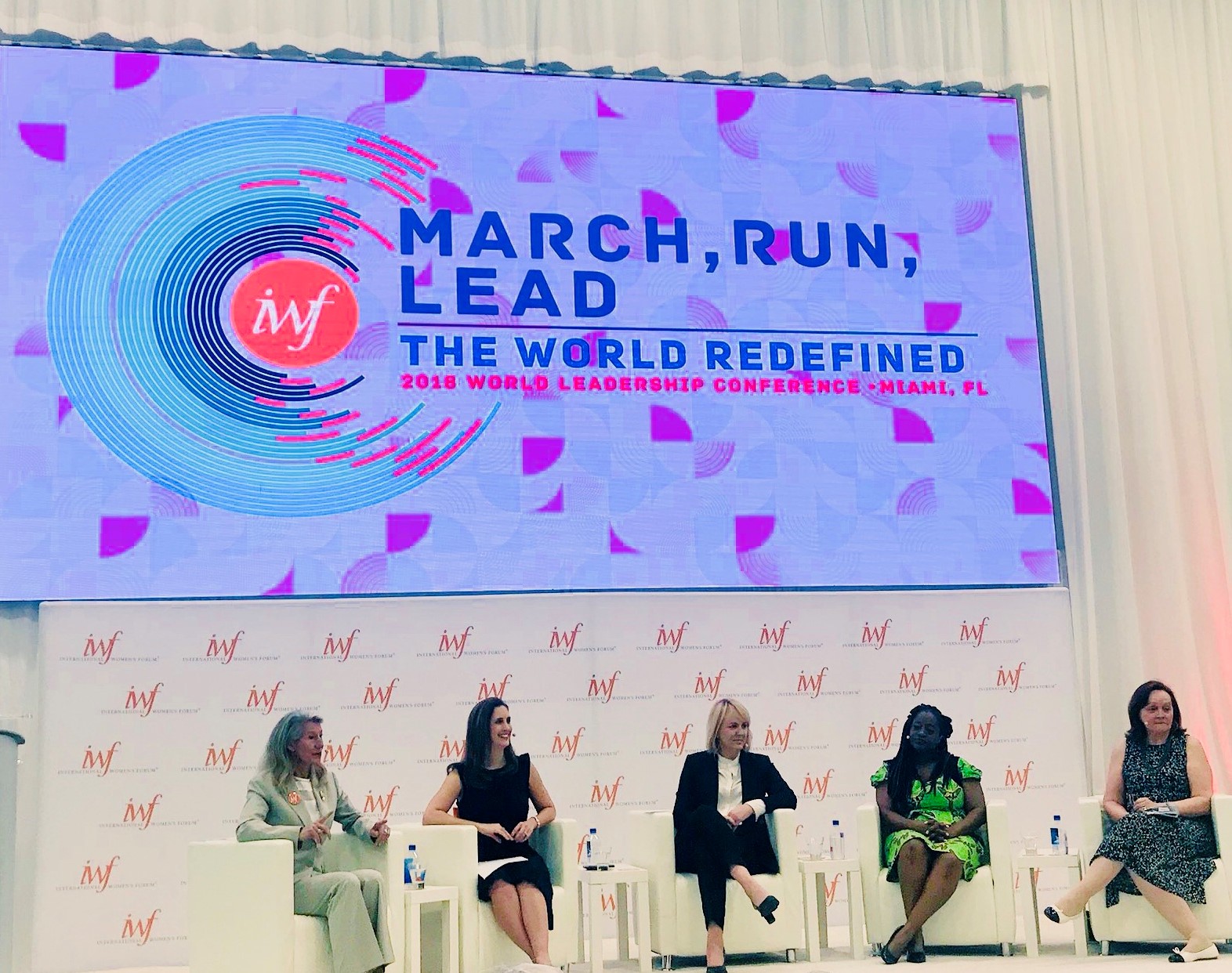 WPI Executive Director Betsy Fischer Martin participated in a panel discussion at the International Women's Forum World Leadership Conference in Miami, Florida. The panel, "March, Run, Lead," examined the shift in the number of women in politics around the world - where initiatives are driving up numbers, where the numbers are slipping, what's working and what isn't. Other panelists included: Hanna Birna Kristjansdottir, Chair of the Executive Board of Women Political Leaders Global Forum; Marta Lago, Founding Director of Latinobarometro; and Kiah Morris, former two-term State. Rep. from Vermont and the second African-American to be elected to the Vermont State Legislature. Morris made national headlines last month when she stepped down from her position after repeated racial threats and harassment. The panel was moderated by Brig. Gen. Dana Born, USAF, Ret., currently the Co-Director of the Center for Public Leadership at Harvard University.  
Women in Government Conference October 6, 2018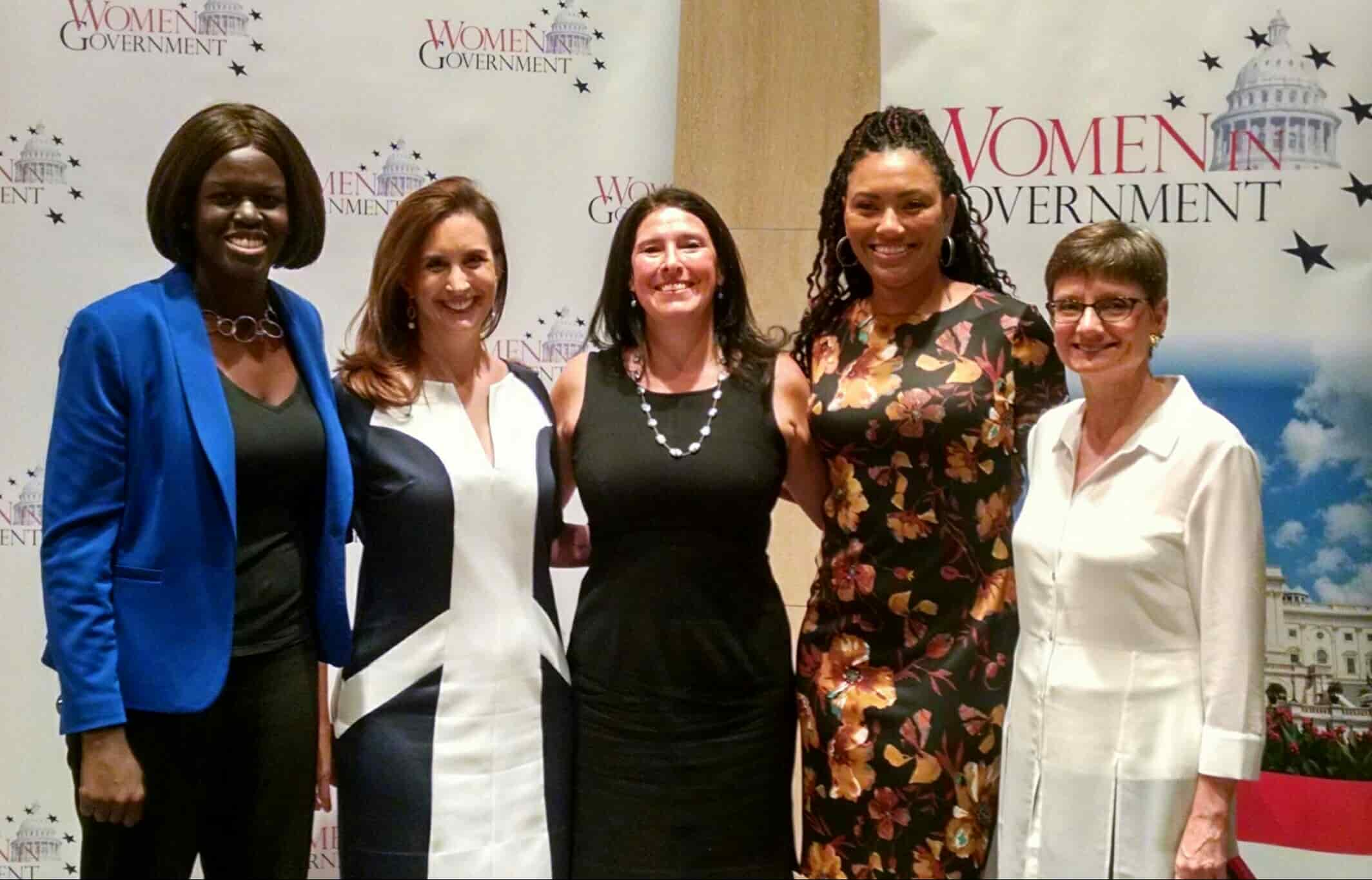 Betsy Fischer Martin participated in a panel about women and the 2018 midterms at the annual conference of Women in Government, a non-partisan organization of female state legislators from around the country. The panel was organized by Lucy Gettman, Executive Director of Women in Government and WPI Course Instructor.
Women as Agents of Change September 25, 2018

Betsy Fischer Martin moderated a panel discussion at the new Georgetown location of the "The Wing" co-sponsored by "All In Together." The panel featured key political operatives from both sides of the aisle discussing how to engage more young women in the political process. "The Wing" is a network of co-working and community spaces designed for women. Featured speakers included: Rhonda Foxx, María Teresa Kumar, Lauren Leader, and Neri Martinez.