Action Performance Impact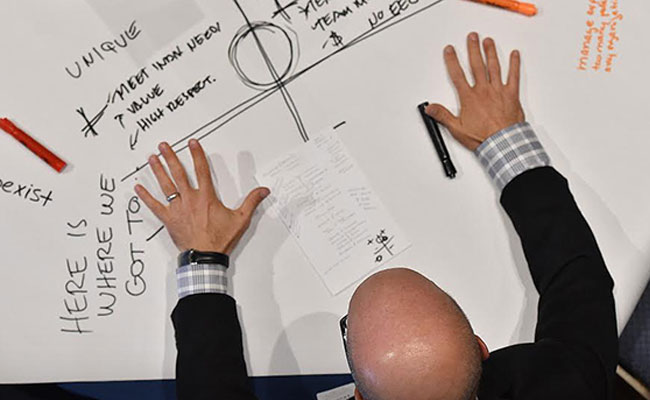 Action Learning is an innovative problem solving methodology that allows agencies to solve "wicked" organizational problems and simultaneously develop individual leadership competencies. The approach taken by the Key Executive Leadership Programs includes a substantive transformational component focusing on changing the way leaders think. The result is increased individual and group capacity to cope with complexity, multiple perspectives, and abstraction, and the creation of a learning organization that captures and applies valuable knowledge at all levels.
Action Learning for Federal Agencies (ALFA)
Based on the action learning model developed by Reginald Revans, the Key certificate program, Action Learning for Federal Agencies (ALFA) provides a unique opportunity for federal leaders to tackle existing agency problems while building leaders through the use of Action Learning. This innovative program promotes the use of reflective questioning and offers students the opportunity to develop and refine leadership competencies necessary to lead effectively in the federal workplace. Unlike many programs where the focus is solely on classroom activities, American University faculty also serve as on-site Action Learning coaches for each Action Learning team, ensuring that recommendations are developed and delivered.
ALFA Program Objectives
During the ALFA program, teams are challenged to:
Identify the unique challenges posed in leading and learning to lead public sector organizations, especially in technical versus adaptive contexts.
Understand various phases of human intellectual development along with strategies for leading followers at each phase.
Conceptualize, self-evaluate, and apply the major components of emotional intelligence in a leadership capacity.

Recognize and evaluate personal leadership competencies and those of their team members.
Explore and apply Action Learning as a tool for: surfacing taken-for-granted values, assumptions, beliefs, and expectations; inquiring about and unpacking an ill-structured organizational problem; and learning, unlearning and relearning from their actions.
Recommend a well-conceived, viable solution that will benefit agency productivity.

ALFA Curriculum
The ALFA program begins with AU faculty working with the agency director to identify 1-3 difficult organizational challenges along with identifying an executive sponsor for each challenge. AU faculty then meet with each executive sponsor to assess the suitability of the problem for the Action Learning process; clarify the roles of the AU faculty, executive sponsor, and the team members; and provide guidance in selecting an effective Action Learning team. The executive sponsor for each challenge then selects Action Learning teams comprising 6-7 people each.
Days 1-3:

The first three days are classroom-based and focused on developing the leadership competencies necessary to utilize the Action Learning methodology. The class will focus on such skills as active listening, asking powerful questions, reflection, strategic thinking, and problem solving. Each team member is required to select one or more personal leadership developmental goals on which to work during the Action Learning process. Participants are challenged to let go of ingrained perceptions of leadership and problem solving - psychic prisons built over the years that limit our mind's ability to see and solve. This part of the program guides students beyond the ability of taking a step away and viewing a leadership challenge from the outside. Instead, it teaches them to observe themselves observing leadership challenges. Furthermore, it embraces unlearning, undiscussable topics, questioning, and the sheer beauty of simply not knowing.

Days 4-5

The latter part of the first week, also in the classroom, introduces students to the foundation and structure of the Action Learning model. It is at this point that students begin to couple, in real time, the perceptual changes occurring in Days 1-3, with the structural components of Action Learning, and the context of the identified agency problem(s). By the end of day five, the Action Learning teams have engaged in the necessary steps to fully implement the Action Learning model and have developed a plan for implementation over the next 4-6 months.

Days 6-10:

After the initial week, AU Action Learning coaches attend up to five meetings, at the agency, with the Action Learning Teams. This approach ensures teams maintain consistency in using the Action Learning methodology and refines the leadership skills necessary to properly apply the Action Learning process. As Action Learning Coaches continue to meet with the teams, they work to gauge their progress, review individual leadership competency development plans, and assess future steps. Action Learning teams are encouraged to share what's working along with what is not, and make necessary adjustments. Team members are also encouraged to meet on their own as needed and to consider their Action Learning project as a vehicle for bringing to light their capacity as an extraordinary leader, a learning leader, and a teaching leader. With the guidance of AU faculty and coaches, team members are challenged to reflect periodically on the following questions over the course of the Action Learning project:

Are those on the team growing as human beings?

Are they meeting their developmental goals?

Are they more willing to ask questions about their own values, assumptions, beliefs, and expectations?

Are they increasing their "headroom"?

Are they more likely to become learning leaders in their own right?

Are they willing to experience negative capability?

Is the team proceeding towards making recommendations to address the identified problem?

Day 11:

Occurs 4-5 months from the start of the program. Teams at this point are preparing for their out-brief with their executive sponsor. At this time, teams meet with AU faculty and coaches for a full day to prepare and conduct a mock presentation, outlining the outcomes of the Action Learning process. AU faculty and the Action Learning Teams assess the quality of the presentation and make necessary revisions. Team members provide feedback on the presentations.

Day 12:

Occurs 5-6 months after the start of the program. Teams present to their executive sponsor. Following the presentation, Action Learning coaches meet with the team to review lessons-learned, assess accomplishment of individual leadership competency goals, and assess future plans for continued leadership growth. Action Learning coaches are also available to meet with the executive sponsor to review lessons-learned, assess accomplishment of the Action Learning team, and assess future organizational steps.
Benefits of ALFA
Agencies benefit from action learning in a number of ways.
Harness Intellectual Power: Agencies harness intellectual power through the use of the action learning process by building integrated teams skilled in reflective questioning and in refining organizational problems.
Practical Action Plans: Action learning enables teams to reflect and carefully conceive practical action plans for current agency challenges.
Increased Leadership Skills: Individuals on the action learning teams hone personal leadership skills and build an interconnected fabric of professionalism that enhances the performance and learning culture of the agency - all under the supervision of American University's certified Action Learning coaches.
Request Additional Information
If you are interested in learning more about this program and how it may help your agency, please contact Bob Tobias.
Sample Action Learning Projects