Ninth Annual Key Executive Leadership Conference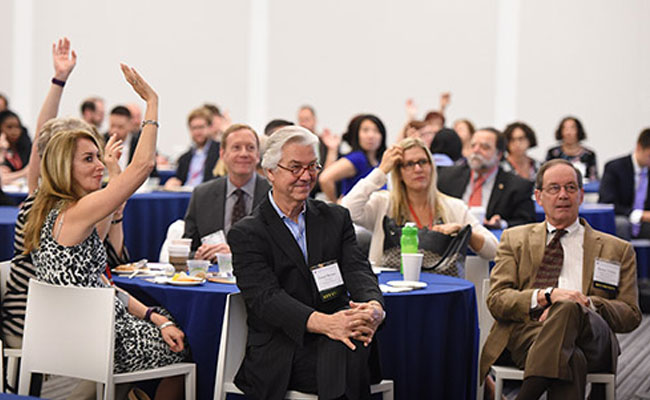 Date: June 6, 2018
Location: Renaissance Washington, D.C. Downtown Hotel | 999 9th St NW | Washington, D.C. 20001 (Click here for the Directions & Transportation Guide)
About the conference:
The Annual Key Executive Leadership Conference is a 200-person conference provided by the School of Public Affairs Key Executive Leadership Programs at American University. This event provides participants with the opportunity to explore principles, industry trends, and best leadership practices through key plenary and concurrent session presentations given by exceptional leaders in the field. Set in the heart of Washington, D.C., Key conference participants are from the federal government and public sector as well as non-governmental and non-profit organizations. The 2018 conference theme focuses on Innovation in a Box. Concurrent session tracks include: Innovation in a Box, Sphere of Influence, Opportunity Knocks, Driving Change, and Diversity & Inclusion.
Keynote Speaker: Sam Worthington, Chief Executive Officer, InterAction
*Check out the 'Key Conference Quick Links' on the right-hand side of this page for session descriptions, presenter bios, schedule and more!
Time: 
8:00 a.m. - 5:00 p.m. | Conference Programming
5:00 - 6:00 p.m. | Networking Reception 
REGISTRATION:
Registration is NOW open for the Ninth Annual Key Executive Leadership Conference: Innovation in a Box. During the registration process, you will be asked to select your concurrent sessions for the conference. The Concurrent Session Descriptions and Presenter Bios are available to view.
Group Registration:
We are offering a special discount rate for groups of 10 or more attendees. Once you register your group of 10, a conference coordinator will reach out to you in order to collect session registration details from your attendees.  
Questions? Contact Mary Margaret Herman at mmherman@american.edu.
Read about the 2017 conference
The Eighth Annual Key Executive Leadership Conference - Journey through Transition During Turbulent Times: Change as Opportunity, Embracing Fear, and Humble Leadership was held at the Washington College of Law in Tenleytown, Washington, DC on May 17, 2017.
Federal Sector Executives Sharpen Lens on Leadership Skills RECAP | 8th Annual Key Executive Leadership Conference
It's 7:56 a.m. on a sunlit Wednesday morning in the Nation's Capital and there is a strong, steady flow of unmistakeably confident, public sector executives streaming in with expressions of excitement and verve. As caffeine is consumed and networking convenes it becomes quickly evident this distinguished, executive network is a tightly knit, esteeemed legion of impassioned public service stewards and this is an exclusive glimpse into the world that makes up the Key Executive Leadership community.
Spotlight and center this year's conference theme, Journey Through Transition during Turbulent Times. More than 225 federal public sector executives, coaches, speakers, alumni, faculty, staff and students convened to re-sharpen their leadership focus, reenergize their drive, network and connect, and participate in sessions focused on Change as Opportunity; Embracing Fear; and, Humble Leadership.
Especially poignant in these salient times of uncertainty and changing political landscape, conference attendees were enthusiastic to engage with each other on how to be a responsive and responsible leader; and more equally important to draw strength in exercising their passion for shared public service stewardship.
Plenary presentations included Jeffrey Vargas, Chief Learning Officer, Commodities Futures Trading Commission and his lunchtime presentation on Leading Across Generations: "How to Build Intergenerational Trust and Synergy;" while a closing plenary panel on Transitions so Far: Embracing Fear and the Workforce, and Humble Leadership - What's working, and What is Not? featured: Bill Valdez, President, Senior Executives Association; Michael Breslin, Deputy Assistant Director, Office of Investigations, United States Secret Service, U.S. Department of Homeland Security; John W. Gill, Deputy Director, Center for Leadership Development, U.S. Office of Personnel Management; Anita McBride, Executive-in-Residence, Center for Congressional and Presidential Studies, School of Public Affairs, American University; Reggie Wells, Deputy Commissioner for Human Resources, Social Security Administration.
As the conference concluded, an organic progression of quiet, intense yet dynamic reflection emerged. The group consensus declared in their own words that this day was a success because we were able to, "recharge, reflect, and reconnect."

And this is precisely why Key Executive Leadership remains steadfast in our mission: ...To create a participative and rigorous learning environment where the Key community can: acquire contemporary public management knowledge, values, and skills; develop the personal leadership capacity needed to implement what they learn; transform themselves from good managers to extraordinary leaders; and become lifelong learners.
Thank you to all who contributed, participated and supported the Key Executive Leadership 8th Annual Conference! We look forward to seeing you next year on June 6, 2018!
Photos of the conference can be viewed by clicking HERE!
The live streaming video of the lunchtime plenary "How to Build Intergenerational Trust and Synergy" can be viewed by clicking HERE!
The live streaming video of the closing plenary panel "Transitions so Far: Embracing Fear and the Workforce, and Humble Leadership - What is Working, and What is Not?" can be viewed by clicking HERE!