Public Affairs, School of
4400 Massachusetts Avenue NW
Washington
,
DC
20016
United States
Request for Proposals Information
Interested in presenting at the Annual Key Conference and gaining access to our growing network of 5,000+ alumni, students and government executives? Then submit your RFP now through December 13, 2019! Below you will find information on the RFP process and application. For more information, please contact the Communication and Special Programs Coordinator, Lam-Anh Le, at lamanh@american.edu or 202-885-6974.
Apply to present at the 11th Annual Key Executive Leadership Conference now through December 1, 2019.
The toolkit has information about our audience, presentation requirements, and the venue. 
Request for Proposals Guide
The RFP Guide features an application checklist and sample submission from last year's highest-rated session.
10th Annual Key Executive Leadership Conference Review Leadership & Culture | June 12, 2019 | Washington, DC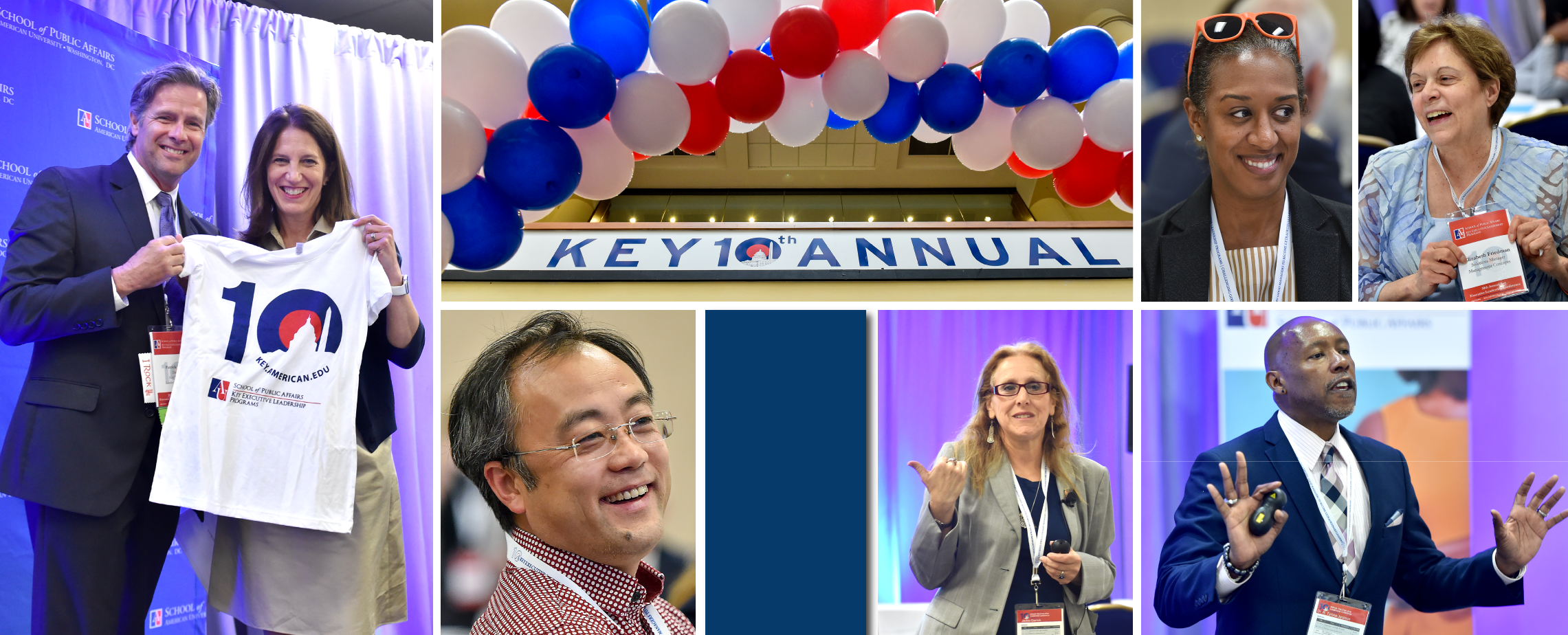 The Tenth Annual Key Executive Leadership Conference took place at the Washington Marriott Wardman Park hotel in Washington, D.C. on June 12, 2019.  Hosting over 250 guests and three sponsors, Eagle Hill Consulting, LLC, Senior Executives Association and American University School of Public Affairs' Justice Programs Office, workers from the public and private sectors, students and curious minds convened to explore the year's theme: Leadership and Culture.

Opening the conference was Dr. Patrick Malone, Key Programs Director, whose discussion on the culture of kindness in the federal workplace, especially following one of its most tumultuous moments and general times of divisiveness. Malone's focus on the powerful impact kindness can have in the workplace for facilitating collaboration, creative, innovation and overall happiness energized the audience for the day to come.

Conference attendees had the opportunity to attend four breakout sessions throughout the day that fell under one of the following learning tracks: Vision, Networking, Conscious Collective, Diversity & Inclusion, and Communication.

Each track featured sessions focusing on unique and essentials points to contribute to the attendees' overall understanding of what it means to lead and became an extraordinary leader regardless of their position in or out of the workplace. 
Some of the sessions included: Managing Up: How to Succeed with Any Type of Boss with Mary Abbajay, CEO, Careerstone Group; Authentic Networking: How to Network without Being an A****** with Strother Gaines, Speaker, Trainer and Coach, But I'm a Unicorn, Dammit!; Presenting While Gendered: How Men and Women Can Make the Most Speaking Opportunities and Meetings with Meghan Dotter, CEO, Portico Presentations; Revitalizing the Human Spirit at Work with Andrew Bennett, President, Bennett Performance Group; From the "Outside-In" – How Investing in Women Worldwide Led to Investing in Ourselves with Michele Perez, Vice President, Department of Management and Administration, OPIC. All sessions and descriptions can be viewed here.

Presenters challenged attendees to reflect inward as illustrated by Jacqueline Garrick's examination of whistleblower retaliation in relation to work culture and its symptoms.  Attendees were also presented with unique leadership tools and techniques that stimulated both mind and body as seen in Dr. Nicole Cutts' session on yoga and managing change.  In the afternoon, Strother Gaines led a session encouraging everyone to be authentic in bringing out their inner networking genius and making the most of networking opportunities. 

With every session, attendees had the opportunity to fully immerse themselves in the unique stories and knowledge of the presenters. Each presented tools and best practices for how to engage in an evolving workplace and overall landscape while remaining true to one's core values.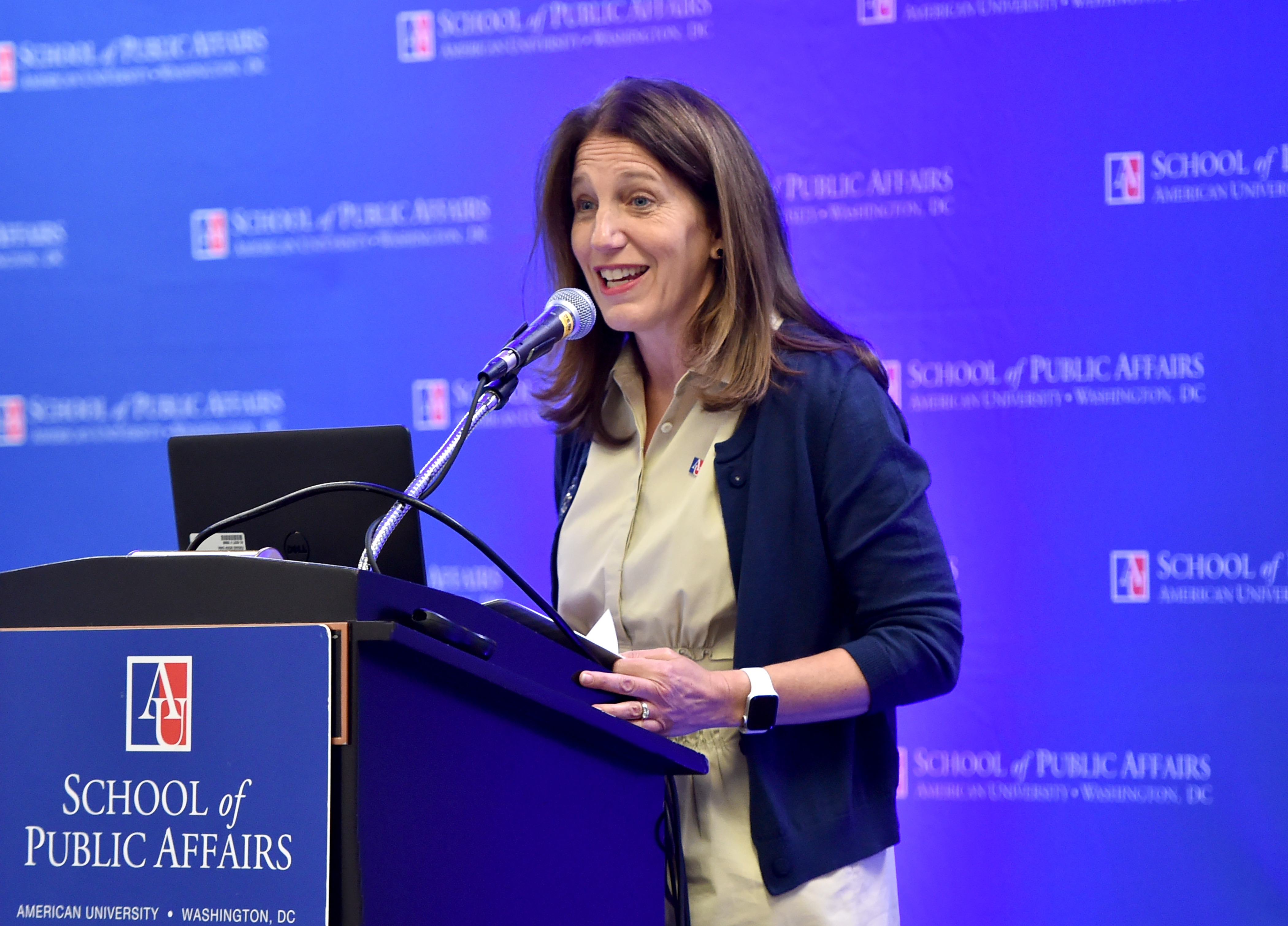 Further deepening the experience, AU President Sylvia Burwell took the stage following lunch and addressed the entire conference, reminiscing about her time in the federal government and the transition outside of that field into her current role. As she recounter her own experiences, she encouraged everyone to reach across the aisle, even in hard times, and to always continue to embody the spirit of public service.
The conference ended with a networking reception featuring karaoke, a DJ and flipbook station. To round off the event, Key also featured signature cocktails for the special occassion - Leadership Journey  and #3 in the Nation.
The team at the Key Executive Leadership Programs invites all to attend the 11th Annual Key executive Leadership Conference next year – date to be determined – that will also host the 42nd Annual Roger Jones Award Ceremony for the 2019-2020 cycle.  Be on the lookout for more information coming soon!
2019 Key Conference Scholars
The Key Executive Leadership Programs offers students the opportunity to attend the Annual Key Executive Leadership Conference for free and access to exclusive activities and networking opportunities.

Undergraduate and postgraduate students currently in degree-seeking programs (AU and non-AU) are welcome to apply for the award!
Two students are selected for the award each year. Read about the 2019 Key Conference Scholars below! 
Garrett Ramela
Garrett Ramela, CISA, CGFM, CDFM, DFMCP1 is a senior information systems/financial consultant at Sehlke Consulting, LLC. Sehlke Consulting is a service-disabled veteran-owned small business (SDVOSB) providing professional services to the US government and commercial clients. He started his career in the Marine Corps working in finance and accounting and is currently supporting the Navy's information system consolidation effort. He has a bachelor's in business administration from the University of Maryland University College and is pursuing a master's in finance at American University. He intends to start the Key Executive Leadership MPA this fall.
Saherah Khan
Saherah Khan is a social justice advocate and a Housing and Outreach Specialist in Washington D.C. She was born and raised in Arlington, Virginia. Saherah is passionate about helping others and has a long-term goal of developing policies that provide equal educational and housing opportunities to all people. Currently, she works closely with the District's homeless population and connects them with vital resources such as health care, food pantries, employment, and more. The main goal for the clients she serves is to help them secure housing through affordable housing programs. Saherah hopes to begin working in the policy field after completion of her master's degree. 
To be eligible for consideration to become a Key Conference Scholar, the following information is required:
Completed online application
Resume/CV
Professional Bio (200 words or less)
Professional photo (professional-looking photo in .jpg or .jpeg with high resolution is ideal)
Photocopy of your current unexpired student ID
The application for the 2020 Key Conference will be available in the coming months. Check back for more details!