Key Executive Leadership Speaker Series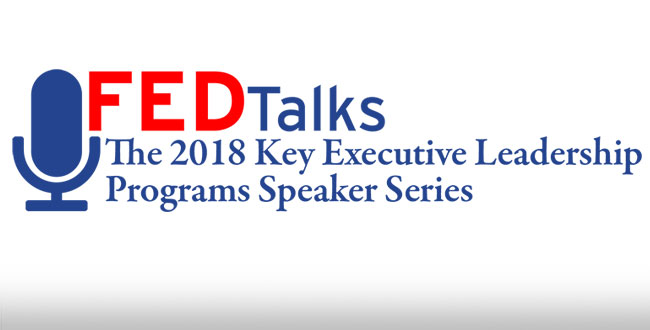 To engage our current students, alumni, and colleagues, we are proud to present the 2018 Key Executive Leadership Programs Speaker Series "FED Talks." This series offers four sessions in the calendar year, and is a complimentary service to the federal community.
2018 Scheduled Speakers: FEDTalks
Wednesday, October 10, 2018 
5:00 - 6:30 p.m.
Carnegie Endowment for International Peace
1779 Massachusetts Avenue, NW
Washington, DC 20039
Theme: Diversity and Inclusion
Speaker: Nicole Cozier, Director, Diversity & Inclusion, Human Rights Campaign
Title: Creating An Inclusive Culture
Description:
There has been fairly consistent consensus that we need diversity — in teams, organizations and society as a whole — if we are to change, grow and innovate. Being around people who are different from us requires us to engage differently, more thoughtfully and makes us more creative, more diligent and harder-working. Less clear is how we create an environment that can both sustain diversity over time, and leverage the power and potential inherent in it.  Part of the reason why diversity efforts aren't sustainable is because there is insufficient intentionality about creating inclusive environments - not simply by being nice to each other and having sound policies - but in truly examining the environments in which we work and the ways that the very systems of oppression that plague our society play out in our workplaces and undermine even the most well intentioned diversity efforts. In this session, we will deepen our understanding of inclusion (as it pertains to our workplace) and what often gets in the way of creating inclusive environments.  Then we will explore some strategies to overcome those obstacles.
Nicole has more than 20 years of non-profit experience in the direct service, advocacy and philanthropic sectors. Most of Nicole's career has been focused on gender equity; however, in the words of Audre Lorde – "there is no such thing as a single-issue struggle, because we do not live single-issue lives," so a lens of diversity, inclusion and cultural competency has always been a central component of her work.  Nicole describes her current position as the Director of Diversity and Inclusion at the Human Rights Campaign as "a perfect culmination of her experience and her passion for work with deep personal significance."  In this role, Nicole is responsible for designing and implementing diversity and inclusion strategy and initiatives that shape diversity, equity and inclusion philosophy and turns it into core organizational practice. She also manages the D&I team.  Nicole is also a member of the Equity Advisory Board for Mission Partners – a woman-owned and led, mission-focused consultancy working to advance social justice and causes that result in an equitable future for all.
Immediately prior to joining HRC, Nicole spent 8 years on the staff of Washington Area Women's Foundation in various positions, the last of which was as Chief Operating Officer. Cultivating excellence among staff and maintaining an organizational environment where staff could thrive was a core priority in this role in addition to the development and cross-organizational implementation of the organization's strategic goals.
Nicole holds an MBA and MS from Temple University, as well as an honors bachelor's degree from the University of Toronto.  A resident of the metro Washington area for more than 18 years, Nicole has also lived in Philadelphia, New Jersey, USVI, Canada and Barbados. Nicole currently lives in Northern Virginia with her wife and daughter.
 
Upcoming Dates
Wednesday, December 5, 2018, 5:00-6:30 p.m. | 2018 Diversity & Inclusion: A Year in Review
August's FEDTalk
Speaker: Deena Fidas, Director, the Workplace Equality Program, Human Rights Campaign

Diversity and Inclusion: LGBTQIA+: The Case for LGBT+ Workforce Inclusion
Description: Over the last 15 years, the private sector has adopted policies, benefits and practices to make their workplaces more inclusive of lesbian, gay, bisexual and transgender people -- well-ahead of lawmakers and of public opinion. Right now for example, over 80 percent of the Fortune 500 offer explicit protections on the basis of both sexual orientation and gender identity in their non-discrimination policies, something federal law does not do in 2018. Why have so many companies sought to establish themselves as LGBT-inclusive and federal agencies followed suit in their practices? Come learn about how the Human Rights Campaign began certifying businesses in 2002, building the case for inclusion and today working directly with hundreds of major global employers on their LGBT inclusion best practices and walk away with key take-aways for your workplace.
May's FEDTalk 
Speaker: Bruce Stewart, Managing Partner: Small World Solutions; Adjunct Professor American University
Former Deputy Director for Diversity and Inclusion in the Federal Government Former Co-Chairperson for White House Committee on Reducing Unconscious Bias in STEM
The Bias Virus: How a Beer Commercial, Autistic Kids, Google, a Small African Country, and Kevin Bacon Are the Keys to Reducing Bias
Description: What if our discussion around both explicit and implicit bias is incomplete? What if looking at bias is not purely individual nor completely social? But, instead is a network science issue greatly influenced by the structure of the respective network. What if bias is contagious like the flu? What if a better way to reduce bias, especially along ethnic lines is to view it as a public health problem that requires measures like responding to flu outbreaks. What if I were to tell you that there are a group of people immune to racial bias? What lessons could we learn from them to help us in our fight to reduce bias? What if I told you that there is a network pattern common to how communities, cities, companies, countries, and our brains are organized? What new insights could we learn from this common pattern of relationships? Many theories and solutions have been developed to reduce racial bias. And, while there has been some success most solutions are hard to scale and inherently difficult to apply. In this Fed Talk I will offer a unified theory of bias that connects explicit and implicit bias using a new model of bias called the Bias of Crowds, and in turn combine this Bias of Crowds model to contagion and small world network theories to produce a solution to bias reduction that is both scalable and effective.

February's FEDTalk 
Click HERE to listen to the recording of this talk!
Speaker: Gary A. Smith, Co-Founder and Senior Partner, IVY Planning Group (Ivy)
Description: Depending on how long you've been involved with diversity and inclusion (D&I) really determines not only how much you've seen, but how different the goals, the journey, the strategies and yes even the outcomes have been.
Let's be clear, this talk matters as it does several critical things all at once:
1. It clarifies why the topic matters more than ever
2. It highlights why the work itself is harder now than ever
3. It provides proven ways to win around diversity and inclusion execution
Ultimately, everyone who is interested in achieving D&I outcomes will have to redefine or change how they communicate what it means to "win." Determining if that translation is a will or a skill issue is a critical first step. It's a step that requires honest introspection.  
We'll discuss what it is, why it matters, and what makes D&I success so difficult all while allowing for that introspection to occur. Just as appealing though are the lessons learned that provide hope, excitement, enthusiasm and a demonstration that success is still possible. In fact, perhaps greater and more impactful D&I success is possible now. This FED Talk will strike the right balance between D&I in the public and private sectors while carefully identifying what translates across sectors and what doesn't. It will provide an interactive forum for the discussion for those who want to know what works, what doesn't, and how to achieve success in 2018.
5 Key Reasons to Attend
Provides a stimulating environment for Key current students and alumni, which is conducive to continued intellectual and professional growth.
Cultivates professional connections between current students, alumni, faculty, and staff.
Supplements your Key experience with subject matter relevant to improved leadership in the public sector.
Current students and alumni are eligible to receive a certificate of completion for attending at least six seminars within a two year period.
Allows the Key Executive Leadership Program to reciprocate the support and serve the public good.
2019 Key FEDTalks Dates & Topics
Theme: Vision
February 6: Technology and the Future of Leadership 
April 3: Women and the Future
May 15: Succession Planning for New Generations in the Workplace 
October 2: Culture
December 4: Networking